Kunjungi NTT, Jokowi Dianugerahi Gelar ´Mosalaki Ulu Beu Eko Bewa´
Jokowi Awarded the Title ´Mosalaki Ulu Beu Eko Bewa´
Editor : Ismail Gani
Translator : Novita Cahyadi

PUBLISHED: Rabu, 01 Juni 2022 , 15:32:00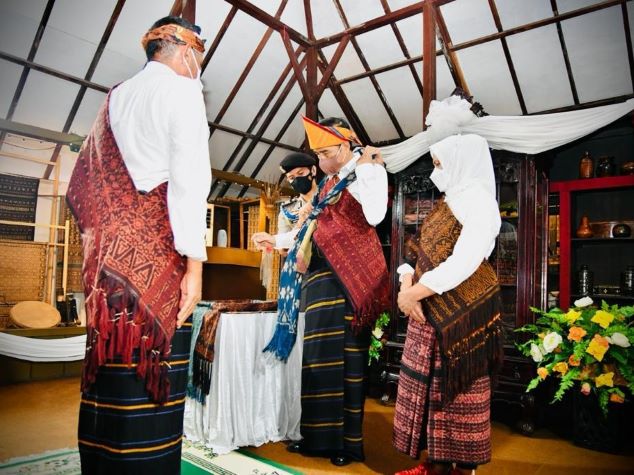 KUNJUNGAN: Presiden Joko Widodo bersama Ibu Iriana saat berkunjung ke rumah Tenun Ende.
Ende, NTT [B2B] - Presiden Joko Widodo bersama jajarannya mendapat sambutan 'Tari Woge' saat berkunjung ke Rumah Tenun Ende usai memimpin Upacara Peringatan Hari Lahir Pancasila, pada Rabu [1/6].
Dalam Tari Woge tersebut, para penari membawa tombak dan parang sebagai simbol kemenangan perang, dengan diiringi seni musik 'Nggo Lamba' yang biasa dimainkan untuk menyambut kedatangan tamu serta acara adat.
Selain disambut Tari Woge, Jokowi juga disambut dengan sapaan adat oleh budayawan Albertus Bisa dan mendapatkan penyematan pakaian adat berupa Rembi yang merupakan tas adat yang biasa digunakan Mosalaki [ketua adat] untuk menaruh beberapa benda adat.
Dalam kesempatan tersebut, Jokowi mendapatkan penganugerahan gelar adat 'Mosalaki Ulu Beu Eko Bewa' yang memiliki makna pemimpin wilayah seluruh Indonesia dari Sabang sampai Merauke. Setelah mendapatkan gelar adat, Jokowi turut menyaksikan Bupati Ende memutari Tubu Kanga [pusara adat] sebanyak 4 kali yang memiliki arti penyatuan dengan alam [tanah, air, api, dan angin].
Kemudian, Jokowi menyempatkan diri melihat dan menyapa pengrajin tenun yang sedang bertenun. Presiden Jokow pun menyampaikan apresiasinya atas sambutan yang hangat yang telah diberikan masyarakat Nusa Tenggara Timur [NTT], khususnya masyarakat Ende, dalam kunjungannya kali ini.
"Saya ingin mengucapkan terima kasih yang sebesar-besarnya kepada masyarakat NTT, khususnya masyarakat Ende, yang telah menerima saya, Bu Iriana, dan seluruh rombongan sejak awal datang sampai sekarang diterima dengan penuh kehangatan," ucap Jokowi.
Jokowi meyakini kehangatan yang dimiliki masyarakat Ende juga pernah dirasakan Bung Karno sehingga dapat melahirkan pemikiran dan renungan-renungan tentang Pancasila.
"Inilah yang menurut saya kenapa Bung Karno memiliki pemikiran dan renungan-renungan mengenai Pancasila yang dimulai dari Ende. Karena saya merasa beliau berada dalam sebuah kehangatan masyarakat yang selalu dekat dengan pemimpinnya," tandasnya.
Turut mendampingi Presiden dan Ibu Iriana dalam acara tersebut adalah Ketua MPR RI Bambang Soesatyo, Ketua Mahkamah Konstitusi Anwar Usman, Gubernur Nusa Tenggara Timur Viktor Laiskodat, serta Bupati Ende Djafar Achmad.
Ende of East Nusa Tenggara [B2B] - President Joko Widodo and his staff received a 'Woge Dance' greeting during a visit to the Ende Weaving House leading the Commemoration Ceremony of the Birthday of Pancasila, on Wednesday [1/6].
In the Woge Dance, the dancers bring spears and machetes as symbols of victory, accompanied by 'Nggo Lamba' art music which is usually played to welcome guests and traditional events.
Besides being greeted by Woge Dance, Jokowi was also greeted with a traditional greeting by culturalist Albertus Bisa and received the embedding of Rembi's traditional clothing, which is a traditional bag commonly used by Mosalaki [traditional leader] for several traditional objects.
On that occasion, Jokowi was awarded the traditional title 'Mosalaki Ulu Beu Eko Bewa' which means the leader of all of Indonesia from Sabang to Merauke. After getting the customary title, Jokowi also witnessed the Regent of Ende circle the Tubu Kanga [traditional tomb] 4 times which means union with nature [land, water, fire, and wind].