Melalui Telepon, Presiden Jokowi Sapa Tim SAR di Turki
President Jokowi Greeted the SAR Team in Turkey
Editor : Ismail Gani
Translator : Novita Cahyadi

PUBLISHED: Kamis, 16 Februari 2023 , 15:36:00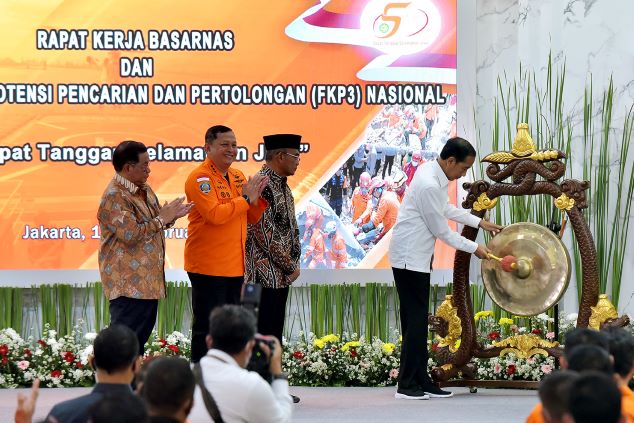 HUT BASARNAS: Presiden Jokowi didampingi Menko PMK Muhadjir Effendy, Seskab Pramono Anung, dan Kepala Basarnas Marsekal Madya TNI Henri Alfiandi saat membuka Rapat Kerja Basarnas dan Rapat Koordinasi FKP3 Tahun 2023 di Kantor Pusat Basarnas, Jakarta. (Foto: Setkab RI)
Jakarta [B2B] - Presiden RI Joko Widodo [Jokowi] menyapa langsung tim Indonesia Search and Rescue [INASAR] dan Duta Besar Indonesia untuk Turki, Lalu Muhammad Iqbal, yang tengah menjalankan misi kemanusiaan membantu korban gempa Turki.
Perbincangan tersebut dilakukan melalui sambungan panggilan video yang dilakukan di Badan Nasional Pencarian dan Pertolongan [Basarnas] Command Center, Jakarta, Kamis [16/2].
"Bagaimana kabar dan kondisi di Turki?" tanya Presiden Jokowi yang didampingi Menteri Koordinator Bidang Pembangunan Manusia dan Kebudayaan Muhadjir Effendy, Sekretaris Kabinet Pramono Anung, dan Kepala Basarnas Marsdya TNI Henri Alfiandi.
"Alhamdulillah semua tim dari Indonesia maupun dari KBRI semua dalam keadaan sehat, Bapak Presiden," jawab Yopi Haryadi, Kasubdit Siaga dan Latihan Basarnas yang menjabat sebagai pemimpin tim INASAR dalam operasi di Turki.
"Kelihatannya dingin banget, jam berapa di Turki?" tanya Presiden Jokowi.
"Dingin banget, Bapak Presiden. Ini 3 derajat (Celcius) di sini, tapi rasanya kayak di kulkas, Bapak Presiden. Ini jam 5 pagi," jawab Yopi.
Jokowi kemudian menanyakan kondisi terakhir di Turki. Menurut Yopi, saat ini korban meninggal dunia akibat gempa Turki telah melampaui 30 ribu korban. Tim INASAR pun terus terjun ke lapangan untuk membantu proses evakuasi korban yang masih tertimpa reruntuhan bangunan.
Dalam laporannya, Yopi Heryadi menyampaikan bahwa tim INASAR yang berkekuatan 48 personel dan 2 anjing pelacak tiba di Bandara Adana pada Senin, 12 Februari 2023. Setelah tiba, tim INASAR langsung mendirikan basis operasi atau base of operation [BoO] dan langsung melaksanakan operasi pencarian dan pertolongan.
"Kami melaksanakan pencarian di tujuh wilayah yaitu di Sumeriah Mah, Antakiya, Haraparasi, Cekmece, Cebrail, Esenlik, dan Electric. Sejauh ini kami telah menemukan dan mengevakuasi 12 orang korban," jelas Yopi.
"Selain itu juga kami telah menempatkan dua personel sebagai reception and departure center bagian dari PBB untuk menerima kedatangan dan kepulangan dari tim USAR [Urban Search and Rescue] internasional serta satu orang di USAR Coordination Cell sebagai pusat koordinasi operasi SAR internasional di Turki," lanjutnya.
Kepada tim INASAR, Presiden Jokowi pun menyampaikan bahwa ia telah berkomunikasi dengan Presiden Turki, Recep Tayyip Erdogan, via telepon.
Menurut Jokowi, Presiden Erdogan mengapresiasi kerja cepat tim INASAR.
"Tadi malam saya telepon juga, berbicara dengan Presiden Erdogan mengenai tim kita, tim medis maupun SAR kita yang sudah berada di Turki dan beliau menyampaikan apresiasi karena kita dianggap cepat," ujar Presiden Jokowi.
Jakarta [B2B] - Indonesian President Joko Widodo [Jokowi] directly greeted the Indonesian Search and Rescue [INASAR] team and the Indonesian Ambassador to Turkey, Lalu Muhammad Iqbal, who was carrying out a humanitarian mission to help earthquake victims in Turkey.
The conversation was carried out via a video call connection made at the National Search and Rescue Agency [Basarnas] Command Center, Jakarta, Thursday [16/2].
"How are things and conditions in Turkey?" asked President Jokowi who was accompanied by the Coordinating Minister for Human Development and Culture Muhadjir Effendy, Cabinet Secretary Pramono Anung, and Head of Basarnas Marsdya TNI Henri Alfiandi.
"Thank God, all teams from Indonesia and from the Indonesian Embassy are all in good health, Mr. President," replied Yopi Haryadi, Head of Basarnas Alert and Training Sub-Directorate who served as the leader of the INASAR team in operations in Turkey.
"It looks really cold, what time is it in Turkey?" asked President Jokowi.