Presiden Jokowi Apresiasi Dukungan Pendanaan FIFA pada Pusat Pelatihan Olahraga di IKN
President Jokowi Appreciates FIFA´s Support for the Sports Training Center at IKN
Editor : Ismail Gani
Translator : Novita Cahyadi

PUBLISHED: Jum'at, 22 September 2023 , 15:37:00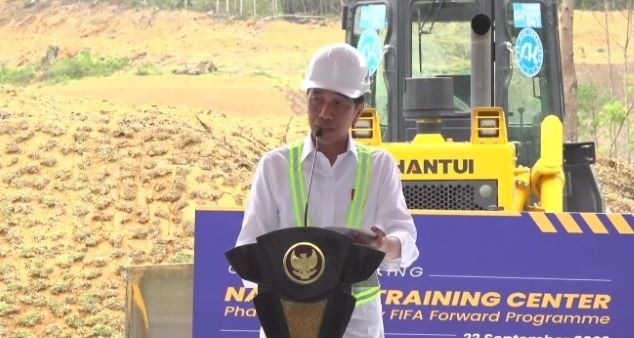 PUSAT OLAHRAGA: Presiden Joko Widodo usai melakukan peletakan batu pertama atau groundbreaking Pusat Pelatihan Nasional PSSI, IKN, Kabupaten Penajam Paser Utara, Provinsi Kalimantan Timur. (Foto: Setkab RI)
Penajam Paser Utara, Kaltim [B2B] - Presiden Joko Widodo mengapresiasi dukungan Federasi Sepak Bola Internasional (FIFA) dalam memberikan dana untuk pembangunan Pusat Pelatihan Nasional PSSI di Ibu Kota Nusantara [IKN].
Hal tersebut disampaikan dalam sambutannya saat melakukan peletakan batu pertama atau groundbreaking Pusat Pelatihan Nasional PSSI, IKN, Kabupaten Penajam Paser Utara, Kalimantan Timur, pada Jumat, [22/9].
"Saya ingin mengucapkan terima kasih kepada FIFA atas kepercayaan dan dukungan yang diberikan dengan memberikan pendanaan FIFA Forward yang terbesar di Asia Tenggara, sebesar tadi juga disampaikan Rp85,6 miliar kepada PSSI," ungkap Presiden.
Dengan didukung oleh pengelolaan yang baik dan sarana yang memadai, Jokowi yakin bahwa pusat pelatihan tersebut dapat membahwa tim nasional [timnas] Indonesia menjadi juara di Asia Tenggara hingga dunia.
"Saya yakin—saya optimistis akan mampu membawa dan menyaksikan garuda kita—timnas kita tidak hanya juara di Asia Tenggara tetapi akan segera mendunia," ucapnya.
Dalam kesempatan terpisah Direktur Regional Asia Oceania FIFA Sanjeevan C Balasingam menyebut bahwa bantuan pendanaan yang diberikan oleh FIFA menjadi bentuk dukungan FIFA kepada anggotanya, termasuk PSSI.
"Dengan pendanaan ini, PSSI menggunakannya untuk mengembangkan pusat pelatihan nasional, dan ini merupakan cara FIFA memberikan dukungan kepada anggotanya, termasuk PSSI," ucapnya.
Sanjeevan juga menyampaikan bahwa FIFA ingin menjadikan pusat pelatihan yang berada di IKN ini menjadi yang terbesar di Asia Tenggara dan menjadikan sepak bola Indonesia menjadi "Gold Standard" untuk negara lainnya.
"Indonesia akan menjadi 'Gold Standard' untuk sepak bola, tidak hanya di kawasan tetapi juga kami berharap di seluruh negara," ucapnya.
"Ini juga merupakan langkah pertama dalam proses panjang transformasi sepak bola Indonesia dan untuk mencapai potensi penuhnya," tandasnya.
Penajam Paser Utara, East Kalimantan [B2B] - President Joko Widodo appreciated the support of the International Football Federation (FIFA) in providing funds for the construction of the PSSI National Training Center in the Indonesian capital [IKN].
This was conveyed in his speech when laying the first stone or groundbreaking of the PSSI National Training Center, IKN, North Penajam Paser Regency, East Kalimantan, on Friday, [22/9].
"I would like to thank FIFA for the trust and support given by providing the largest FIFA Forward funding in Southeast Asia, amounting to IDR 85.6 billion to PSSI," said the President.
Supported by good management and adequate facilities, Jokowi is confident that the training center can make the Indonesian national team become champions in Southeast Asia and the world.
"I am sure - I am optimistic that we will be able to bring and see our Garuda - our national team will not only be champions in Southeast Asia but will soon be global," he said.
On a separate occasion, FIFA's Regional Director for Asia Oceania, Sanjeevan C Balasingam, said that the funding assistance provided by FIFA was a form of FIFA's support for its members, including PSSI.
"With this funding, PSSI uses it to develop a national training center, and this is FIFA's way of providing support to its members, including PSSI," he said.