Presiden Jokowi Buka Rakornas Penyelenggara Pemilu 2024
President Jokowi Opens National Coordination Meeting for Election Organizers
Editor : Cahyani Harzi
Translator : Novita Cahyadi

PUBLISHED: Rabu, 08 November 2023 , 15:38:00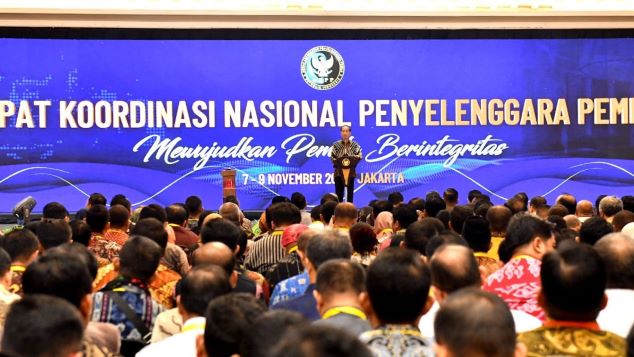 PEMILU 2024: Presiden Jokowi saat membuka rapat koordinasi nasional penyelenggaraan Pemilu 2024 di Puri Agung Ballroom, Hotel Grand Sahid Jaya, Jakarta. (Foto: Setkab RI)
Jakarta [B2B] - Presiden menyampaikan apresiasi kepada seluruh penyelenggara pemilihan umum [pemilu] atas kerja kerasnya dalam melaksanakan setiap tahapan penyelenggaraan Pemilu Serentak Tahun 2024.
Hal ini disampaikan oleh Jokowi secara resmi membuka Rapat Koordinasi Nasional [Rakornas] Penyelenggara Pemilu Tahun 2023, Rabu [8/11], di Puri Agung Ballroom, Hotel Grand Sahid Jaya, Jakarta.
"Saya ingin menyampaikan ucapan terima kasih yang sebesar-besarnya kepada seluruh penyelenggara pemilu yang terus bekerja keras untuk melaksanakan tahapan-tahapan Pemilu 2024, baik dari DKPP [Dewan Kehormatan Penyelenggara Pemilu], dari Bawaslu [Badan Pengawas Pemilihan Umum], dan dari KPU [Komisi Pemilihan Umum]," ujar Jokowi.
Jokowi menyatakan, Pemilu Serentak 2024 merupakan pesta demokrasi terbesar yang pernah diselenggarakan di tanah air, melibatkan sekitar 840 ribu tempat pemungutan suara [TPS].
Jokowi menekankan, tantangan yang dihadapi dalam penyelenggaraan pemilu kali ini juga besar, mulai dari akuntabilitas, integritas, hingga mekanisme distribusi dan pengamanan.
"Dan juga, bagaimana mewujudkan kontestasi yang berkualitas, kontestasi yang damai, kontestasi yang sejuk, kontestasi yang tanpa hoaks, kontestasi yang tanpa ujaran-ujaran kebencian, sehingga kontestasi ini bisa menghasilkan solusi-solusi bagi masalah-masalah yang dihadapi bangsa kita, serta tentu saja proses dan hasil yang legitimate dan terpercaya," ujarnya.
Oleh karena itu, Jokowi mengingatkan kepada semua penyelenggara pemilu untuk mempersiapkan segala sesuatunya dengan detail serta melakukan pengawasan dan pengecekan langsung ke lapangan.
"Kalau bisa gunakan teknologi terkini karena tadi anggarannya sudah naik 200 persen untuk DKPP. Lakukan inovasi, dengarkan masukan-masukan dari rakyat, sehingga kita bisa menjaga suhu politik tetap kondusif, tetap aman, dan damai," tandasnya.
Jakarta [B2B] - The President expressed his appreciation to all general election organizers for their hard work in carrying out every stage of the 2024 Simultaneous Election.
This was conveyed by Jokowi officially opening the National Coordination Meeting (Rakornas) of 2023 Election Organizers, Wednesday (08/11), at the Puri Agung Ballroom, Grand Sahid Jaya Hotel, Jakarta.
"I would like to express my deepest gratitude to all election organizers who continue to work hard to carry out the stages of the 2024 Election, both from the DKPP [Honorary Council of Election Organizers], from Bawaslu [General Election Supervisory Body], and from the KPU [ General Election Commission]," said Jokowi.
Jokowi stated that the 2024 Simultaneous Election was the largest democratic party ever held in the country, involving around 840 thousand voting stations (TPS).
Jokowi emphasized that the challenges faced in holding this election are also large, ranging from accountability, integrity, to distribution and security mechanisms.
"And also, how to create quality contestation, peaceful contestation, cool contestation, contestation without hoaxes, contestation without hate speech, so that this contestation can produce solutions to the problems facing our nation, and of course "Just the process and results are legitimate and trustworthy," he said.
Therefore, Jokowi reminded all election organizers to prepare everything in detail and carry out direct supervision and checks in the field.
"If possible, use the latest technology because previously the budget has increased by 200 percent for DKPP. Carry out innovations, listen to input from the people, so that we can keep the political temperature conducive, safe and peaceful," he said.