Tinjau Pembangunan Istana Negara, Presiden Jokowi: Masih Sesuai Target
Reviewing the construction of the State Palace, President Jokowi: Still on target
Editor : Cahyani Harzi
Translator : Novita Cahyadi

PUBLISHED: Jum'at, 22 September 2023 , 15:47:00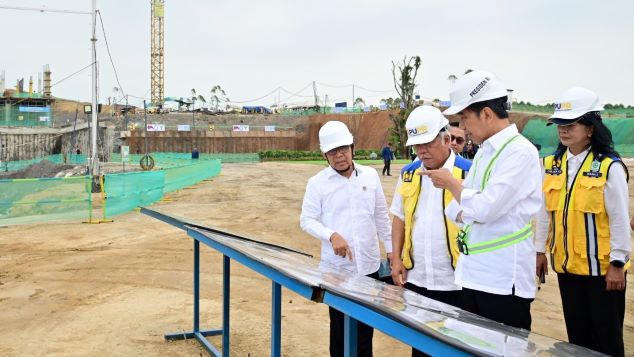 PEMBANGUNAN IKN: Presiden Jokowi didampingi jajarannya saat meninjau langsung progres pembangunan Istana Kepresidenan di di Kawasan Ibu Kota Nusantara (IKN), Kabupaten Penajam Paser Utara, Provinsi Kalimantan Timur. (Foto: Setkab RI)
PENAJAM PASER UTARA - Presiden Joko Widodo menyampaikan bahwa pembangunan Istana Presiden di IKN masih sesuai dengan rencana dan target yang telah ditetapkan pemerintah, saat meninjau progres pembangunan Istana Presiden di Kawasan Ibu Kota Nusantara [IKN], Kabupaten Penajam Paser Utara, Provinsi Kalimantan Timur, pada Jumat [22/9].
"Saya lihat schedule dan target, saya kira masih dalam target," ujar Jokowi dalam keterangannya kepada awak media usai peninjauan.
Jokowi juga menegaskan bahwa anggaran untuk pembangunan sejumlah infrastruktur dasar di IKN tidak mengalami kendala. "Khusus untuk istana, kementerian, untuk infrastruktur dasar tidak ada masalah," ucap Jokowi.
Lebih lanjut, Jokowi mengatakan bahwa pemerintah akan terus mendorong pembangunan sejumlah infrastruktur dari sektor swasta dan dunia usaha di Tanah Air. Mulai dari pembangunan universitas, rumah sakit, pusat perbelanjaan, hingga tempat makan.
"Semuanya akan kita dorong sehingga muncul sebuah crowd yang tentu keramaian itu yang akan memberikan kehidupan pada kota Nusantara," tutur Jokowi.
Dalam kesempatan tersebut, Presiden juga melakukan penanaman pohon beringin [Ficus Benjamina] di kawasan Istana Presiden IKN. Presiden menyebut pohon yang ditanam tersebut memiliki makna keagungan.
"Khusus untuk dua beringin kembar ini saya rasa memang ini simbol keagungan," ungkap Jokowi.
Jokowi pun berharap tanaman lainnya akan dapat segera ditanam setelah hujan turun di kawasan IKN. Mulai dari rumput untuk upacara 17 Agustus, tanaman-tanaman endemik Kalimantan, hingga bunga yang dirancang khusus untuk Istana Presiden IKN.
"Ini semuanya akan green dan khusus untuk istana warna bunganya nanti merah putih. Jadi desain terencana yang dilaksanakan dengan sangat detail," ucap Jokowi.
Jokowi juga mengatakan bahwa lapangan Istana Presiden di IKN memiliki lahan dua kali lebih luas dari Istana di Jakarta. Bahkan, kapasitas lapangannya dapat menampung hingga 8 ribu orang untuk kegiatan upacara 17 Agustus mendatang.
"Ini akan hijau semuanya, bisa dipakai untuk upacara kurang lebih 8 ribu orang, kira-kira lebihnya mungkin 2 kali istana [Jakarta]," tutur Jokowi.
PENAJAM PASER UTARA [B2B] - President Joko Widodo said that the construction of the Presidential Palace at IKN is still in accordance with the plans and targets set by the government, when reviewing the progress of the construction of the Presidential Palace in the Archipelago Capital Region [IKN], North Penajam Paser Regency, East Kalimantan Province, on Friday [22/9].
"I looked at the schedule and targets, I think they are still on target," said Jokowi in his statement to media crew after the inspection.
Jokowi also emphasized that the budget for the construction of a number of basic infrastructure in IKN had not experienced any problems. "Especially for palaces, ministries, for basic infrastructure there are no problems," said Jokowi.
Furthermore, Jokowi said that the government would continue to encourage the development of a number of infrastructure from the private sector and business world in the country. Starting from the construction of universities, hospitals, shopping centers, to places to eat.
"We will encourage everything so that a crowd emerges which will certainly be a crowd that will give life to the city of the archipelago," said Jokowi.
On this occasion, the President also planted a banyan tree [Ficus Benjamina] in the IKN Presidential Palace area. The President said that the tree planted had a meaning of majesty.
"Especially for these two twin banyans, I think this is a symbol of greatness," said Jokowi.
Jokowi also hopes that other crops will be planted soon after the rain falls in the IKN area. Starting from grass for the August 17 ceremony, plants endemic to Kalimantan, to flowers specially designed for the IKN Presidential Palace.
"Everything will be green and specifically for the palace, the color of the flowers will be red and white. So the planned design will be implemented in great detail," said Jokowi.
Jokowi also said that the grounds of the Presidential Palace at IKN have twice the area of land as the Palace in Jakarta. In fact, the field capacity can accommodate up to 8 thousand people for the upcoming August 17 ceremony.
"It will be all green, it can be used for ceremonies for around 8 thousand people, maybe twice as many as the [Jakarta] palace," said Jokowi.