Lapan Kembangkan ZPPI Bantu Nelayan Identifikasi Zona Ikan
Indonesian Institute of Aviation and Space Develop the Potential Fishing Zones
Reporter : Gusmiati Waris
Editor : Cahyani Harzi
Translator : Dhelia Gani

PUBLISHED: Jum'at, 16 Oktober 2015 , 15:59:55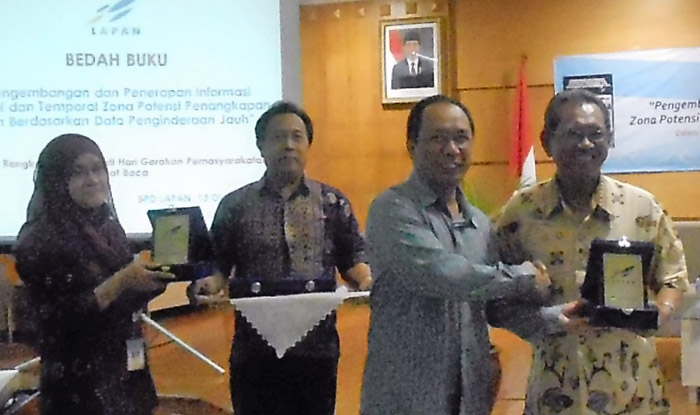 Kepala Lapan Thomas Djamaluddin dan Bidawi Hasyim (kanan) Foto: B2B/Mya
Jakarta (B2B) - Pemanfaatan data penginderaan jauh bermanfaat untuk mendukung peningkatan kesejahteraan para nelayan Indonesia, informasi tentang zona potensi ikan akan memudahkan para nelayan lebih mudah mengetahui lokasi ikan berkumpul, sekaligus mendukung TNI Angkatan Laut mencegah pencurian ikan.

Peneliti Lembaga Penerbangan dan Antariksa Nasional (Lapan), Bidawi Hasyim mengatakan informasi tentang potensi berkumpulnya ikan, akan mendukung kinerja nelayan bekerja lebih efektif dan efisien ketika melaut.

"Selama ini para nelayan tradisional hanya mengandalkan naluri dan menduga-duga tempat berkumpulnya ikan, dan akibatnya hanya membuang-buang solar untuk bahan bakar perahu tapi hasilnya minim karena tidak mengetahui lokasi ikan berkumpul," kata Bidawi Hasyim pada bedah buku: Pengembangan dan Penerapan Informasi Spasial dan Temporal Zona Potensi Penangkapan Ikan Berdasarkan Data Penginderaan Jauh di Jakarta belum lama ini.

Menurutnya, dengan memanfaatkan Zona Potensi Penangkapan Ikan (ZPPI) berdasarkan data penginderaan jauh kerja para nelayan akan dipermudah, karena para nelayan bisa langsung menuju lokasi dimana diprediksi ikan-ikan akan berkumpul.

"Selain menghemat bahan bakar, hasil tangkapan juga akan jauh melimpah. Pada akhirnya para nelayan akan hidup lebih sejahtera," kata Bidawi Hasyim.

Teknologi ZPPI juga akan mendukung patroli TNI AL untuk mencegah pencurian ikan, karena para pencuri ikan akan berkumpul di lokasi berkumpulnya ikan.

"Para pencuri ikan biasanya beroperasi dalam jumlah besar hingga 40 kapal berkumpul di satu lokasi saja. Kalau data ini juga dipegang TNI AL maka mereka akan mudah menangkap pencuri-pencuri itu," katanya lagi.
Jakarta (B2B) - Indonesian Institute of Aviation and Space, locally known as the Lapan, develops remote sensing to improve the welfare of fishers through the information on potential fishing zones, so it will be easier for the fishermen to know the location of fish, as well as supporting the Navy to prevent illegal fishing, according to Lapan researcher.

The Lapan researcher, Bidawi Hasyim said fishing zone information, will support the performance of fishermen working effectively and efficiently when looking for fish.

"During this time the Indonesian fishermen rely solely on instinct to know, and consequently only dispose of diesel to fuel the boat but the results are minimal," Mr Hasyim said here recently in a book review: Development and Application of Spatial Information and Temporal Zone of Potential Fishing based on Remote Sensing Data.

According to him, by making use Potential Fishing Zone or ZPPI based on remote sensing data will facilitate the work of fishermen.

"Besides saving fuel, the fish will be more so as to improve the welfare of fishermen," Mr Hasyim said.

He added, ZPPI technology will also support the Indonesian Navy patrols to prevent illegal fishing, because it is illegal fisherman are usually located in fishing zones.

"They usually operate up to 40 ships at one location. If this data is also held by the Indonesian Navy would be easy to catch them," he said.