Kampanye Terakhir Jokowi Padat dan Tertib Disorot Media Asing
Indonesia Campaign Rallies Draw Tens of Thousands
Editor : Ismail Gani
Translator : Novita Cahyadi

PUBLISHED: Minggu, 14 April 2019 , 01:58:00 WIB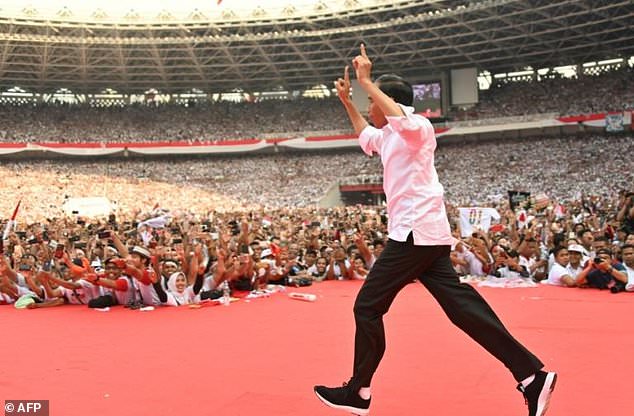 Foto: AFP/MailOnline
SEKITAR 100.000 orang memenuhi Gelora Bung Karno di Senayan Jakarta, Sabtu, untuk memperlihatkan dukungan besar terhadap calon presiden petahana Joko Widodo, hanya beberapa hari menjelang pemilihan umum dari negara demokrasi terbesar ketiga dunia.
Joko Widodo memimpin penantang presiden, Prabowo Subianto, seorang mantan jenderal, dengan dua digit di sebagian besar jajak pendapat yang masuk ke jajak pendapat hari Rabu.
Kedua calon presiden mengadakan debat terakhir yang disiarkan televisi Sabtu malam.
Sebelumnya, jalan-jalan di ibukota yang sudah padat itu macet dengan parade penuh warna dan demonstrasi damai, membuat lalu lintas macet.
Di stadion utama, pendukung Widodo mengibarkan bendera merah-putih Indonesia saat mereka bernyanyi dan menari diiringi pertunjukan oleh puluhan musisi.
Kerumunan massa bersorak ketika capres petahana 57 tahun, yang dikenal sebagai Jokowi, menegaskan komitmennya untuk melindungi pluralisme di negara berpenduduk mayoritas Muslim lebih dari 260 juta.
"Negara kita adalah negara besar dengan berbagai etnis, agama, tradisi, dan budaya," katanya.
Prabowo Subianto mengadakan kampanye terbuka terakhir pada Jumat, yang menarik puluhan ribu pendukung.
Wakil presidennya, Sandiaga Uno, seorang pemodal kaya yang dilaporkan menghabiskan $100 juta untuk kampanyenya, mengadakan rapat umum besar di Tangerang dekat Jakarta.
"Insya Allah, dengan Prabowo dan Sandi kita akan menciptakan Indonesia yang adil dan makmur," kata Uno kepada orang banyak.
Tim Subianto telah memperingatkan itu akan menantang hasil atas penyimpangan daftar pemilih jika dia kalah - menyiapkan pengulangan dari kontes pasangan 2014, yang Widodo menang meskipun pengadilan tidak berhasil tantangan untuk kemenangan sempitnya.
Jokowi berkampanye dalam upayanya yang didorong oleh infrastruktur untuk meningkatkan ekonomi terbesar di Asia Tenggara, sementara Prabowo menjanjikan lebih banyak pengeluaran pertahanan dan tinjauan investasi asing di Indonesia.
Pedagang makanan Ali Suhardi, 55, mengatakan ia akan memilih Jokowi yang mencintai musik heavy metal, tetapi di seluruh kota, Romlah menginginkan pemimpin baru.
"Saya ingin perubahan yang akan membuat negara ini lebih baik," kata pendukung Prabowo, yang menggunakan satu nama.
Lebih dari 190 juta orang Indonesia akan memilih presiden, anggota parlemen mereka berikutnya pada 17 April seperti dikutip AFP yang dilansir MailOnline.
ABOUT 100,000 people filled Jakarta´s main stadium Saturday for a huge rally in support of Indonesian president Joko Widodo, just days ahead of the biggest-ever elections in the world´s number-three democracy.
Widodo is leading presidential challenger Prabowo Subianto, a former general, by double-digits in most opinion polls going into Wednesday´s poll.
The two men held their final televised debate Saturday evening.
Earlier, the capital´s already congested streets were jammed with colourful parades and peaceful demonstrations, bringing traffic to a standstill.
At the main stadium, Widodo supporters waved Indonesia´s red-and-white flag as they sang and danced to performances by dozens of musicians.
The crowd cheered as the 57-year-old incumbent, popularly known as Jokowi, pledged his commitment to pluralism in the Muslim-majority country of more than 260 million.
"Our country is a big nation of different ethnicities, religions, traditions and cultures," he said.
Subianto held his last rally on Friday, which attracted tens of thousands.
His vice-presidential running-mate Sandiaga Uno, a wealthy financier reported to have spent $100 million on his campaign, held a big rally Saturday in Tangerang near Jakarta.
"God willing, with Prabowo and Sandi we will create a fair and prosperous Indonesia," Uno told the crowd.
Subianto´s team has warned it would challenge the results over voter-list irregularities if he lost -- setting up a repeat of the pair´s 2014 contest, which Widodo won despite an unsuccessful court challenge to his narrow victory.
Widodo campaigned on his infrastructure-driven bid to rev up Southeast Asia´s largest economy, while Subianto pledged more defence spending and a review of foreign investment in the sprawling archipelago.
Food vendor Ali Suhardi, 55, said he would vote for the heavy metal music-loving Widodo, but across the city, Romlah was itching for a new leader.
"I want change that will make this country better," said the Subianto supporter, who goes by one name.
More than 190 million Indonesians will choose their next president, parliamentarians and thousands of local officials on April 17.
There are a record 245,000 candidates competing with some 800,000 polling stations across the country.