Jokowi Minta Usut Tuntas Kasus Izin Ekspor Minyak Goreng
Indonesia President Asks to Completely Investigate Cooking Oil Export Permit Case
Editor : Ismail Gani
Translator : Novita Cahyadi

PUBLISHED: Rabu, 20 April 2022 , 16:37:00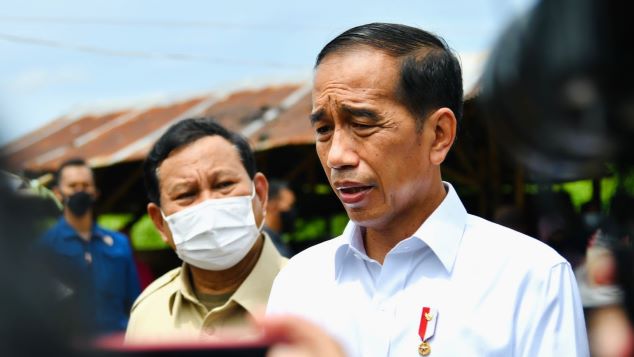 KUNJUNGAN KERJA: Presiden Joko Widodo saat memberikan keterangan pers di Pasar Bangkal Baru, Kabupaten Sumenep.
Sumenep, Jatim [B2B] - Presiden Jokowi meminta jajarannya mengusut tuntas para mafia minyak goreng, setelah penetapan empat tersangka terkait kasus minyak goreng oleh Kejaksaan Agung.
"Kemarin dari Kejaksaan Agung sudah menetapkan empat tersangka urusan minyak goreng ini dan saya minta diusut tuntas sehingga kita bisa tahu siapa ini yang bermain ini bisa mengerti," ujar Jokowi saat memberikan keterangan pers di Pasar Bangkal Baru, Kabupaten Sumenep, Rabu, (20/4).
Menurut Jokowi saat ini minyak goreng masih menjadi persoalan di tengah masyarakat meskipun pemerintah telah memberikan subsidi BLT Minyak Goreng.
Jokowi berharap harga minyak goreng yang saat ini tinggi bisa kembali mendekati normal.
"Kita ingin harganya yang lebih mendekati normal. Jadi memang harganya tinggi, karena apa? Harga di luar, harga internasional itu tinggi banget, sehingga kecenderungan produsen itu penginnya ekspor memang harganya tinggi di luar," ungkapnya.
Pemerintah sendiri telah melakukan berbagai upaya untuk mengatasi persoalan minyak goreng ini, antara lain melalui beragam kebijakan seperti penetapan harga eceran tertingi (HET) untuk minyak goreng curah dan subsidi ke produsen.
Kendati demikian, Jokowi melihat kebijakan tersebut belum berjalan dengan efektif dalam beberapa pekan ini.
"Di pasar saya lihat minyak curah banyak yang belum sesuai dengan HET yang kita tetapkan, artinya memang ada permainan," ucapnya.
Sumenep of East Java [B2B] - President Jokowi has asked his staff to thoroughly investigate the cooking oil mafia, after the Attorney General's Office named four suspects related to the cooking oil case.
"Yesterday, the Attorney General's Office has named four suspects in the cooking oil affair and I ask that they be thoroughly investigated so that we can understand who is playing this game," said Jokowi, Wednesday (20/4).
According to Jokowi, currently cooking oil is still a problem in the community even though the government has provided subsidies for cooking oil BLT.