Bocah Tergemuk Dunia Harapkan Operasi Kulit Pasca Diet Ketat
World´s Fattest Child Hopes to have Surgery to Remove His Excess Skin
Editor : Ismail Gani
Translator : Novita Cahyadi

PUBLISHED: Kamis, 11 April 2019 , 16:43:00 WIB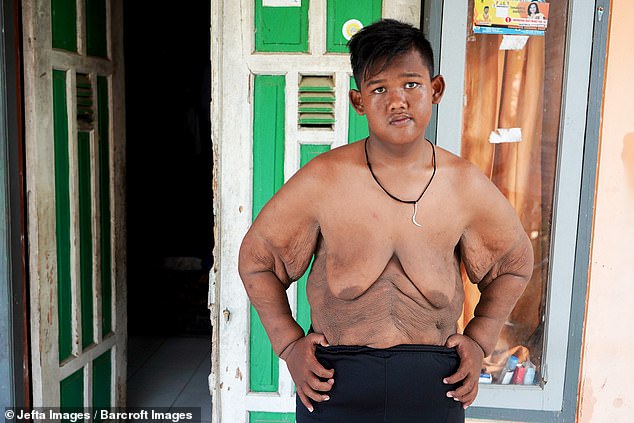 KELEBIHAN KULIT: Penampilan mengejutkan Arya Permana pasca diet ketat [Foto: MailOnline]
SEORANG remaja berusia 13 tahun yang pernah memiliki berat hampir 200 kg, tepatnya 191,9 kg, dengan penampilan terkini yang mengejutkan.
Arya Permana, dari Indonesia, pernah dianggap sebagai anak terberat di dunia karena gemar makan mi instan, minuman bersoda dan ayam goreng.
Pada usia sepuluh tahun, anak muda itu hampir tidak bisa berjalan, harus sekolah di rumah dan dipaksa mandi di kolam yang berada di halaman rumahnya.
Dengan ukuran tubuhnya yang dinilai membahayakan jiwanya, Arya dilaporkan menjadi orang termuda yang pernah menjalani operasi lambung.
Sesuai prosedur - diet ketat dengan ikan bakar dan sayuran - membantu Arya Permana mengurangi bobotnya hingga, dan kini berat tubuhnya hanya 85,8 kg.
Seorang ahli bedah telah menawarkan untuk menghilangkan kelebihan kulit dari dada dan lengan Arya setelah dia menjalani ujian nasional [UN].
Bobot Arya meningkat drastis ketika dia baru berusia sepuluh tahun dan beratnya sama dengan enam anak lelaki seusianya.
Orang tuanya berusaha mendorong putra mereka untuk makan lebih sehat, tetapi mengakui mereka menyerah pada keinginannya untuk menyantap makanan yang dia gemari seperti dilansir MailOnline.
Ayah Arya, Ade Somantri mengatakan: 'Kembali pada hari sejak Arya berusia lima tahun dan sudah semakin besar saya dapat mengatakan, "Ya, saya memanjakannya".
"Jika dia ingin makan atau minum makanan manis dan minuman yang baru saja kita berikan, jika dia menginginkan mie instan, kita hanya memasakkannya untuknya."
A 13-YEAR-OLD boy who once weighed an astonishing 423lbs (191.9kg) is set to have his excess skin removed after losing more than half his body weight.
Arya Permana, of Indonesia, was once considered the heaviest child in the world thanks to his diet of instant noodles, fizzy drinks and deep-fried chicken.
At just ten years old the youngster was barely able to walk, had to be home schooled and was forced to bathe in an outdoor pond.
With his size putting his life at risk, Arya reportedly became the youngest person ever to undergo a gastric-sleeve operation.
The procedure - along with a strict diet of grilled fish and vegetables - helped the teenager lose a remarkable 234lbs (106kg), with him now weighing 189lbs (85.8kg).
A surgeon has offered to remove the excess skin from Arya's chest and arms after his upcoming exams.
Arya's size peaked when he was just ten years old and weighed the same as six boys his age.
His parents tried to encourage their son to eat healthier, but admit they gave in to his demands for fattening foods.
Arya's father Ade Somantri said: 'Back in the day since Arya was five-years-old and already getting big I can say, "Yes I spoiled him".
'If he wanted to eat or drink sweet food and drinks we just gave it, if he wanted instant noodles, we just cooked [it] for him.'