Presiden Jokowi Pastikan Bantuan Beras Tersalurkan dengan Baik di Purwakarta
President Jokowi ensures that rice aid in Purwakarta is distributed well
Editor : Cahyani Harzi
Translator : Novita Cahyadi

PUBLISHED: Kamis, 09 November 2023 , 16:49:00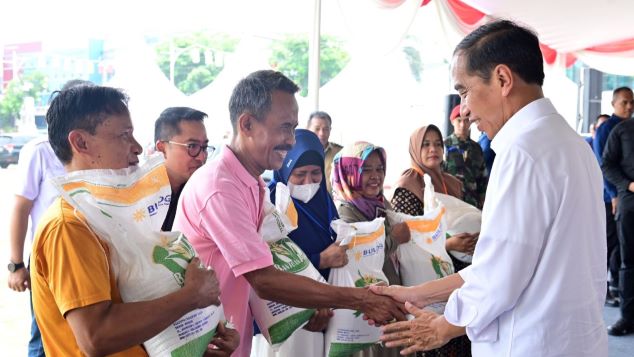 BANTUAN BERAS: Presiden Jokowimenyerahkan langsung bantuan pangan cadangan beras pemerintah bagi masyarakat penerima manfaat di Lapangan Sahate Purwakarta, Kabupaten Purwakarta, Jawa Barat. (Foto: Setkab RI)
Purwakarta, Jabar [B2B] - Presiden RI Joko Widodo (Jokowi) menyerahkan langsung bantuan pangan cadangan beras pemerintah bagi masyarakat penerima manfaat di Lapangan Sahate Purwakarta, Kabupaten Purwakarta, Provinsi Jawa Barat, pada Kamis (09/11).
Dalam kesempatan tersebut, Presiden berdialog dengan para penerima manfaat sekaligus memastikan bahwa penyaluran bantuan pangan berupa beras tersalurkan dengan baik.
"Pada bulan April, Mei, Juni kita berikan 10 kg, 10 kg, 10 kg sudah diterima? Kemudian September, Oktober, November 10 kg, 10 kg, 10 kg sudah diterima?" tanya Presiden.
"Sudah," jawab masyarakat penerima manfaat.
Presiden Jokowi menyebut bahwa bantuan serupa akan diberikan pada bulan Desember 2023 mendatang. Selain itu, bagi masyarakat penerima Program Keluarga Harapan (PKH), pemerintah juga akan memberikan bantuan tunai sebesar Rp200 ribu per bulannya pada bulan November dan Desember 2023.
"Nanti coba dilihat di rekening Ibu di November dan Desember akan ditransfer Rp200 ribu, Rp200 ribu," tutur Kepala Negara.
"Alhamdulillah," jawab para penerima manfaat.
Purwakarta, West Java [B2B] - Indonesian President Joko Widodo (Jokowi) directly handed over government rice reserve food aid to beneficiary communities at Purwakarta Sahate Field, Purwakarta Regency, West Java Province, on Thursday (09/11).
On this occasion, the President had a dialogue with the beneficiaries while ensuring that the distribution of food aid in the form of rice was distributed well.
"In April, May, June we give 10 kg, 10 kg, 10 kg have they been received? Then in September, October, November 10 kg, 10 kg, 10 kg have they been received?" asked the President.
"Yes," answered the beneficiary community.
President Jokowi said that similar assistance would be provided in December 2023. Apart from that, for people who receive the Family Hope Program (PKH), the government will also provide cash assistance of IDR 200 thousand per month in November and December 2023.
"Later, try looking at your account in November and December. IDR 200 thousand, IDR 200 thousand will be transferred," said the Head of State.
"Thank God," answered the beneficiaries.