Lama Mangkrak, Presiden Jokowi Minta Normalisasi Kali Ciliwung Selesai Akhir 2024
President Jokowi Asks for the Normalization of the Ciliwung River to be Completed by the End of 2024.
Editor : Ismail Gani
Translator : Novita Cahyadi

PUBLISHED: Selasa, 21 Februari 2023 , 16:58:00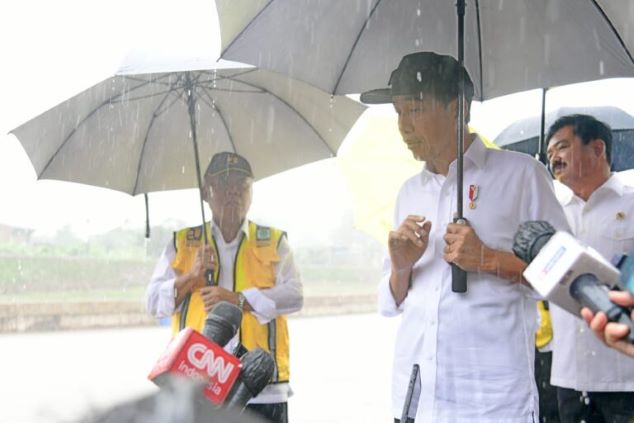 NORMALISASI KALI: Presiden Jokowi didampingi jajarannya saat meninjau langsung Kali Ciliwung yang sudah mangkrak lama. (Foto: Setkab RI)
Jakarta [B2B] - Presiden RI Joko Widodo (Jokowi) meninjau pengerjaan normalisasi Kali Ciliwung, di Jalan Inspeksi Ciliwung, Jakarta Selatan, Jakarta, Selasa [21/2].
Jokowi menyampaikan setelah terhenti cukup lama, normalisasi Kali Ciliwung akan kembali dilanjutkan. Saat ini, lanjutnya, ada beberapa titik yang pembebasan lahannya sudah dirampungkan oleh Pemerintah Provinsi DKI Jakarta dan dapat segera dimulai pembangunannya oleh Kementerian Pekerjaan Umum dan Perumahan Rakyat [PUPR].
"Setelah berhenti agak lama, ini akan segera kita mulai karena sudah ada beberapa titik yang sudah dibebaskan, misalnya di Rawajati, segera bisa dimulai konstruksinya oleh Kementerian PU," ujarnya.
Jokowi menjelaskan, sampai saat ini pengerjaan normalisasi Kali Ciliwung hanya menyisakan 17 kilometer.
"Ya, ini normalisasi Kali Ciliwung ini tinggal 17 kilometer, kira-kira," ucapnya.
Untuk itu, Jokowi menargetkan normalisasi ini dapat selesai sepenuhnya pada akhir tahun 2024.
"Saya berikan target tadi, dalam dua tahun artinya akhir 2024, yang 17 kilometer itu insya Allah selesai sehingga normalisasi sungai Ciliwung betul-betul rampung," ujarnya.
Presiden berharap, dengan normalisasi Kali Ciliwung dan adanya Bendungan Ciawi serta Bendungan Sukamahi di hulu, akan dapat mengurangi debit banjir yang terjadi di Jakarta.
"Ini akan mengurangi, sangat mengurangi, yang namanya banjir karena air yang dari atas juga ditahan oleh Bendungan Ciawi dan Bendungan Sukamahi," ucapnya.
Menutup keterangannya, Kepala Negara mengungkapkan, selain Kali Ciliwung masih terdapat 12 sungai di Jakarta yang perlu dinormalisasi guna mengurangi risiko banjir Jakarta.
"Ini baru Ciliwung, masih ada 12 sungai yang ada di DKI Jakarta, yang juga itu memerlukan normalisasi," pungkasnya.
Jakarta [B2B] - Indonesian President Joko Widodo (Jokowi) inspected the work on the normalization of the Ciliwung River, on Jalan Inspeksi Ciliwung, South Jakarta, Jakarta, Tuesday [21/2].
Jokowi said that after a long pause, the normalization of the Ciliwung River would resume. Currently, he continued, there are several points where land acquisition has been completed by the Provincial Government of DKI Jakarta and construction can begin immediately by the Ministry of Public Works and Public Housing [PUPR].
"After stopping for a while, we will start immediately because there are several points that have been cleared, for example in Rawajati, construction can immediately begin by the Ministry of Public Works," he said.
Jokowi explained that until now the normalization of the Ciliwung River has only left 17 kilometers.
"Yes, this is the normalization of the Ciliwung River, only 17 kilometers, approximately," he said.
For this reason, Jokowi targets this normalization to be fully completed by the end of 2024.