Presiden Jokowi Tinjau Revitalisasi Kawasan Wisata Solo Safari
President Jokowi Observes the Revitalization of the Solo Safari Tourism Area
Editor : Ismail Gani
Translator : Dhelia Gani

PUBLISHED: Senin, 23 Januari 2023 , 17:00:00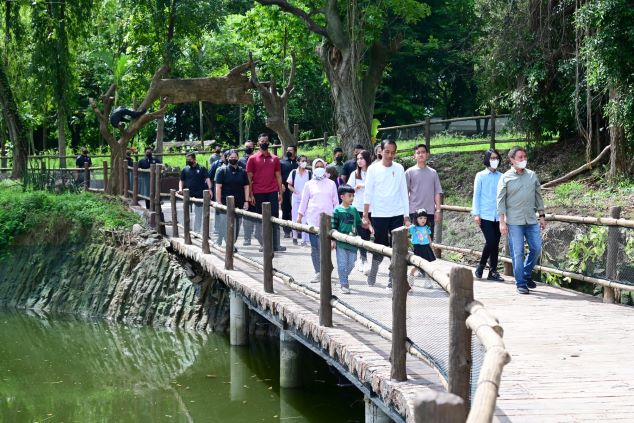 KAWASAN WISATA: Presiden Jokowi meninjau proses revitalisasi Taman Satwa Taru Jurug atau Solo Safari, Kota Surakarta, Jawa Tengah. (Foto: Setkab RI)
Surakarta, Jateng [B2B] - Presiden RI Joko Widodo [Jokowi] mengunjungi kawasan wisata Solo Safari, Kota Surakarta, Jawa Tengah dalam rangka melihat hasil revitalisasi Taman Satwa Taru Jurug atau Solo Safari, pada Senin [23/1].
Jokowi mengatakan bahwa hasil revitalisasi tersebut akan menjadikan destinasi wisata baru di Kota Solo yang lebih baik.
"Saya diajak Pak Wali untuk melihat pembenahan Taman Jurug sekarang menjadi Solo Safari. Saya lihat sangat bagus, meskipun belum selesai sudah kelihatan akan menjadi sangat bagus dan menjadi destinasi baru wisata di Kota Solo" ujar Jokowi.
Jokowi pun menyatakan komitmennya untuk terus mendukung proses revitalisasi aset-aset produktif yang ada di Kota Surakarta. Menurut Presiden setelah mendapatkan laporan dari Wali Kota Surakarta, Gibran Rakabuming Raka, terdapat sejumlah taman hiburan dan edukasi yang akan dibangun di Kota Surakarta.
"Saya diceritain Pak Wali ada Balekambang, nanti ada night market yang di Gatot Subroto, jadi ada tempat-tempat baru, ada Techno Park yang dikunjungi anak-anak muda," ucap Jokowi.
Sementara itu, General Manager Solo Safari Shinta Adithya menyebut bahwa Solo Safari merupakan salah satu taman bermain yang akan menjadi ikon baru Kota Solo. Shinta mengatakan Solo Safari ditargetkan akan mengubah tujuan wisatawan dari sekadar wisata kuliner menjadi wisata lainnya di Kota Solo.
"Mungkin kalau selama ini orang datang ke Solo fokusnya hanya kulineran saja, nanti ketika sudah ada Solo Safari harapannya bisa mendatangkan banyak wisatawan untuk lebih lama stay juga di Solo dan menjadi ikonnya Kota Solo," ujar Shinta.
Shinta pun berharap Solo Safari dapat segera dinikmati oleh para wisatawan, khususnya warga Solo. Saat ini, progres revitalitasi Solo Safari fase 1 sudah mencapai 90 persen dan akan dibuka untuk umum pada tanggal 27 Januari 2023 mendatang.
"Semoga warga Solo bisa menikmati wisata yang sudah kita siapkan untuk warganya dan bisa menjadi kebanggaan buat kita semua," ungkap Shinta.
Surakarta of Central Java [B2B] - Indonesian President Joko Widodo (Jokowi) visited the Solo Safari tourist area, Surakarta City, Central Java in order to see the results of the revitalization of the Taru Jurug Animal Park or Solo Safari, on Monday (23/1).
Jokowi said that the results of the revitalization would make the new tourist destination in the city of Solo even better.
"I was invited by the Mayor to see the revamping of Jurug Park, now it has become Solo Safari. I see it is very good, even though it has not been completed, it looks like it will be very good and become a new tourist destination in Solo City," Jokowi said.
Jokowi also stated his commitment to continue to support the process of revitalizing productive assets in the city of Surakarta. According to the President, after receiving a report from the Mayor of Surakarta, Gibran Rakabuming Raka, there are a number of amusement and educational parks that will be built in Surakarta City.
"I was told by the Mayor that there is Balekambang, later there will be a night market at Gatot Subroto, so there are new places, there is a Techno Park which is visited by young people," said Jokowi.