Presiden Jokowi Tinjau Titik Pusat Gempa Cianjur
President Jokowi Visits the Central Point of the Cianjur Earthquake
Editor : Cahyani Harzi
Translator : Novita Cahyadi

PUBLISHED: Jum'at, 25 November 2022 , 17:14:00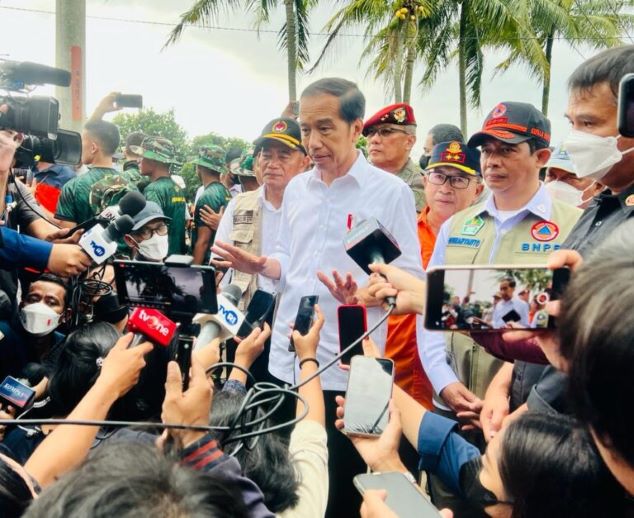 BENCANA ALAM: Presiden RI Joko Widodo saat memberikan keterangan pers usai meninjau langsung titik pusat gempa di Kecamatan Cugenang, Kabupaten Cianjur, Provinsi Jawa Barat. (Foto: Setkab RI)
Cianjur, Jabar [B2B] - Presiden RI Joko Widodo meninjau langsung Kecamatan Cugenang, dalam kunjungannya ke Kabupaten Cianjur, Provinsi Jawa Barat. Kawasan tersebut diketahui merupakan titik pusat gempa yang melanda Kabupaten Cianjur pada Senin lalu.
"Ini adalah episentrumnya dan yang paling parah, terutama untuk rumah-rumah yang roboh yang paling banyak adalah di sini. Yang meninggal pun, yang banyak juga di sini," ujar Jokowi dalam keterangannya di Kampung Munjul, Desa Gasol, Kecamatan Cugenang.
Jokowi menegaskan bahwa rehabilitasi bagi rumah-rumah yang mengalami kerusakan akan segera dilakukan pemerintah setelah proses evakuasi dan distribusi bantuan selesai dengan baik.
"Yang paling penting setelah nanti evakuasi ini selesai, distribusi bantuan sudah bisa menjangkau ke semua lokasi, baru babak berikutnya adalah rehabilitasi untuk rumah-rumah yang roboh berat, sedang, maupun yang ringan," tuturnya.
Terkait skema bantuan yang diberikan pemerintah, Presiden mengatakan bahwa pemerintah tidak akan terpaku pada satu skema. Pemerintah akan menyerahkan langsung kepada masyarakat untuk memilih skema mana yang dinilai dapat mempercepat proses rehabilitasi.
"Ada yang nanti dibangun oleh Kementerian PU, ada yang juga dibangun dibantu oleh TNI, ada juga yang diserahkan kalau memang itu bisa mempercepat. Kita tidak terpaku pada satu skema," ucap Jokowi.
Cianjur, Jabar [B2B] - Indonesian President Joko Widodo directly visited Cugenang District, during his visit to Cianjur Regency, West Java Province. The area is known to be the epicenter of the earthquake that hit Cianjur Regency last Monday.
"This is the epicenter and the worst, especially for the houses that collapsed the most was here. There were also many who died here," Jokowi said in his statement at Munjul Village, Gasol Village, Cugenang District.
Jokowi emphasized that the government would immediately carry out rehabilitation for damaged houses after the evacuation process and distribution of aid were completed properly.
"The most important thing is that after the evacuation is finished, the distribution of aid can reach all locations, then the next round is rehabilitation for houses that have collapsed heavily, moderately, or lightly," he said.