Bertemu Menlu Vietnam, Jokowi Bahas Perdagangan dan Investasi
Indonesian Govt Discusses Trade and Investment with the Vietnamese Govt
Editor : Ismail Gani
Translator : Novita Cahyadi

PUBLISHED: Rabu, 20 Juli 2022 , 17:18:00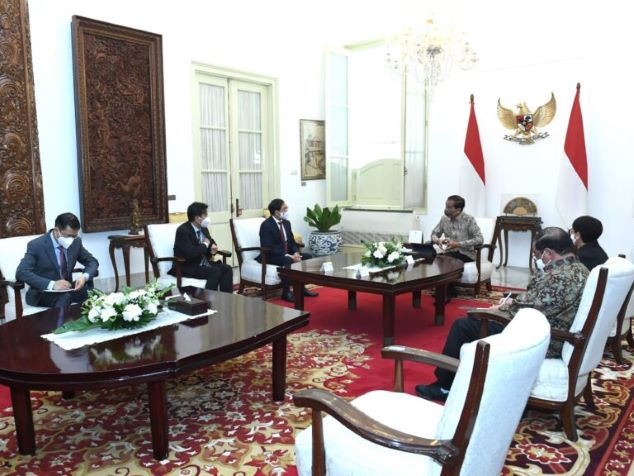 KERJASAMA: Presiden Joko Widodo didampingi Menteri Luar Negeri Retno Marsudi menerima kunjungan Menteri Luar Negeri Vietnam Menteri Luar Negeri (Menlu) Vietnam, Bui Thanh Son di Istana Merdeka. (Foto: Setpres RI)
Jakarta [B2B] - Presiden Joko Widodo menerima kunjungan Menteri Luar Negeri [Menlu] Vietnam, Bui Thanh Son untuk membicarakan perdagangan dan investasi antar Indonesia dan Vietnam di Istana Merdeka, Jakarta.
Hal tersebut disampaikan Menteri Luar Negeri Retno Marsudi saat memberikan keterangan seusai mendampingi Presiden Jokowi.
Menurut Menlu Retno, perdagangan antara kedua negara terus mengalami peningkatan. Target pemenuhan perdagangan USD10 miliar telah terlampaui.
"Bapak Presiden mengatakan penting bagi kedua negara untuk menetapkan target baru untuk beberapa tahun ke depan. Ini nanti akan kita bahas pada saat pertemuan kedua menteri luar negeri," ujar Menlu Retno.
Untuk bidang investasi, menurut Menlu Retno, investasi Indonesia di Vietnam cukup banyak yakni sudah lebih dari USD600 juta. Kepada Menlu Vietnam, Presiden Jokowi pun menitipkan para investor Indonesia di Vietnam untuk mendapatkan perlakuan yang adil.
"Tentunya dengan menciptakan kondisi yang kondusif bagi investor. Tentunya investasi kedua belah pihak akan terus meningkat," imbuh Retno.
Sementara itu, Menlu Vietnam antara lain menyampaikan penghargaan dan ucapan selamat kepada Indonesia dalam mengatasi Covid-19. Selain itu, Menlu Vietnam juga memuji kepemimpinan Indonesia di G20.
"Juga menyampaikan dukungan penuh Vietnam terhadap keketuaan Indonesia untuk ASEAN pada tahun depan, tahun 2023," tandasnya.
Jakarta [B2B] - President Joko Widodo received a visit from the Vietnamese Minister of Foreign Affairs, Bui Thanh Son to discuss trade and investment between Indonesia and Vietnam at the Merdeka Palace, Jakarta.
This was conveyed by the Minister of Foreign Affairs Retno Marsudi when giving a statement after accompanying President Jokowi.
According to Foreign Minister Retno, trade between the two countries continues to increase. The USD10 billion trade fulfillment target has been exceeded.
"The President said it was important for the two countries to set new targets for the next few years. We will discuss this later at the meeting of the two foreign ministers," said Foreign Minister Retno.
For the investment sector, according to Foreign Minister Retno, Indonesia's investment in Vietnam is quite large, which is already more than USD600 million. To the Vietnamese Foreign Minister, President Jokowi also entrusted Indonesian investors in Vietnam to get fair treatment.