Jokowi Minta Izin Parlemen Pindahkan Ibukota ke Kalimantan
Indonesian Leader Pledges to Move Capital City, Boost Economy
Editor : Ismail Gani
Translator : Novita Cahyadi

PUBLISHED: Jum'at, 16 Agustus 2019 , 17:22:00 WIB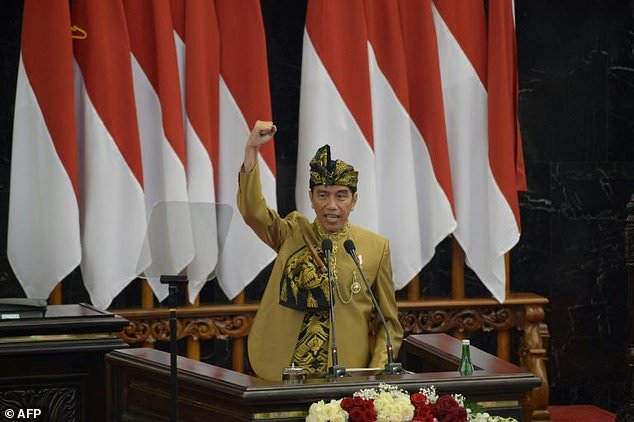 SIDANG TAHUNAN: Presiden RI Joko Widodo [Foto: AFP/MailOnline]
PRESIDEN RI Joko Widodo mengatakan pada Jumat bahwa dia tetap melanjutkan ambisi besarnya untuk memindahkan ibukota negara dan menggelar langkah-langkah untuk memulai ekonomi terbesar di kawasan Asia Tenggara untuk menghindari dampak dari melambatnya pertumbuhan ekonomi global.
Jokowi meminta parlemen untuk mendukung rencananya menyediakan anggaran untuk membangun ibukota baru di Kalimantan, salah satu kota besar di dunia yang terancam tenggelam, kemacetan lalu lintas dan polusi kota.
Widodo meminta parlemen untuk menandatangani rencana untuk modal baru di Kalimantan, menggeser hati politik Indonesia dari Jakarta - salah satu kota yang paling cepat tenggelam di dunia yang diganggu oleh sejumlah penyakit, dari kemacetan serta polusi hingga risiko gempa bumi dan banjir.
"Saya meminta izin wakil rakyat untuk memindahkan ibukota kita ke pulau Kalimantan," katanya kepada parlemen, merujuk pada salah satu pulau terbesar di Indonesia.
"Ibukota bukan hanya simbol identitas suatu negara, tetapi juga menunjukkan kemajuannya," tambahnya.
Jokowi tidak mengungkapkan lokasi spesifik untuk ibukota baru negara Indonesia.
Berbicara sehari sebelum peringatan 74 tahun kemerdekaan Indonesia, pemimpin yang baru terpilih kembali mengatakan masa jabatan keduanya akan fokus pada pemotongan birokrasi dan memikat investasi asing.
Dia berjanji untuk meningkatkan produktivitas yang tertinggal, mengubah Indonesia menjadi pusat kendaraan listrik dan fokus pada peningkatan keterampilan pekerja di negara yang berpenduduk 260 juta orang.
Para pengamat mengatakan Indonesia harus merombak undang-undang ketenagakerjaan yang kaku dan birokrasi yang memusingkan, yang disebut-sebut sebagai hambatan investasi.
"Kita harus lebih cepat dan lebih baik dari negara tetangga kita," kata Jokowi.
"Kita menghadapi ekonomi global yang kacau dan perubahan geopolitik."
Jokowi Widodo mengumumkan anggaran belanja sebesar Rp2.500 triliun rupiah untuk tahun 2020, dan meningkatkan perkiraan pertumbuhan ekonomi pemerintah untuk tahun depan menjadi 5,3 persen, dari sebelumnya 5,2 persen.
"Itu akan sulit untuk dicapai mengingat kondisi global saat ini," kata ekonom Universitas Indonesia Lana Soelistianingsih, merujuk pada perkiraan baru.
Jokowi berjuang untuk mengangkat pertumbuhan dalam masa jabatan pertamanya meskipun ditopang pembangunan infrastruktur jalan-ke-kereta api besar.
Ekonomi telah berkembang sekitar lima persen setiap tahun, tetapi itu jauh dari tujuh persen yang dijanjikan Jokowi dalam masa jabatan pertamanya.
Minggu ini, ia mencatat tingkat pertumbuhan kuartalan paling lambat dalam dua tahun.
Indonesia yang kaya sumber daya bergulat dengan harga yang lebih lemah untuk komoditas seperti batu bara dan minyak sawit, karena ekonomi global goyah di belakang meningkatnya perang dagang Presiden AS Donald Trump dengan China seperti dikutip AFP yang dilansir MailOnline.
INDONESIAN President Joko Widodo said Friday he would press on with plans to move the nation's capital and roll out measures to kickstart Southeast Asia's biggest economy as it feels the sting of slowing global growth.
Widodo asked parliament to sign off on a plan for a new capital in Borneo, shifting Indonesia's political heart from Jakarta -- one of the world's fastest-sinking cities that is plagued by a host of ills, from eye-watering traffic jams and pollution to the risk of earthquakes and floods.
"I'm asking for your permission to relocate our capital to the island of Kalimantan," he told lawmakers, referring to Indonesia's portion of Borneo, in a sweeping state-of-the-nation address.
"A capital is not only a symbol of a nation's identity, it also represents its progress," he added.
Widodo did not reveal a specific location for the country's new capital or timing for any move.
Speaking a day before the 74th anniversary of Indonesia's independence, the recently re-elected leader said his second term would focus on cutting red tape and luring foreign investment.
He pledged to boost lagging productivity, turn Indonesia into an electric-vehicle hub and focus on improving worker skills in the sprawling country of some 260 million people.
Analysts have said Indonesia should overhaul its rigid labour laws and dizzying bureaucracy, which have been cited as barriers to investment.
"We have to be faster and better than our neighbours," Widodo said.
"We're facing a tumultuous global economy and geopolitical change."
Later Friday, Widodo announced a spending budget of 2.5 trillion rupiah ($175 billion) for 2020, and ticked up the government's economic growth forecast for next year to 5.3 percent, from an earlier 5.2 percent.
"That's going to be difficult to achieve given current global conditions," said University of Indonesia economist Lana Soelistianingsih, referring to the new forecast.
Widodo struggled to lift growth in his first term despite a huge roads-to-railways infrastructure building blitz.
The economy has been expanding around five percent annually, but that is well short of the seven percent Widodo had pledged in his first term.
This week, it posted its slowest rate of quarterly growth in two years.
Resource-rich Indonesia is grappling with weaker prices for commodities like coal and palm oil, as the global economy falters on the back of US President Donald Trump's intensifying trade war with China.