Jokowi Ingin Aktivitas Seni dan Budaya Kembali Bangkit Usai Pandemi
Jokowi Wants Art and Cultural Activities to Come Back After the Pandemic
Editor : Ismail Gani
Translator : Novita Cahyadi

PUBLISHED: Kamis, 26 Mei 2022 , 17:26:00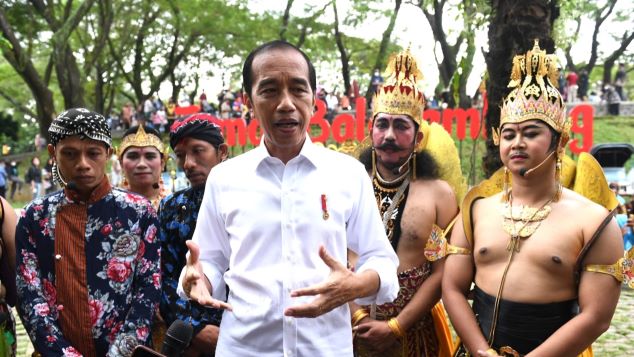 REVITALISASI BUDAYA: Presiden Joko Widodo saat memberikan keterangan di Taman Balekambang Surakarta, Kecamatan Banjarsari, Kota Surakarta.
Surakarta, Jateng [B2B] - Presiden RI Joko Widodo berharap aktivitas seni dan budaya untuk bangkit kembali setelah terhenti selama dua tahun karena pandemi Covid-19 di Indonesia.
Hal itu disampaikan Jokowi setelah bertemu dan memberikan bantuan untuk pekerja seni di Taman Balekambang Surakarta, Kecamatan Banjarsari, Kota Surakarta, seperti keterangan tertulis dari Biro Pers, Media, dan Informasi Sekretariat Presiden, Kamis, [26/5].
"Sudah dua tahun ini vakum tidak ada kegiatan dan saya harapkan setelah pandemi bisa kita kendalikan, kita harapkan aktivitas itu bisa dimulai lagi. Seni tradisi, seniman rakyat, wayang orang, reog, ketoprak, semuanya harus hidup kembali dalam rangka merawat, memelihara seni budaya kita," ucap Jokowi.
Jokowi menginginkan Taman Balekambang yang telah direvitalisasi ini dapat menjadi pusat kebudayaan.
"Akan memberikan dampak yang baik terhadap seni budaya kita dan utamanya juga bisa menunjukkan bahwa seni tradisi itu tetap hidup sampai kapan pun," katanya.
Selain itu, Jokowi juga menyampaikan bahwa pemerintah akan selalu mendukung revitalisasi yang berkaitan dengan fasilitas kesenian dan kebudayaan.
"Semua yang berkaitan dengan kebudayaan, seni budaya, pemerintah pusat akan mendorong, di mana pun," tutur Jokowi.
Turut hadir mendampingi Jokowi antara lain, Menteri Sekretaris Negara Pratikno, Gubernur Jawa Tengah Ganjar Pranowo, dan Wali Kota Surakarta Gibran Rakabuming Raka.
Surakarta, Central Java [B2B] - Indonesian President Joko Widodo hopes that artistic and cultural activities will revive after being suspended for two years due to the Covid-19 pandemic in Indonesia.
This was conveyed by Jokowi after meeting and providing assistance to art workers at Taman Balekambang Surakarta, Banjarsari District, Surakarta City, according to a written statement from the Press, Media and Information Bureau of the Presidential Secretariat, Thursday, [26/5].
"It´s been two years since there have been no activities and I hope that after the pandemic we can control it, we hope that these activities can start again. Traditional arts, folk artists, wayang orang, reog, ketoprak, all of them must come back to life in order to care for and maintain our cultural arts," said Jokowi.
Jokowi wants the revitalized Balekambang Park to become a cultural center.
"It will have a good impact on our arts and culture and especially can show that traditional arts will live forever," he said.