Pemerintah Kecam Tindak Kekerasan di Gaza
Indonesian Govt Strongly Condemns Acts of Violence in Gaza
Editor : Cahyani Harzi
Translator : Novita Cahyadi

PUBLISHED: Kamis, 19 Oktober 2023 , 17:59:00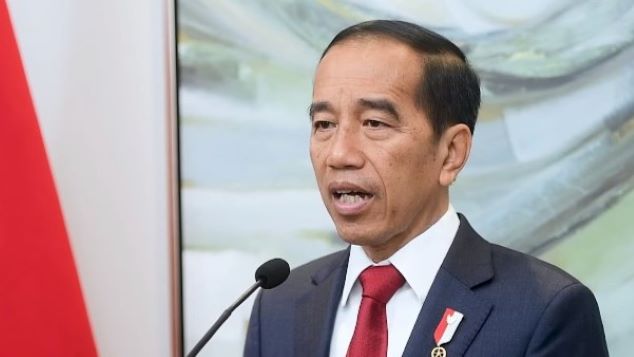 Pernyataan Presiden Joko Widodo Terkait Tindak Kekerasan di Gaza pada saat melakukan kunjungan kerja di Riyadh, Arab Saudi. (Foto: Setkab RI)
Jakarta [B2B] - Presiden RI Joko Widodo [Jokowi] mengecam keras tindak kekerasan yang terjadi di Gaza, Palestina yang telah menyebabkan penderitaan dan jatuhnya korban sipil.
"Indonesia mengecam keras tindak kekerasan yang terjadi di Gaza karena telah mengakibatkan penderitaan dan semakin banyaknya korban sipil, termasuk perempuan dan anak," ungkap Presiden dalam pernyataannya pada saat melakukan kunjungan kerja di Riyadh, Arab Saudi.
Selain itu, Indonesia mengutuk serangan Israel terhadap Rumah Sakit Baptis Al-Ahli yang merupakan pelanggaran terhadap hukum humaniter internasional.
Presiden pun memerintahkan Menteri Luar Negeri Retno Marsudi untuk hadir dalam pertemuan luar biasa para Menteri Luar Negeri OKI [Organisasi Kerja Sama Islam] di Jeddah dan terus mengupayakan evakuasi WNI yang saat ini masih terkendala kondisi lapangan.
"Indonesia tidak akan tinggal diam melihat korban sipil terus berjatuhan, melihat ketidakadilan terhadap rakyat Palestina yang terus terjadi. Indonesia bersama-sama dengan OKI mengirimkan pesan kuat kepada dunia untuk menghentikan eskalasi, untuk menghentikan penggunaan kekerasan, untuk fokus pada masalah kemanusiaan, dan menyelesaikan akar permasalahan, yaitu pendudukan Israel atas Palestina," tegasnya.
Jokowi mengajak kepada para pemimpin dunia membangun solidaritas global untuk menyelesaikan masalah Palestina secara adil dan menerapkan parameter internasional yang telah disepakati.
"Ini akan terus Indonesia suarakan di berbagai kesempatan dan forum internasional, termasuk saat bilateral dengan Perdana Menteri Arab Saudi dan di KTT ASEAN-GCC esok hari," pungkasnya.
Jakarta [B2B] - Indonesian President Joko Widodo (Jokowi) strongly condemned the acts of violence that occurred in Gaza, Palestine which have caused suffering and civilian casualties.
"Indonesia strongly condemns the acts of violence that occurred in Gaza because they have resulted in suffering and increasing numbers of civilian victims, including women and children," said the President in his statement during a working visit to Riyadh, Saudi Arabia.
In addition, Indonesia condemns Israel´s attack on Al-Ahli Baptist Hospital which is a violation of international humanitarian law.
The President also ordered Foreign Minister Retno Marsudi to attend the extraordinary meeting of the OIC (Organization of Islamic Cooperation) Foreign Ministers in Jeddah and continue to seek the evacuation of Indonesian citizens who are currently still hampered by field conditions.
"Indonesia will not remain silent watching civilian casualties continue to fall, seeing injustices against the Palestinian people that continue to occur. "Indonesia together with the OIC sends a strong message to the world to stop escalation, to stop the use of violence, to focus on humanitarian issues, and resolve the root of the problem, namely Israel´s occupation of Palestine," he stressed.
The President invited world leaders to build global solidarity to resolve the Palestinian issue fairly and implement agreed international parameters.
"Indonesia will continue to voice this on various occasions and international forums, including bilaterally with the Prime Minister of Saudi Arabia and at the ASEAN-GCC Summit tomorrow," he concluded.