Kunjungi RSUD Sayang, Presiden Jokowi Pastikan Pasien Korban Gempa Ditangani Baik
President Jokowi Ensures that Earthquake Victims are Treated Well
Editor : Ismail Gani
Translator : Novita Cahyadi

PUBLISHED: Jum'at, 25 November 2022 , 17:09:00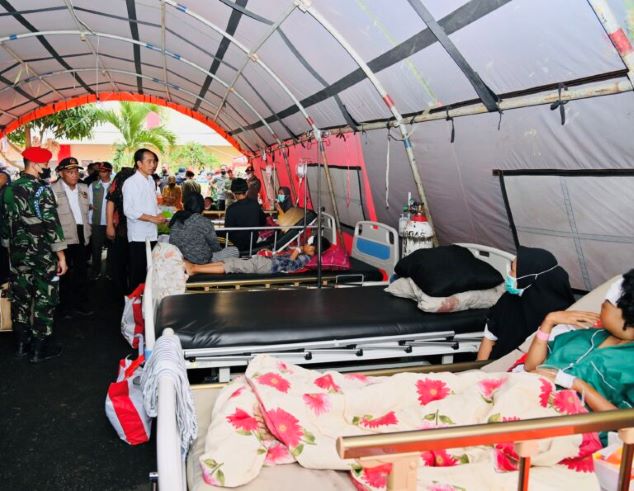 BENCANA ALAM: Presiden RI Joko Widodo saat bertemu pasien korban gempa di Rumah Sakit Umum Daerah (RSUD) Sayang Cianjur, Jawa Barat. (Foto: Setkab RI)
Cianjur, Jabar [B2B] - Presiden RI Joko Widodo mengunjungi Rumah Sakit Umum Daerah [RSUD] Sayang Cianjur, di Kabupaten Cianjur, Provinsi Jawa Barat, untuk memastikan bahwa para pasien korban terdampak gempa Cianjur ditangani dengan baik.
"Yang pertama tadi pagi sudah saya sampaikan penyelamatan, evakuasi itu yang pertama. Kemudian saya tadi kesini untuk memastikan perawatan yang sakit itu betul-betul tertangani dengan baik," ujar Jokowi dalam keterangannya selepas peninjauan.
Jokowi menjelaskan bahwa dari 741 pasien yang dirawat di RSUD Sayang Cianjur, kini tinggal 24 pasien. Menurutnya, sebagian pasien telah dipulangkan, sebagian lainnya dirujuk ke kota-kota sekitar untuk mendapatkan penanganan lebih baik.
"Sudah sebagian dipulangkan, sebagian juga dirujuk ke Bandung maupun ke Jakarta untuk yang kasus-kasus berat. Ke Sukabumi untuk yang kasus-kasus berat. Saya rasa saya melihat penanganan disini baik, yang berat dirujuk itu juga baik, kemudian yang sudah sembuh sudah diperbolehkan pulang," ungkapnya.
Cianjur, Jabar [B2B] - Indonesian President Joko Widodo visited the Sayang Cianjur Regional General Hospital, in Cianjur Regency, West Java Province, to ensure that the patients affected by the Cianjur earthquake were handled properly.
"The first thing this morning I said was rescue, evacuation was the first. Then I came here to make sure the treatment for the sick was really handled properly," Jokowi said in his statement after the inspection.
Jokowi explained that out of 741 patients being treated at Sayang Cianjur Hospital, now only 24 patients remain. According to him, some of the patients have been sent home, while others have been referred to nearby cities to get better treatment.
"Some have been sent home, some have also been referred to Bandung and Jakarta for serious cases. To Sukabumi for serious cases. I think I see that the treatment here is good, those who are seriously referred are also good, then those who have recovered have been allowed to go home," he said.