Keberlanjutan Pembangunan, Jokowi Tekankan Pentingnya Implementasi Peta Jalan
President Jokowi Emphasizes the Importance of Implementing the Road Map for Sustainable Development
Editor : Cahyani Harzi
Translator : Novita Cahyadi

PUBLISHED: Selasa, 24 Oktober 2023 , 18:54:00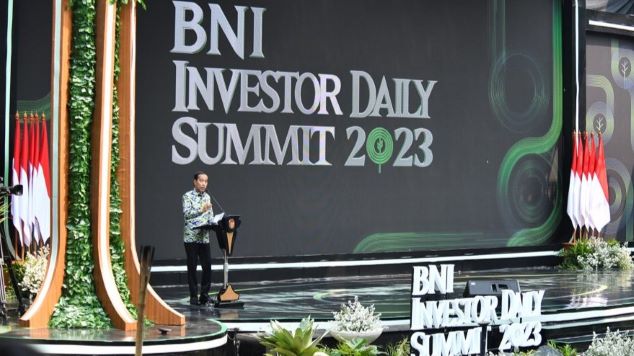 PEMBANGUNAN INFRASTRUKTUR: Presiden Jokowi saat membuka Investor Daily Summit 2023, Hutan Kota by Plataran, Senayan, Jakarta. (Foto: Setkab RI)
Jakarta [B2B] - Presiden RI Joko Widodo [Jokowi] menekankan pentingnya implementasi peta jalan untuk keberlanjutan kebijakan dan program pembangunan di tanah air.
Jokowi mencontohkan salah satunya terkait hilirisasi industri, pemerintah telah memiliki arah serta tahapan yang jelas.
"Semuanya peta jalan itu sudah jelas. Tinggal kita ini biasanya dari kunci keberlanjutan itu bukan di kebijakan makronya, bukan di rencana-rencana makronya, tetapi yang lebih penting adalah bagaimana mengawal implementasi," ujar Jokowi saat membuka Investor Daily Summit 2023, Hutan Kota by Plataran, Senayan, Jakarta, Selasa [24/10].
Jokowi juga menekankan bahwa kerja detail di lapangan sangat diperlukan guna menjamin implementasi tersebut. Oleh karena itu, Jokowi meminta jajarannya untuk membentuk tim pengawas sehingga implementasi di lapangan sesuai dengan kebijakan yang telah diputuskan.
"Memang kerja sekarang enggak bisa yang makro saja, enggak bisa. Dan punya tim, kita harus punya tim, masing-masing kementerian/lembaga punya tim untuk mengawal di lapangan. Ini biasanya yang senang untuk diterjunkan di lapangan ini anak-anak muda. Kawal di lapangan, cek di lapangan, awasi lapangan, sehingga sesuai betul dengan kebijakan/policy yang sudah kita putuskan," ujarnya.
Lebih lanjut, Jokowi juga mendorong keberanian untuk mengambil keputusan dalam setiap rencana pembangunan Indonesia. Tidak hanya perhitungan secara ekonomi, tetapi menurut Presiden faktor lain juga harus turut dipertimbangkan dalam mengambil keputusan.
Jokowi pun mencontohkan mengenai pembangunan moda raya transportasi [MRT] dan lintas raya terpadu [LRT] yang juga membutuhkan keberanian dalam pengambilan keputusan.
"[Pembangunan] LRT juga sama seperti itu, hanya bagaimana menutup kerugian itu dari sebelah mana, dari anggaran apa, dari income apa, dari penerimaan apa, itu yang harus dicari. Akhirnya ketemu, ditutup dari ERP, ditutup dari electronic road pricing. Ketemu, ya sudah diputuskan. Saat itu saya putuskan dan itu adalah keputusan politik. Bahwa APBN atau APBD sekarang masih suntik Rp800 miliar itu adalah memang kewajiban, karena itu pelayanan, bukan perusahaan, untung dan rugi," tandasnya.
Jakarta [B2B] - Indonesian President Joko Widodo (Jokowi) emphasized the importance of implementing a road map for the sustainability of development policies and programs in the country.
The President gave an example regarding industrial downstreaming, the government has clear directions and stages.
"Everything on the road map is clear. "Usually, the key to sustainability is not in macro policies, not in macro plans, but what is more important is how to oversee implementation," said the President when opening the Investor Daily Summit 2023, Forest City by Plataran, Senayan, Jakarta, Tuesday ( 10/24/2024).
The President also emphasized that detailed work in the field is very necessary to ensure this implementation. Therefore, the President asked his staff to form a monitoring team so that implementation in the field is in accordance with the policies that have been decided.
"It's true that you can't just work on a macro level now, that's not possible. And have a team, we must have a team, each ministry/institution has a team to guard the field. Usually young people are happy to be deployed in this field. "Supervise in the field, check in the field, supervise the field, so that it is in accordance with the policies that we have decided," he said.
Furthermore, the President also encouraged the courage to make decisions in every Indonesian development plan. Not only economic calculations, but according to the President, other factors must also be taken into consideration in making decisions.
The President also gave an example regarding the development of transportation modes (MRT) and integrated highways (LRT) which also requires courage in decision making.
"[Construction] of the LRT is also the same, only how to cover the losses from which side, from what budget, from what income , from what revenue, that is what must be looked for. Finally found it, closed from ERP, closed from electronic road pricing . Found it, it's decided. At that time I decided and it was a political decision. "That the current APBN or APBD is still injecting IDR 800 billion is indeed an obligation, because it is a service, not a company, prof