Pemerintah Dorong Wujudkan Pariwisata Berkualitas dan Berkelanjutan
Indonesian Govt Encourages the Realization of Quality and Sustainable Tourism
Editor : Cahyani Harzi
Translator : Novita Cahyadi

PUBLISHED: Rabu, 04 Oktober 2023 , 19:35:00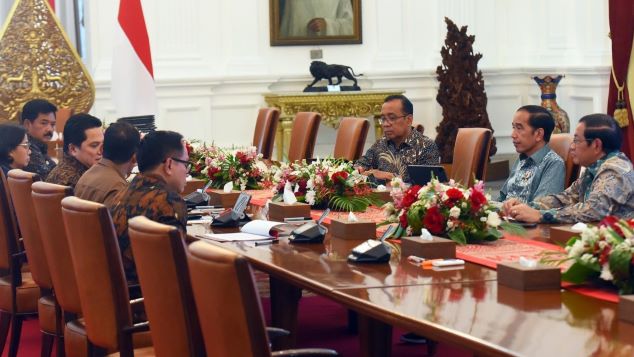 PARIWISATA INDONESIA: Presiden Jokowi (ke-2 kanan) bersama jajarannya saat memimpin rapat terbatas terkait pariwisata di Indonesia di Istana Negara, Jakarta. (Foto: Setkab RI)
Jakarta [B2B] - Presiden RI Joko Widodo [Jokowi] meminta jajaran terkait untuk merumuskan tourism fund atau dana pariwisata yang dimanfaatkan untuk mendukung pembiayaan pengembangan pariwisata berkualitas dan berkelanjutan.
Hal tersebut diungkapkan oleh Menteri Pariwisata dan Ekonomi Kreatif [Menparekraf] Sandiaga Salahuddin Uno, Rabu [04/10] usai mengikuti rapat terbatas [ratas] yang dipimpin oleh Presiden Joko Widodo, di Istana Merdeka, Jakarta.
"Baru saja kami mendapatkan arahan dalam rapat bersama Bapak Presiden bahwa akan dibentuk tourism fund atau sebuah dana yang akan mendukung pariwisata yang berkualitas dan berkelanjutan, seperti mengundang event-event berkelas internasional, event-event budaya, olahraga maupun juga MICE [meeting, incentive, convention & exhibition]," kata Menparekraf.
Sandi mengungkapkan dana pariwisata sudah diperkenalkan di beberapa negara yang memberikan penekanan khusus terhadap pengembangan pariwisata, seperti Singapura dan Arab Saudi.
"Arahan Bapak Presiden ini segera ditindaklanjuti dengan segera [pembentukan dana pariwisata]," ujarnya.
Dana Pariwisata Indonesia, kata Sandi, akan dibentuk dengan pendekatan tata kelola yang baik dan difokuskan pariwisata berkelanjutan dan berkualitas serta hijau dan mengutamakan kekuatan budaya nusantara.
"Nanti wisatawan yang datang ke Indonesia bukan hanya diukur oleh kuantitasnya, jumlahnya, tapi juga kualitas, lama tinggalnya, belanjanya di ekonomi lokal maupun bagaimana mereka bisa menciptakan peluang usaha dan lapangan pekerjaan di sektor pariwisata dan ekonomi kreatif," ujarnya.
Terkait sumber pendanaan, Sandi menyebut bahwa pemerintah masih melakukan kajian apakah nantinya dana tersebut akan menggunakan dana abadi, devisa sektor pariwisata, ataupun sumber dana lainnya. Pemerintah juga akan membentuk tim khusus untuk mengkaji hal tersebut agar menghasilkan pendanaan yang berkelanjutan dan meningkatkan kualitas sektor pariwisata nasional.
"Jadi sumber pendanaannya ini nanti akan ditelaah sehingga governance-nya terjaga tapi tidak akan membebani juga APBN terlalu besar, maupun tidak akan membebani juga wisatawan. Kita akan cari equilibrium di mana ini akan menjadi berkelanjutan, tidak memberatkan, tapi justru akan menambah kualitas dan aspek sustainability dari sektor pariwisata kita," ujarnya.
Sedangkan terkait pengelolaan, Menparekraf mengatakan bahwa saat ini terdapat sejumlah opsi yang akan diputuskan dalam waktu dekat. Opsi tersebut meliputi pengelolaan di bawah BUMN maupun Kementerian Keuangan.
"Ini akan difinalkan pengelolaannya apakah sudah akan dibentuk di bawah BUMN yang sudah ada yaitu InJourney atau lembaga-lembaga yang sudah ada seperti lembaga pengelola dana yang ada di bawah Kementerian Keuangan," tandasnya.
Jakarta [B2B] - Indonesian President Joko Widodo [Jokowi] asked relevant officials to formulate a tourism fund or tourism funds that would be used to support the financing of quality and sustainable tourism development.
This was stated by the Minister of Tourism and Creative Economy [Menparekraf] Sandiaga Salahuddin Uno, Wednesday [04/10] after attending a limited meeting [ratas] chaired by President Joko Widodo, at the Merdeka Palace, Jakarta.
"We have just received direction in a meeting with the President that a tourism fund will be formed or a fund that will support quality and sustainable tourism, such as inviting international class events, cultural events, sports and also MICE [meetings, incentives, convention & exhibition]," said the Minister of Tourism and Creative Economy.
Sandi said tourism funds had been introduced in several countries that placed special emphasis on tourism development, such as Singapore and Saudi Arabia.
"The President's direction will be followed up immediately with [the establishment of a tourism fund]," he said.
The Indonesian Tourism Fund, said Sandi, will be formed with a good governance approach and will focus on sustainable, quality and green tourism and prioritizing the cultural strengths of the archipelago.
"Later, tourists who come to Indonesia will not only be measured by quantity, number, but also quality, length of stay, spending in the local economy and how they can create business opportunities and jobs in the tourism sector and creative economy," he said.
Regarding funding sources, Sandi said that the government is still conducting a study whether the funds will use endowment funds, foreign exchange from the tourism sector, or other funding sources. The government will also form a special team to study this matter in order to produce sustainable funding and improve the quality of the national tourism sector.
"So this funding source will later be reviewed so that governance is maintained but will not burden the APBN too much, nor will it burden tourists. We will look for an equilibrium where this will be sustainable, not burdensome, but will actually increase the quality and aspects sustainability of our tourism sector," he said.
Meanwhile, regarding management, the Minister of Tourism and Creative Economy said that currently there are a number of options that will be decided in the near future. These options include management under BUMN or the Ministry of Finance.
"The management will be finalized whether it will be formed under the existing BUMN, namely InJourney or existing institutions such as fund management institutions under the Ministry of Finance," he said.