Bocah 2 Tahun Perokok Berat dari Sukabumi jadi Sorotan Dunia
Two-year-old from Indonesia Puffs through 40 Cigarettes a Day
Editor : Ismail Gani
Translator : Novita Cahyadi

PUBLISHED: Rabu, 15 Agustus 2018 , 19:39:00 WIB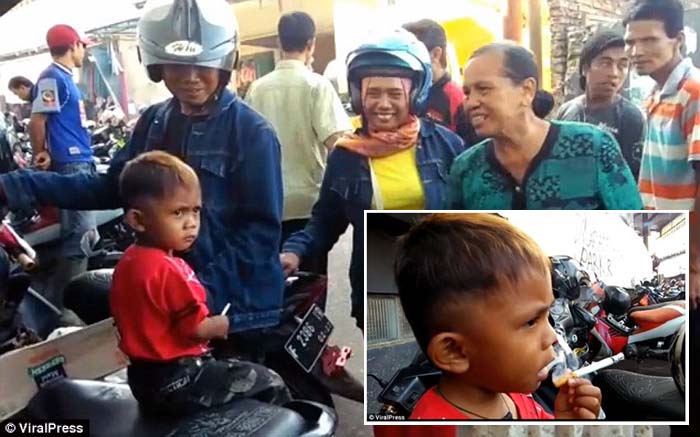 Sang ibu (ke-2 kiri) mengatakan bahwa sudah sulit untuk melarang anaknya merokok karena dia akan ´menangis sepanjang hari´ jika dia tidak bisa merokok (Foto2: MailOnline)
RAPI PAMUNGKAS dari Sukabumi kecanduan rokok setelah memungut puntung rokok yang kemudian diisapnya. Ibu sang bocah, Maryati Pamungkas, 35, mengataku bahwa anaknya mengamuk jika dilarang merokok. Bocah perokok ini kerap terlihat mengisap rokok sehingga menarik perhatian banyak orang.
Sang bocah dikenal sebagai perokok berat lantaran kebiasaan merokok hingga 40 batang sehari.
Rapi Ananda Pamungkas, dua tahun, dari Sukabumi, mengawali kebiasaan buruk tersebut dari memungut lalu mengisap puntung rokok di luar kios pasar tempat ibunya berdagang, lalu anak-anak lain yang lebih tua membantu menyalakan rokok.
Namun lama-lama dia makin kecanduan dan kerap mengganggu para pembeli untuk memberinya rokok.
Pada awalnya, anak-anak lain mengajaknya merokok bahkan memberinya rokok dan akan tertawa geli ketika melihatnya menyalakan dan mengisap rokok.
Rapi Kecil, nama panggilannya, difilmkan di atas sepeda motor mengenakan kaos Spider-man dan tampak gembira mengisap rokok yang terlihat sangat besar di tangan mungilnya.
Video itu merekam kegiatan sehari-harinya seperti banyak orang terlihat kaget mendapati seorang balita merokok dan ibunya hanya tersenyum.
Sejumlah orang terlihat mendekati Rapi Kecil untuk mencoba dan mengambil rokok dari dia- yang kemudian dia tarik kembali dengan tatapan galak di wajahnya.
Anak kecil itu menghisap satu batang rokok lalu menyalakan rokok berikutnya dan tidak terlihat terganggu oleh orang-orang yang berkerumun di dekatnya.
Ibu Rapi, Maryati, 35, mengakui bahwa dia membeli dua bungkus rokok sehari untuk bocah itu untuk meredam kemarahannya.
Sang balita mendadak agresif dan membuat ulah ketika dia tidak bisa ´meroko´ sebagai istilah lokal untuk rokok.
Dia berkata: ´Anak saya terbiasa merokok sambil minum kopi dan makan kue.´
Dia merokok setiap hari sejak dua bulan terakhir. ´Jika saya tidak memberinya sebatang rokok, anak saya bakal ngamuk.´
Sang ibu mengatakan bahwa sudah sulit untuk melarang anaknya merokok karena dia akan ´menangis sepanjang hari´ jika dia tidak bisa merokok.
Dia berkata: ´Jika Rapi tidak mendapatkan rokok dia tidak bisa tidur. Dia akan mulai mengamuk dan menangis.´
"Rokok mahal, karena kita harus membelinya untuknya. Dia suka melakukannya sepanjang hari. Dia bisa merokok ekitar 40 batang setiap hari.´
Ayah Rapi, Misbahudin, 40, yang juga merokok, mengatakan tidak tahu mengapa anaknya menjadi sangat kecanduan seperti dilansir MailOnline.
Dia menambahkan: ´Saya tidak bisa mengatakan tidak kepadanya ketika dia meminta sebatang rokok. Saya bahkan mengalah tidak merokok. Saya hanya merokok di tempat kerja. Ketika putra saya merokok dia suka minum secangkir mochaccino.´
RAPI PAMUNGKAS, from Indonesia, would smoke used butts he found on the street. Mother Maryati Pamungkas, 35, said her son has tantrums if he doesn´t smoke. The little boy can be seen puffing a cigarette which draws crowds of onlookers
This toddler has developed a chain-smoking habit that sees him puff through 40 cigarettes a day.
Two-year-old Rapi Ananda Pamungkas, from Sukabumi, Indonesia started by picking up used butts scattered outside his mother´s market stall that older boys would light for him.
But within days he was hooked and would constantly pester passing shoppers to give him cigarettes.
They initially found the youngster´s demands endearing and plied him with cigarettes and would laugh as he lit up.
Little Rapi, nicknamed Rap, is filmed sitting on a motorbike wearing a Spider-man t-shirt and happily puffing at a cigarette which looks enormous clutched in his tiny hand.
The video soon shows people pointing and staring at the sight of a toddler smoking so casually in the street as his mother smiles.
People can be seen approaching little Rapi to try and take the cigarette from him- which he pulls back with a grumpy look on his face.
The little boy smokes one cigarette to another and does not look bothered by the crowds that have gathered to watch him.
Rapi´s mother, Maryati, 35, admitted that she buys two packs of cigarettes a day for the boy to stop him from going crazy.
The toddler soon started becoming aggressive and throwing tantrums when he couldn´t get his beloved ´meroko´- the local term for cigarettes.
She said: ´My child is used to smoking while drinking coffee and eating cake.
´He has been smoking every day for around two months. If I don´t give him a cigarette, my child goes berserk.´
The mother said that it had been difficult to ban her child from smoking because he will ´cry all day´ if he can´t smoke.
She said: ´If Rapi doesn´t get cigarettes he cannot sleep. He will start rampaging and crying.
´It´s expensive, because we have to buy them for him. He likes to do it all day. He can smoke about 40 every day.´
Rapi´s father, Misbahudin, 40, who also smokes, says doesn´t know why his child became so addicted.
He added: ´I cannot say no to him when he asks for a cigarette. I don´t even smoke that often. I only smoke at work. When my son smokes he likes to have a cup of mochaccino.´
The parents said they will take the toddler to see a doctor to try and kick his smoking habit.
Indonesia has one of the highest numbers of smokers per population in the world and a growing problem of child smokers. Around nine per cent of under 18s smoke regularly.
In 2010, the two-year-old boy Aldi Rizal achieved notoriety after it emerged he also would smoke two packets a day, with footage showing him smoking cigarettes.