Presiden Jokowi Tegaskan Pentingnya Desain Pertahanan dan Keamanan
President Jokowi Emphasizes the Importance of Defense and Security Design
Editor : Ismail Gani
Translator : Novita Cahyadi

PUBLISHED: Kamis, 15 September 2022 , 20:27:00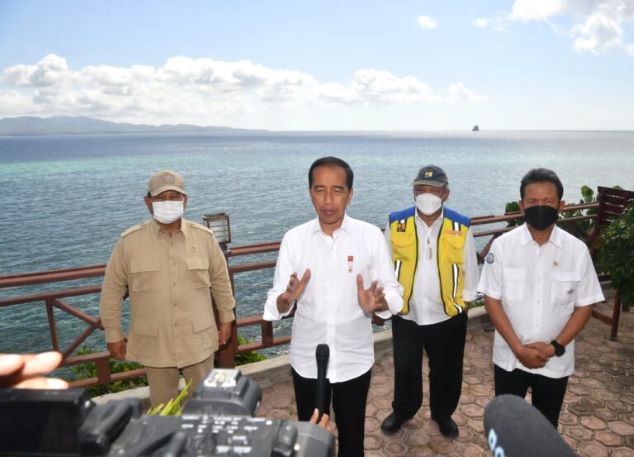 DAERAH TERLUAR: Presiden Joko Widodo bersama jajarannya saat memberikan keterangan pers di Pantai Tiakur, Kabupaten Maluku Barat Daya. (Foto: Sekretariat Presiden)
Maluku [B2B] - Presidedn Joko Widodo menekankan pentingnya desain pertahanan dan keamanan negara dilihat secara detail di titik-titik terluar Negara Republik Indonesia [NKRI].
"Kabupaten Maluku Barat Daya ini adalah termasuk kabupaten terluar sebelah timur, paling timur selatan. Setelah kita melihat Maluku Tenggara, Maluku Barat Daya, kemudian Kabupaten Kepulauan Aru, kemudian Kota Tual, Saumlaki, kita melihat perlunya sebuah desain untuk pertahanan dan keamanan negara, di titik mana kira-kira yang paling tepat. Ini penting karena memang ini potensi yang ada di sini perlu dilihat secara detail," ungkap Jokowi dalam keterangannya di daerah Tiakur, Kabupaten Maluku Barat Daya.
Dalam kesempatan tersebut, Jokowi mengajak Menteri Pertahanan Prabowo Subianto melihat salah satu titik terluar NKRI yakni Pulau Leti yang berbatasan dengan Timor Leste. Pulau Leti tersebut terlihat dari seberang Pantai Tiakur, tempat Jokowi dan rombongan melakukan keterangan pers.
"Hari ini saya dengan Pak Menhan, Pak Menteri KKP, dan Menteri PU melihat titik-titik yang tadi saya sebutkan dalam rangka sekali lagi pertahanan dan keamanan negara," imbuhnya.
Prabowo Subianto selaku Menteri Pertahanan dalam kesempatan yang sama mengatakan bahwa 2,5 tahun yang lalu Presiden Joko Widodo telah memerintahkan pihaknya untuk membuat suatu desain besar pertahanan negara. Hal tersebut termasuk juga bagaimana pengamanan jalur-jalur laut kepulauan di Indonesia yang menjadi jalur bagi 60% perdagangan laut dunia.
"Kekayaan kita sangat besar di wilayah ini, sangat-sangat besar, tidak hanya kekayaan ikan, tetapi juga kekayaan mineral di bawah laut, gas dan minyak bumi di bawah laut," ujar Prabowo.
Lebih lanjut, Prabowo menyebut bahwa masa depan kekayaan Indonesia sebagian besar akan ada di Indonesia timur. Untuk itu, Menhan menegaskan bahwa pulau-pulau terluar di kawasan tersebut harus dirancang untuk menjadi bagian dari pertahanan negara.
"Pulau-pulau terluar di kawasan ini memang harus sudah kita rancang untuk menjadi bagian dari pertahanan kita. Tentunya ini akan kita lakukan dengan teliti dan mengikutsertakan semua lembaga terkait," tandas Prabowo.
Turut mendampingi Presiden dalam kesempatan tersebut yaitu Menteri Pekerjaan Umum dan Perumahan Rakyat Basuki Hadimuljono dan Menteri Kelautan dan Perikanan Sakti Wahyu Trenggono
Maluku [B2B] - President Joko Widodo emphasized the importance of the design of state defense and security in detail at the outermost points of the Republic of Indonesia [NKRI].
"This Southwest Maluku Regency is one of the outermost regencies in the east, the most south east. After we look at Southeast Maluku, Southwest Maluku, then Aru Islands Regency, then Tual City, Saumlaki, we see the need for a design for state defense and security, at which point is the most appropriate. This is important because indeed the potential that exists here needs to be seen in detail," said Jokowi in his statement in the Tiakur area, Southwest Maluku Regency.
On that occasion, Jokowi invited Defense Minister Prabowo Subianto to see one of the outermost points of the Republic of Indonesia, namely Leti Island which borders Timor Leste. Leti Island is seen from across Tiakur Beach, where Jokowi and his entourage held a press statement.
"Today, I and the Minister of Defense, the Minister of KKP, and the Minister of Public Works have looked at the points that I mentioned earlier in the context of state defense and security once again," he added.