Jelang Pemilu 2024, Jokowi Minta Situasi Politik Indonesia Kondusif
Indonesian Govt Encourage a Conducive Indonesian Political Situation
Editor : Cahyani Harzi
Translator : Novita Cahyadi

PUBLISHED: Senin, 21 November 2022 , 21:01:00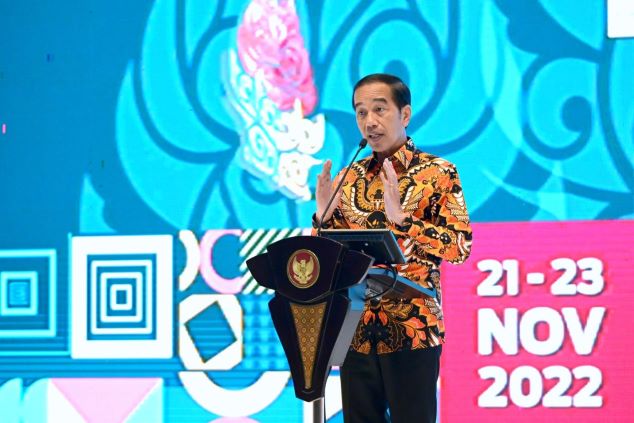 PEMILU 2024: Presiden RI Joko Widodo saat membuka Musyawarah Nasional (Munas) Himpunan Pengusaha Muda Indonesia (HIPMI) XVII 2022 di Ballroom Hotel Alila Solo, Kota Surakarta, Jawa Tengah. (Foto: Setkab RI)
Surakarta, Jateng [B2B] - Presiden RI Joko Widodo menegaskan kepada semua pihak untuk menjaga situasi politik di tanah air agar tetap kondusif menjelang pemilihan umum pada 2024 mendatang.
"Saya titip dalam kondisi dunia yang sangat rentan seperti ini, kita harus semua menjaga agar kondusivitas situasi politik itu tetap adem kalau bisa, kalau enggak bisa paling banter ya anget tapi jangan panas," ujar Presiden Jokowi dalam sambutannya saat pembukaan Musyawarah Nasional [Munas] Himpunan Pengusaha Muda Indonesia [HIPMI] XVII, di Kota Surakarta, Jawa Tengah, Senin [21/11].
Menurut Presiden, situasi dunia saat ini sedang tidak normal. Sebanyak 14 negara sudah mengantre untuk mendapatkan pinjaman dari Dana Moneter Internasional atau International Monetary Fund [IMF] guna mengatasi masalah perekonomian di negara masing-masing.
"Dan 28 negara ngantre di depan pintunya IMF, diperkirakan sampai angka 66, dan itu enggak mungkin bisa mendapatkan bantuan semuanya, enggak mungkin karena juga keterbatasan dari IMF, dari Bank Dunia punya keterbatasan itu," ujarnya.
Oleh karena itu, Presiden mengingatkan agar para calon presiden maupun calon wakil presiden yang ikut serta pada kontestasi politik mendatang untuk melakukan politik- politik gagasan dan politik-politik ide.
"Jangan masuk ke politik SARA, politisasi agama, politik identitas, jangan. Sangat berbahaya bagi negara sebesar kita Indonesia yang sangat beragam," pungkasnya.
Surakarta of Central Java [B2B] - Indonesian President Joko Widodo emphasized to all parties to maintain the political situation in the country so that it remains conducive ahead of the upcoming general elections in 2024.
"I am entrusted with a very vulnerable world condition like this, we all have to keep the conduciveness of the political situation calm if possible, if not you can at best be warm but don't get hot," said President Jokowi in his remarks at the opening of the National Deliberation [Munas] Indonesian Young Entrepreneurs Association [HIPMI] XVII, in Surakarta City, Central Java, Monday [21/11].
According to the President, the current world situation is not normal. As many as 14 countries have lined up to get loans from the International Monetary Fund (IMF) to address economic problems in their respective countries.
"And 28 countries are queuing at the door of the IMF, it is estimated that there are 66, and it is impossible to get all of the assistance, it is impossible because of the limitations of the IMF, the World Bank has those limitations," he said.