Jelang PON XXI, Pemerintah Siapkan Promosi Pariwisata Aceh-Sumut
Indonesian Govt Prepare Tourism Promotion for Aceh-North Sumatra
Editor : Cahyani Harzi
Translator : Novita Cahyadi

PUBLISHED: Senin, 09 Oktober 2023 , 21:24:00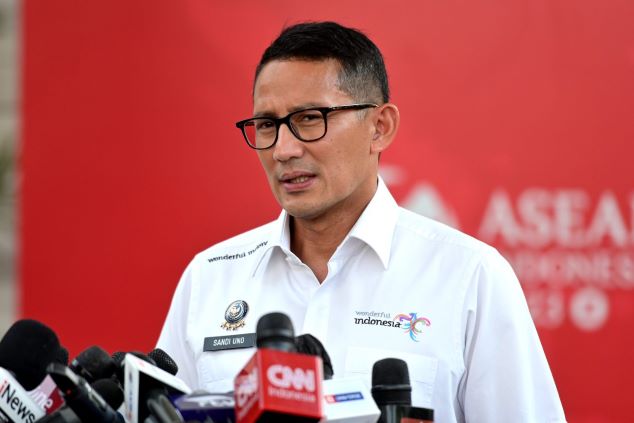 PON XXI: Menteri Pariwisata dan Ekonomi Kreatif [Menparekraf] Sandiaga Uno saat memberikan keterangan pers usai mengikuti rapat terbatas yang dipimpin oleh Presiden Jokowi di Istana Negara, Jakarta. (Foto: Setkab RI)
Jakarta [B2B] - Presiden RI Joko Widodo [Jokowi] memerintahkan Menteri Pariwisata dan Ekonomi Kreatif [Menparekraf] Sandiaga Uno untuk menyiapkan promosi destinasi pariwisata di Aceh dan Sumatera Utara [Sumut] yang akan menjadi tuan rumah Pekan Olahraga Nasional [PON] XXI Tahun 2024.
Hal tersebut disampaikan Presiden Joko Widodo saat memimpin rapat terbatas [ratas], di Istana Merdeka, Jakarta, Senin [9/10].
"Tadi Bapak Presiden memberikan arahan, termasuk dalam lingkup kami di Kemenparekraf adalah bagaimana menyiapkan promosi wisata di masing-masing provinsi dan sekitarnya untuk memastikan bahwa PON 2024 ini tentunya akan menghadirkan geliat ekonomi serta dampak terhadap peluang usaha dan penciptaan lapangan kerja," ujar Sandiaga dalam keterangan pers usai mengikuti ratas.
cSementara di Aceh, pihaknya berencana untuk mengintegrasikan aspek wisata religi dengan menghubungkannya dengan peringatan 20 tahun bencana tsunami.
"Ini akan kami siapkan sekaligus juga acara pembukaan dan penutupannya yang kita harapkan akan mampu untuk menjadikan kesuksesan bagi PON 2024," ujarnya.
Menparekraf mengungkapkan, potensi peningkatan kunjungan wisatawan ke DPSP mencapai 10 hingga 15 persen di setiap ada event.
"Event ini menambah kualitas dari kunjungan wisatawan, juga dari segi pergerakan, karena ini akan dilakukan di beberapa kabupaten," ujarnya.
Lebih lanjut, Sandiaga juga memastikan dukungan akomodasi saat penyelenggaraan PON XXI nanti, baik untuk kontingen maupun para pendukung dan suporter.
"Kita akan pastikan dukungan fasilitas akomodasi pariwisata ini semuanya tersedia dan juga kelengkapan fasilitas pariwisata seperti homestay maupun hotel-hotel yang nonbintang ini kita siapkan untuk menampung," tandasnya.
Jakarta [B2B] - Indonesian President Joko Widodo (Jokowi) ordered the Minister of Tourism and Creative Economy (Menparekraf) Sandiaga Uno to prepare promotions for tourism destinations in Aceh and North Sumatra (North Sumatra) which will host the XXI National Sports Week (PON) in 2024.
This was conveyed by President Joko Widodo when chairing a limited meeting (ratas), at the Merdeka Palace, Jakarta, Monday (09/10).
"Earlier, the President gave directions, including within our scope at the Ministry of Tourism and Creative Economy, how to prepare tourism promotions in each province and its surroundings to ensure that the 2024 PON will certainly bring economic activity and impact on business opportunities and job creation," said Sandiaga in press statement after participating in the meeting.
Sandiaga explained, in North Sumatra apart from the super priority tourist destination (DPSP) Lake Toba, there are also other ecotourism destinations, such as Bukit Lawang. Meanwhile in Aceh, the party plans to integrate aspects of religious tourism by linking it to the 20th anniversary of the tsunami disaster.
"We will prepare this as well as the opening and closing ceremonies which we hope will be able to make PON 2024 a success," he said.
The Minister of Tourism and Creative Economy revealed that the potential for increasing tourist visits to DPSP reaches 10 to 15 percent at every event .
" This event adds to the quality of tourist visits, also in terms of movement, because this will be held in several districts," he said.
Furthermore, Sandiaga also ensured accommodation support during the XXI PON, both for the contingent and supporters.
"We will ensure that all support for tourism accommodation facilities is available and we also prepare complete tourism facilities such as homestays and non-star hotels to accommodate them," he said.