Tiga Emak Ditangkap setelah Fitnah Jokowi Larang Azan Disorot Media Asing
Indonesian Housewives Arrested over Election Video: Police
Editor : Ismail Gani
Translator : Novita Cahyadi

PUBLISHED: Selasa, 26 Februari 2019 , 21:29:00 WIB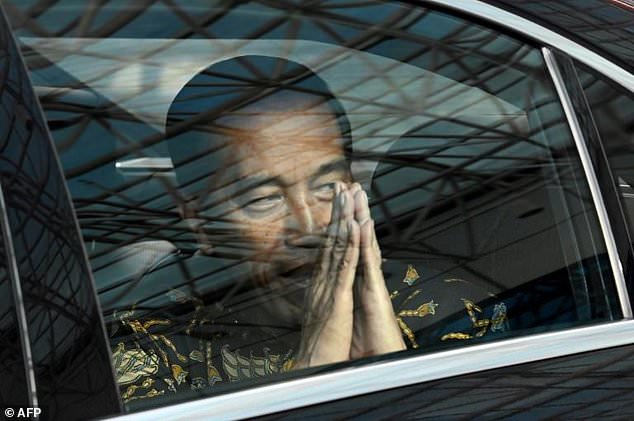 Foto: AFP/MailOnline
POLISI bergerak cepat menangkap tiga emak-emak yang viral di media sosial, setelah diduga melakukan fitnah terhadap calon presiden Joko Widodo yang disebut akan melarang azan dan melegalkan pernikahan sesama jenis apabila terpilih kembali sebagai presiden, kata polisi.
Jokowi membantah tuduhan tersebut setelah ke-Islam-annya jadi bahan kampanye hitam, fitnah berulang yang disuarakan lagi oleh para lawan politiknya menjelang pemilihan presiden (Pilpres 2019).
Pemerintah saat ini memerangi hoax atau berita bohong dan kampanye yang menyesatkan yang disebar online menjelang Pilpres 2019.
Video dugaan fitnah terhadap Jokowi segera menjadi viral setelah disebar ribuan kali secara online, memperlihatkan dua wanita berjilbab mengatakan kepada seorang pria tua bahwa Jokowi akan melarang azan di mesjid, yang dilakukan lima kali sehari oleh penganut Muslim di negara berpenduduk Muslim terbesar di dunia.
Mereka juga mengatakan bahwa Jokowi akan memaksa wanita Muslim melepas jilbab mereka di depan umum dan melegalkan pernikahan sesama jenis, yang secara luas ditentang di Indonesia, seperti terungkap di video viral tersebut.
Jokowi Widodo, yang pertama kali terpilih sebagai presiden pada 2014, adalah seorang Muslim yang taat dan tidak pernah secara terbuka mendorong tindakan apa pun yang disebutkan dalam video.
Tiga wanita yang "terkait" dengan video itu ditangkap oleh Polda Jawa Barat pada hari Minggu atas klaim mereka menyebarkan informasi yang menyesatkan.
Tetapi polisi tidak menjelaskan peran mereka.
"Ini adalah langkah pencegahan karena (video) ini berpotensi memicu kecemasan dan konflik di masyarakat kita," kata juru bicara kepolisian setempat Trunoyudho Wisnu Andiko dalam konferensi pers Senin.
Jika terbukti bersalah, ketiganya bisa menghadapi hukuman enam tahun penjara karena menyebarkan pidato kebencian dan melanggar undang-undang informasi elektronik, seperti dikutip AFP yang dilansir MailOnline.
THREE Indonesian housewives have been arrested over an online video that claimed President Joko Widodo would ban prayer and make gay marriage legal in the Muslim majority country if re-elected, police said Monday.
Widodo has fended off accusations over his Muslim credentials for years, claims that have been revived ahead of April presidential elections.
Indonesia has also been battling a wave of fake news and misinformation campaigns online in the lead up to the polls.
The video, shared thousands of times online, showed two women in hijab headscarves telling an old man that Widodo would end the call to prayer, which is performed five times a day by many in the world´s most populous Muslim country.
He would also force women to remove their hijab in public and legalise gay marriage, which is widely opposed in Indonesia, the video suggested.
Widodo, first elected in 2014, is a practising Muslim and has never publicly pushed for any of the measures mentioned in the video.
Three women "linked" to the video were arrested by East Java provincial police on Sunday over claims they were spreading misinformation.
But police did not elaborate on their role.
"This is a preventive measure because this (video) could potentially trigger anxiety and conflict in our society," local police spokesman Trunoyudho Wisnu Andiko told a press conference Monday.
If convicted, the trio could face up to six years in prison for spreading hate speech and violating a sweeping electronic information law.