Pesenam Putri Indonesia Dipulangkan karena Tidak Perawan Disorot Dunia
Indonesian Gymnast Dropped after Told `She`s No Longer a Virgin`
Editor : Ismail Gani
Translator : Novita Cahyadi

PUBLISHED: Minggu, 01 Desember 2019 , 21:31:00 WIB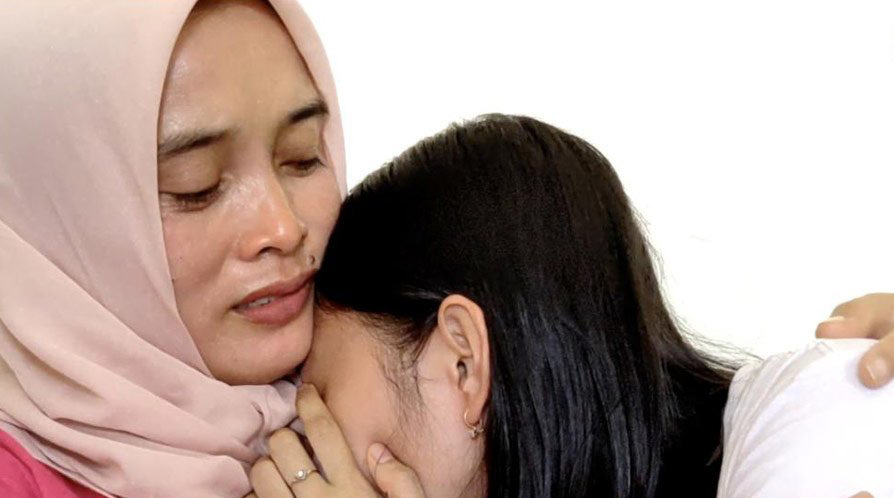 GUGAT HUKUM: Ibunda Shalfa Avrila Sania, 17, memeluk putrinya, pesenam artistik putri yang batal mengikuti SEA Games 2019 di Filipina [Foto: istimewa]
PESENAM wanita untuk pesta olahraga Asia Tenggara dipaksa pulang karena alasan dia tidak lagi perawan, kata keluarganya pada Jumat, pernyataan tersebut disanggah oleh ofisial senam yang bersikeras bahwa pemulangannya lebih karena masalah disiplin.
Shalfa Avrila Sania, 17, dijadwalkan berangkat ke pekan olahraga Asia Tenggara dua tahunan di Filipina pada 26 November hingga tiba-tiba diberhentikan dari pelatihan pada pertengahan November, kata pengacara dan keluarganya.
"Pelatih mengatakan putri saya selalu keluar hingga larut malam dengan teman-teman prianya dan hasil interogasi mereka menunjukkan bahwa ia tidak lagi perawan," kata ibunya Ayu Kurniawati kepada Thomson Reuters Foundation melalui telepon dari provinsi Jawa Timur di Indonesia.
"Saya terkejut. Saya ingin nama baik putri saya dipulihkan," kata ibu dua anak tersebut.
Kementerian Pemuda dan Olahraga Indonesia membantah klaim pada Jumat, mengatakan bahwa pemulangan paksa tersebut karena masalah kinerja dan disiplin.
"Kami akan mengambil tindakan tegas jika atlet itu dipaksa pulang karena pertanyaan tentang keperawanannya karena ini adalah masalah privasi, martabat dan tidak ada hubungannya dengan penampilan," katanya dalam sebuah pernyataan menurut situs berita Detik Indonesia.
Kurniawati mengatakan putrinya telah memenangkan hampir 50 medali sejak dia melakukan olahraga ketika dia berusia delapan tahun, dan menolak keraguan atas kinerjanya.
Keluarga telah mengirim surat kepada Kemenpora untuk memprotes pemecatannya di samping laporan medis yang menunjukkan selaput daranya masih utuh, kata pengacara mereka, Imam Muklas melalui telepon.
Kelompok-kelompok hak asasi manusia sebelumnya menentang "tes keperawanan" pada perempuan Indonesia sebagai persyaratan menjadi anggota TNI dan Polri, mengatakan praktik itu tidak ilmiah dan merendahkan martabat.
Upaya lain untuk memperkenalkan tes keperawanan pada siswa di beberapa sekolah di Indonesia menghadapi tentangan, termasuk dari kalangan ulama Islam seperti dikutip Reuters yang dilansir MailOnline.
AN INDONESIAN female gymnast training for a major sport event has been sent home on grounds she was no longer a virgin, her family said on Friday, a claim rejected by officials who insisted it was over disciplinary issues.
Shalfa Avrila Sania, 17, had been due to leave for the biennial Southeast Asian Games in the Philippines on Nov. 26 until she was dismissed suddenly from the training in mid-November, her lawyer and family said.
"The coach said my daughter always goes out late with her male friends and their interrogation showed she was no longer a virgin," her mother Ayu Kurniawati told the Thomson Reuters Foundation by phone from Indonesia's East Java province.
"I was shocked. I want my daughter's name cleared," the mother-of-two added.
Indonesia's sports ministry denied the claim on Friday, saying the dismissal was due to performance and disciplinary issues.
"We will take firm action if the athlete was sent back due to questions over her virginity because this is a matter of privacy, dignity and has nothing to do with performance," it said in a statement according to Indonesia's Detik news website.
Kurniawati said her daughter had won nearly 50 medals since she took up the sport when she was eight, and rejected doubts over her performance.
The family has sent a letter to the ministry to protest her dismissal alongside a medical report that showed her hymen was intact, their lawyer Imam Muklas said by phone.
Parts of Indonesia - the world's most populous Muslim country - remain conservative and some still value female virginity highly, although pre-marital sex is not uncommon among the younger generation.
Human rights groups have previously opposed "virginity tests" on Indonesian women seeking to join the police or military, saying the practice was unscientific and degrading.
Other attempts to introduce virginity tests on students in some Indonesian schools faced opposition, including from among Islamic clerics.