Ghozali Everyday Mendadak Tajir setelah Foto NFT-nya Laris di Jagat Maya
Indonesian Student becomes Rich Overnight after Selling a Thousand Selfies as NFTs
Editor : Kemal A Praghotsa
Translator : Novita Cahyadi

PUBLISHED: Kamis, 20 Januari 2022 , 02:17:00 WIB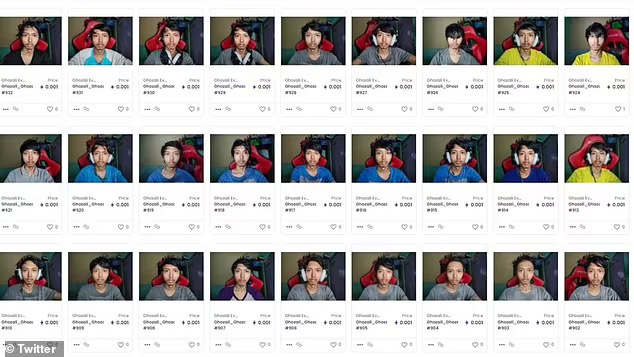 MENDADAK SULTAN: Foto-fotonya Ghozali Everyday secara resmi dijual di platform Opensea dan setelah seorang koki selebriti mengambil beberapa fotonya, dia dibanjiri lebih dari 400 orang yang membeli hak kepemilikan atas foto-fotonya [Foto: MailOnline]
KABAR tentang Ghozali Everyday mendadak tajir turut menjadi perhatian media asing, di antaranya MailOnline, media online terkemuka di Inggris, yang menyebut seorang pelajar Indonesia telah menjadi jutawan dalam semalam setelah menjual ribuan foto selfie dalam format digital NFT, nilainya lebih dari US$1 juta.
Sultan Gustaf Al Ghozali, 22, Prodi Animasi, Fakultas Ilmu Komputer Universitas Dian Nuswantoro (Udinus) Semarang, Provinsi Jawa Tengah mendapatkan kekayaan barunya setelah memotret dirinya sendiri setiap hari selama sekitar lima tahun.
Setiap foto sedikit berbeda tetapi menampilkan wajah tanpa ekspresi yang sama, saat ia duduk di depan layar komputernya.
Ide awalnya di balik foto-foto itu adalah membuat video selang waktu yang menunjukkan potret setiap hari yang dia habiskan untuk belajar - yang kemudian dapat dia gunakan saat kelulusannya.
Namun, setelah mengetahui tentang Non-Fungible Tokens (NFTs), dia memutuskan untuk mencoba menjual fotonya, berpikir akan lucu melihat wajahnya di koleksi orang lain.
Foto-fotonya secara resmi dijual di platform Opensea pada Desember 2021 dan setelah seorang koki selebriti mengambil beberapa fotonya minggu lalu, dia dibanjiri lebih dari 400 orang yang membeli hak kepemilikan atas foto-fotonya.
Permintaan yang tinggi ini membuat harga koleksinya, dengan judul 'Ghozali Everyday', akhirnya melampaui US$1 juta.
Pada Jumat pekan lalu, satu selfie tersedia untuk 0,247 cryptocurrency ether ($806) setelah permintaan melonjak.
France24 melaporkan dia berkata: 'Saya tidak pernah berpikir ada orang yang mau membeli selfie, itulah sebabnya saya hanya memberi harga $3'.
Terlepas dari kesuksesannya dalam semalam, Ghozali mengatakan dia belum menemukan keberanian untuk memberi tahu orang tuanya tentang uang yang dia hasilkan.
Melihat ke depan, Ghozali mengatakan bahwa dia sekarang berencana untuk menginvestasikan uang yang dia hasilkan dari NFT-nya dengan harapan dapat mendirikan studio animasinya sendiri.
Dia juga akan terus mengambil selfie setiap hari sampai dia lulus seperti dilansir MailOnline.
AN INDONESIAN student has become an overnight millionaire after selling thousands of selfies as NFTs for more than $1million.
Sultan Gustaf Al Ghozali, 22, who studies computer science at a university in the central city of Semarang, earned his newfound fortune after taking pictures of himself every single day for around five years.
Each picture is slightly different but features the same distinctive expressionless face, as he sits in front of his computer screen.
His initial idea behind the photos was to create a video time-lapse showing a snapshot of every single day he spent studying - which he could then use at his graduation.
However, after learning about Non-Fungible Tokens (NFTs) he decided to try selling his photos, thinking it would be funny to see his face on other people's collections.
His photos officially went up for sale on the platform Opensea in December and after a celebrity chef snapped a few of the images up last week, he was flooded with more than 400 people purchasing the ownership rights to his images.
This high demand saw the price of his collection, under the title 'Ghozali Everyday', eventually surpass $1million.
On Friday one selfie was available for 0.247 of the cryptocurrency ether ($806) after demand shot up.
France24 reports he said: 'I never thought anybody would want to buy the selfies, which is why I only priced them at $3'.
Despite his overnight success, Ghozali said he hasn't been able to find the courage yet to tell his parents about the money he has made.
Looking ahead to the future, Ghozali said that he now plans on investing the money he has made from his NFTs in the hope of setting up his own animation studio.
He will also continue to take the daily selfies until he graduates.