Media Asing Sebut Presiden Jokowi Ingin Australia jadi Anggota ASEAN
Indonesia Wants Australia as Full ASEAN Member
Editor : Ismail Gani
Translator : Novita Cahyadi

PUBLISHED: Jum'at, 16 Maret 2018 , 22:23:00 WIB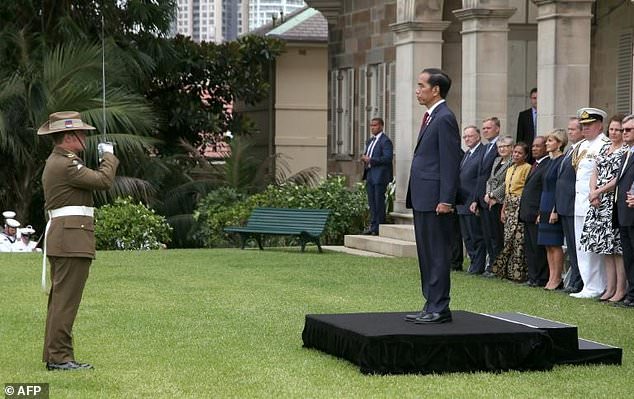 Presiden RI Joko Widodo saat berkunjung ke Australia (Foto: AFP/MailOnline)
PRESIDEN RI Joko Widodo menginginkan Australia menjadi anggota penuh ASEAN, Jumat, sebagai sinyal bahwa Indonesia ingin Canberra memainkan peran regional yang lebih besar dalam masalah pertahanan, perdagangan dan keamanan.

Pernyataan tersebut muncul setelah Australia dipilih menjadi tuan rumah KTT ASEAN di Sydney, menyikapi ambisi China meningkatkan pengaruhnya di kawasan Asia Tenggara dan ancaman ekstremisme.

"Saya pikir ini ide yang bagus," kata Presiden Jokowi kepada Sydney Morning Herald, sebagai sinyal dukungan pada Australia bergabung dengan ASEAN - untuk pertama kalinya seorang presiden Indonesia menyetujui konsep tersebut.

"Karena kawasan regional kita akan lebih baik, (untuk) stabilitas, stabilitas ekonomi, dan juga stabilitas politik. Tentu, akan lebih baik."

Australia telah menjadi mitra dialog ASEAN, yang beranggotakan Brunei, Kamboja, Indonesia, Laos, Malaysia, Myanmar, Filipina, Singapura, Thailand dan Vietnam, sejak 1974.

Mereka memulai pertemuan puncak pemimpin dua tahunan pada 2016, yang pertama di Vientiane.

Dalam sebuah laporan bulan lalu, Institut Kebijakan Strategis Australia berpendapat bahwa Canberra harus menargetkan masuk dalam keanggotaan ASEAN pada 2024 - ulang tahunnya yang ke 50 sebagai mitra - dan menggunakan KTT Sydney sebagai landasan peluncuran.

"Adanya tekanan geo-strategis dan geo-ekonomi yang berkembang di Asia, ASEAN, kekuatan menengah, membutuhkan kekuatan menengah ekstra yang ditawarkan oleh Australia dan Selandia Baru," katanya.

"KTT Sydney adalah saat untuk memulai percakapan panjang tentang Australia bergabung dengan ASEAN."

Perdana Menteri Australia Malcolm Turnbull mengatakan bahwa dia "sangat nyaman" atas pernyataan Jokowi Widodo, namun menekankan bahwa "masalah ASEAN adalah urusan ASEAN".

"Kami sangat menghormati ASEAN, bagaimana cara mencapai kesimpulannya sendiri," katanya menjelang pertemuan bilateral dengan pemimpin Kamboja Hun Sen.

"Kami adalah mitra dialog dengan ASEAN dan kami menghargai sentralitas ASEAN dan pentingnya dan kepentingan mendasarnya, sangat penting, di wilayah kami."

Berbicara pada sebuah konferensi pers bersama Turnbull, Perdana Menteri Singapura Lee Hsien Loong mengatakan bahwa dia ingin "memperdalam hubungan antara Australia dan Asia Tenggara secara lebih luas".

"Australia percaya bahwa masa depannya terletak di Asia, mengambil langkah untuk menjadi mitra dialog pertama ASEAN pada 1974, dan Singapura telah mengambil langkah-langkah untuk membantu menjaga kawasan ini tetap terbuka," kata Lee, tuan rumah ASEAN 2018.

"Sebagai ketua ASEAN, Singapura akan terus mendorong keterlibatan Australia dengan ASEAN, dan kita akan membahas untuk meneruskan kemitraan ini."

Presiden Jokowi, yang dilaporkan akan menghadiri makan malam pribadi bersama Turnbull di rumah harbourside-nya pada Sabtu, memilih kerja sama yang erat dengan Canberra menangani kontra-terorisme.

Dia mengatakan bahwa dia secara teratur berbicara di telepon dengan Turnbull untuk menyelesaikan masalah seperti ancaman yang diajukan oleh ekstremis Islam yang tahun lalu merebut kota Marawi di Filipina.

"Kami memiliki kerjasama yang baik dengan Marawi, tidak hanya dengan Australia tapi juga dengan Malaysia, dengan Filipina, dengan Brunei," katanya.

"Anda tahu bahwa tidak ada negara yang kebal dari terorisme atau ekstremisme."

Melawan ancaman ekstremisme keras dan cara untuk mencekik pendanaan teroris adalah tema utama KTT Sydney seperti dikutip AFP yang dilansir MailOnline.
INDONESIAN PRESIDENT Joko Widodo wants Australia to become a full member of ASEAN, signalling Friday he is keen on Canberra playing a bigger regional role in defence, trade and security matters.

His comments come with Australia hosting a special summit of Association of Southeast Asian Nations (ASEAN) leaders in Sydney, as China increasingly flexes its muscle and the threat of violent extremism grows.

"I think it´s a good idea," Widodo told the Sydney Morning Herald, referring to Australia joining ASEAN -- the first time an Indonesian president has endorsed the concept.

"Because our region will be better, (for) stability, economic stability, and also political stability. Sure, it will be better."

Australia has been a dialogue partner of ASEAN, which groups Brunei, Cambodia, Indonesia, Laos, Malaysia, Myanmar, the Philippines, Singapore, Thailand and Vietnam, since 1974.

They began biennial leaders´ summits in 2016, with the first in Vientiane.

In a report last month, the Australian Strategic Policy Institute argued that Canberra should aim for ASEAN membership by 2024 -- its 50th anniversary of being a partner -- and use the Sydney summit as a launch pad.

"As the geo-strategic and geo-economic pressures build in Asia, ASEAN, as a middle-power grouping, needs the extra middle-power heft offered by Australia and New Zealand," it said.

"The Sydney summit is the moment to launch the long conversation about Australia joining ASEAN."

Australian Prime Minister Malcolm Turnbull said he was "very warmed" by Widodo´s comments, but stressed "ASEAN matters are matters for ASEAN".

"We have the greatest respect for ASEAN, the way it reaches its own conclusions," he said ahead of a bilateral meeting with Cambodian leader Hun Sen.

"We are a dialogue partner with ASEAN and we respect that centrality of ASEAN and its significance and fundamental importance, central importance, in our region."

Speaking at a press conference alongside Turnbull, Singapore Prime Minister Lee Hsien Loong said he was keen to "deepen ties between Australia and Southeast Asia more broadly".

"Australia believes its future lies in Asia, took steps to become ASEAN´s first dialogue partner in 1974, and Singapore has taken steps to help keep the region open," said Lee, the 2018 ASEAN host.

"As ASEAN chair, Singapore will continue to encourage Australia´s engagement with ASEAN, and we will discuss taking the partnership forward."

Widodo, who will reportedly have a private dinner with Turnbull at his harbourside home on Saturday, singled out close co-operation with Canberra on counter-terrorism.

He said he regularly spoke on the phone with Turnbull to resolve issues such as the threat posed by Islamic extremists who last year seized the Philippines´ city of Marawi.

"We have good co-operation on Marawi, not only with Australia but also with Malaysia, with the Philippines, with Brunei," he said.

"You know that no country is invulnerable from terrorism or extremism."

Countering the threat of violent extremism and ways to choke terrorist financing are key themes of the Sydney summit.

The warming of ties between Indonesia and Australia follows a period of rocky relations due to Jakarta´s execution of Australian drug smugglers and Canberra´s policy of turning migrant boats back to Indonesia.