Menko Darmin Nasution Sanggah UMKM Terbuka untuk Investasi Asing
Indonesian Senior Minister Denies SMEs Open for Foreign Investment
Reporter : Gatot Priyantono
Editor : Cahyani Harzi
Translator : Dhelia Gani

PUBLISHED: Selasa, 20 November 2018 , 22:25:00 WIB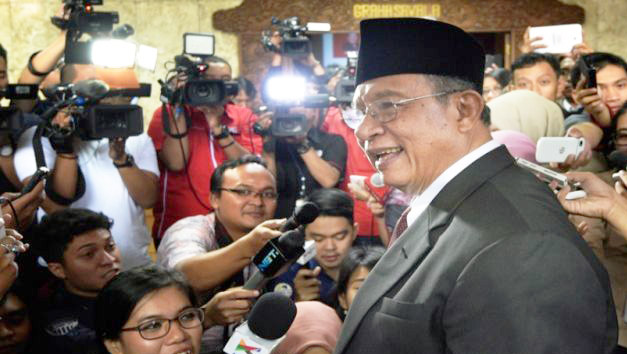 Menko Perekonomian Darmin Nasution (Foto: istimewa)
Jakarta (B2B) - Menteri Koordinator Perekonomian RI Darmin Nasution membantah tudingan bahwa pemerintah mengizinkan investasi asing untuk beroperasi di daerah yang disesuaikan untuk usaha mikro, kecil dan menengah (UMKM) dan koperasi. Daftar Negatif Investasi (DNI) 2018 adalah daftar area bisnis yang dekat dengan investasi asing dan investasi baru.
"Saya katakan bahwa tidak benar bahwa sektor usaha kecil terbuka bagi investasi asing," kata Menko Darmin Nasution kepada pers di Jakarta, Senin (19/11).
Protes dan tuduhan itu muncul karena salah persepsi atas empat bidang bisnis yang disesuaikan untuk UMKM dan koperasi di bawah DNI 2016. Empat bidang bisnis termasuk industri pengupasan dan pembersih umbi, industri percetakan kain, industri rajut terutama bordir dan gerai layanan internet.
"Mustahil investasi asing akan beroperasi di industri pengupasan dan pembersihan oto dan outlet layanan internet sebagai perusahaan investasi asing diperlukan untuk memulai bisnis dengan modal setidaknya Rp10 miliar. Mereka (bisnis) bukan usaha kelas Rp10 miliar," kata Darmin.
Jakarta (B2B) - Indonesian senior minister Darmin Nasution denies allegation that the government is allowing foreign investment to operate in areas appropriated for micro, small and medium scale enterprises or the UMKM and cooperatives. The Investment Negative List (DNI) 2018 is a list of business areas close to foreign investment and new investment.
"I say that it is not true that the small business sector is open to foreign investment," Darmin Nasution told reporters here on Monday
The protest and allegation came on wrong perception over four business areas which are appropriated for UMKM and cooperatives under the DNI of 2016. The four business areas include tuber peeling and cleaning industry, cloth printing industry, knitting industry particularly embroidery and internet service outlets.
"It is impossible that foreign investment would operate in tuber peeling and cleaning industry and internet service outlets as a foreign investment company is required to start business with a capital of at least Rp10 billion. Those (businesses) are not Rp10-billion class venture," Mr Nasution said.