Usai Revitalisasi, Presiden Jokowi Berharap TMII jadi Ikon Pariwisata Indonesia
President Hopes TMII Will Become a Big Icon of Indonesian Tourism
Editor : Cahyani Harzi
Translator : Novita Cahyadi

PUBLISHED: Jum'at, 01 September 2023 , 22:31:00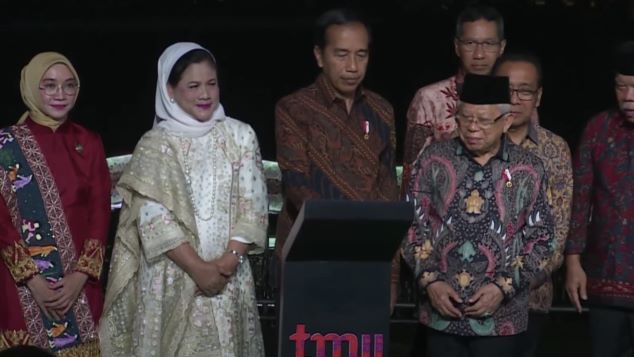 REVITALISASI TMII: Presiden Jokowi didampingi Ibu Iriana dan Wapres beserta Ibu Ma'ruf Amin serta pejabat lainnya pada Peresmian Revitalisasi TMII, di Jakarta. (Sumber: Setkab RI)
Jakarta [B2B] - Presiden RI Joko Widodo [Jokowi] meresmikan revitalisasi Taman Mini Indonesia Indah [TMII], Jumat [1/9], di TMII, Jakarta. Presiden berharap dengan wajah baru ini, TMII dapat menjadi ikon besar pariwisata di Indonesia.
"Saya yakin dengan wajah baru, Taman Mini Indonesia Indah ini akan menjadi sebuah ikon besar pariwisata di Jakarta dan juga tentu saja di Indonesia," ujarnya.
Revitalisasi yang dilakukan, kata Presiden, sekaligus mengembalikan TMII ke semangat awal yang digagas oleh Ibu Tien Soeharto. Revitalisasi TMII juga mengusung konsep ruang terbuka hijau.
"Kalau siang mestinya Taman Mini Indonesia Indah sekarang ini bisa lebih sejuk karena konsepnya telah dikembalikan seperti pada masterplan awalnya, yaitu 70 persen ruang terbuka hijau dan 30 persen bangunan," kata Presiden.
Selain mengusung konsep hijau atau green, seluruh bangunan museum dan anjungan daerah di TMII telah dipercantik dan direvitalisasi dengan mengusung konsep inklusif, budaya atau culture, dan cerdas atau smart.
"Masyarakat sekarang bisa mengunjungi dan menikmati wajah baru Taman Mini Indonesia Indah yang tertata rapi, lebih hijau, lebih indah, dan lebih nyaman," tandas Presiden.
Sebelumnya Menteri Badan Usaha Milik Negara (BUMN) Erick Thohir dalam sambutannya mengatakan, revitalisasi TMII merupakan kolaborasi tiga kementerian yaitu Kementerian Sekretariat Negara (Kemensetneg), Kementerian Pekerjaan Umum dan Perumahan Rakyat (PUPR), dan Kementerian BUMN.
"Pak Menteri Sekretaris Negara, Pak Pratikno waktu itu menugaskan kami berdua Pak Basuki, Menteri PUPR dan saya sendiri Menteri BUMN untuk merenovasi Taman Mini Indonesia Indah yang memang punya arti sejarah untuk Indonesia," kata Erick.
Renovasi TMII dilakukan sejak Januari 2022 dan menghabiskan anggaran Kementerian PUPR sebesar sekitar Rp1,070 miliar. Selain itu perusahaan BUMN Injourney juga menggelontorkan anggaran sekitar Rp200 miliar untuk beutifikasi dan lainnya.
Siap Sambut Para Pendamping Pemimpin Negara ASEAN
Sebelumnya, Menteri Pariwisata dan Ekonomi Kreatif (Menparekraf) Sandiaga Salahuddin Uno mengungkapkan bahwa TMII disiapkan sebagai salah satu lokasi rangkaian kegiatan KTT ke-43 ASEAN.
"Nantinya akan ada spouse program yang ditujukan kepada pendamping para kepala negara atau pemerintahan yang digelar pada 6 September 2023 siang," ujar Sandi, di Jakarta, Selasa (29/08/2023).
Spouse program tersebut akan dilaksanakan di panggung budaya menghadap Danau Archipelago TMII. Di sana para delegasi dan wisatawan bisa melihat miniatur pulau-pulau yang ada di tanah air, dari Sumatra hingga ke Papua.
Pada malam hari, Danau Archipelago TMII akan menyala memantulkan cahaya dari lampu merah putih. Atraksi itu disemarakkan dengan dancing fountain atau air mancur menari yang menyajikan pertunjukan permainan cahaya yang canggih. Dancing fountain ini digelar setiap malam di dekat danau dengan miniatur kepulauan Indonesia.
Selain itu, TMII juga menghadirkan beragam fasilitas dan layanan hiburan seperti kereta gantung, taman burung, museum Indonesia, museum kontemporer, hingga anjungan seluruh provinsi Indonesia.
Jakarta [B2B] - Indonesian President Joko Widodo [Jokowi] inaugurated the revitalization of Taman Mini Indonesia Indah [TMII], Friday [1/9], at TMII, Jakarta. The President hopes that with this new face, TMII can become a big icon of tourism in Indonesia.
"I am sure that with its new face, Taman Mini Indonesia Indah will become a big tourism icon in Jakarta and of course in Indonesia," he said.
The revitalization carried out, said the President, also returned TMII to the initial spirit initiated by Mrs. Tien Soeharto. The revitalization of TMII also carries the concept of green open space.
"In the afternoon, Taman Mini Indonesia Indah should now be cooler because the concept has been returned to the original master plan, namely 70 percent green open space and 30 percent buildings," said the President.
Apart from carrying a green concept, all museum buildings and regional platforms at TMII have been beautified and revitalized by carrying the concept of inclusiveness, culture, and smartness.
"The public can now visit and enjoy the new face of Taman Mini Indonesia Indah which is neatly arranged, greener, more beautiful and more comfortable," stressed the President.
Previously, Minister of State-Owned Enterprises (BUMN) Erick Thohir in his speech said that the revitalization of TMII was a collaboration of three ministries, namely the Ministry of State Secretariat (Kemensetneg), the Ministry of Public Works and Public Housing (PUPR), and the Ministry of BUMN.
"At that time, the Minister of State Secretary, Mr. Pratikno, assigned the two of us, Mr. Basuki, the Minister of PUPR and myself, the Minister of BUMN, to renovate Taman Mini Indonesia Indah, which really has historical significance for Indonesia," said Erick.
TMII renovations have been carried out since January 2022 and cost the PUPR Ministry a budget of around IDR 1,070 billion. Apart from that, the state-owned company Injourney also allocated a budget of around IDR 200 billion for beautification and other things.
Ready to Welcome Assistant Leaders of ASEAN Countries
Previously, the Minister of Tourism and Creative Economy (Menparekraf) Sandiaga Salahuddin Uno revealed that TMII was prepared as one of the locations for a series of activities for the 43rd ASEAN Summit.
"Later there will be a spouse program aimed at accompanying heads of state or government which will be held on September 6 2023 afternoon," said Sandi, in Jakarta, Tuesday (29/08/2023).
The Spouse program will be held on a cultural stage overlooking Lake Archipelago TMII. There, delegates and tourists could see miniatures of the islands in the country, from Sumatra to Papua.
At night, Lake Archipelago TMII will light up reflecting light from the red and white lights. The attraction is enlivened with a dancing fountain that presents a sophisticated light play show. This dancing fountain is held every night near a lake with a miniature Indonesian archipelago.
Apart from that, TMII also provides various entertainment facilities and services such as cable cars, bird parks, Indonesian museums, contemporary museums, and platforms throughout Indonesian provinces.