Kejagung Tetapkan Empat Tersangka Kasus Izin Ekspor Minyak Goreng
The Indonesian Attorney General´s Names Suspects in Cooking Oil Case
Editor : Ismail Gani
Translator : Novita Cahyadi

PUBLISHED: Selasa, 19 April 2022 , 22:07:00 WIB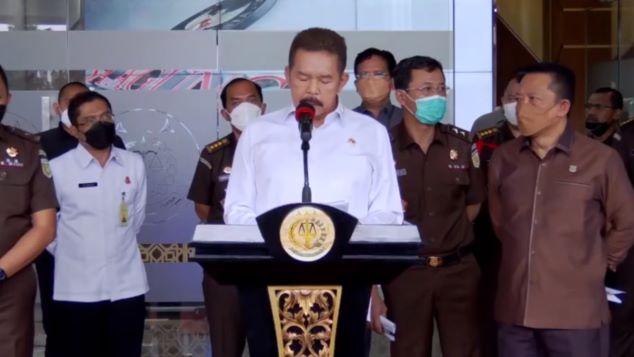 IZIN EKSPOR: Kepala Jaksa Agung RI Burhanuddin saat melakukan konferensi pers di gedung Kejaksaan Agung RI, Jakarta Selatan.
Jakarta [B2B] - Kejaksaan Agung RI menetapkan Direktur Jenderal Perdagangan Luar Negeri Kementerian Perdagangan sebagai tersangka terkait dugaan korupsi dalam pemberian fasilitas ekspor crude palm oil [CPO] atau minyak goreng, bersama tiga orang dari pihak swasta.
Kepala Jaksa Agung RI Burhanuddin mengungkapkan bahwa perbuatan para tersangka perbuatan para tersangka, mengakibatkan timbulnya kerugian perekonomian Negara yaitu kemahalan serta kelangkaan minyak goreng.
"Terjadi penurunan konsumsi rumah tangga dan industri kecil yang menggunakan minyak goreng dan menyulitkan kehidupan rakyat," ungkapnya.
Menurutnya, para tersangka melakukan perbuatan melawan hukum berupa bekerja sama secara melawan hukum dalam penerbitan izin Persetujuan Ekspor [PE], dan dengan kerja sama melawan hukum tersebut, akhirnya diterbitkan PE yang tidak memenuhi syarat.
"Sehingga mendistribusikan CPO atau RBD Palm Olein tidak sesuai dengan harga penjualan dalam negeri [DPO], dan tidak mendistribusikan CPO dan RBD Palm Olein ke dalam negeri sebagaimana kewajiban yang ada dalam DMO [20% dari total ekspor]," lanjutnya.
Adapun ketiga tersangka dari pihak swasta sebagai berikut:
- SM selaku Senior Manager Corporate Affair Permata Hijau Group [PHG]
- PTS selaku General Manager di Bagian General Affair PT. Musim Mas
- MPT selaku Komisaris PT. Wilmar Nabati Indonesia
Jakarta [B2B] - The Indonesian Attorney General´s Office has named the Director General of Foreign Trade of the Ministry of Trade as a suspect related to allegations of corruption in the provision of export facilities for crude palm oil [CPO] or cooking oil, along with 3 people from the private sector.
The Chief Prosecutor General of the Republic of Indonesia, Burhanuddin, revealed that the actions of the suspects caused losses to the state economy, namely the high cost and scarcity of cooking oil.
"There is a decline in household consumption and small industries that use cooking oil and make people´s lives difficult," he said.