Jokowi Tegaskan Pembangunan Tembok Laut Harus Dipercepat
Indonesia`s Leader Says Sinking Jakarta Needs Giant Sea Wall
Editor : Ismail Gani
Translator : Novita Cahyadi

PUBLISHED: Minggu, 28 Juli 2019 , 02:29:00 WIB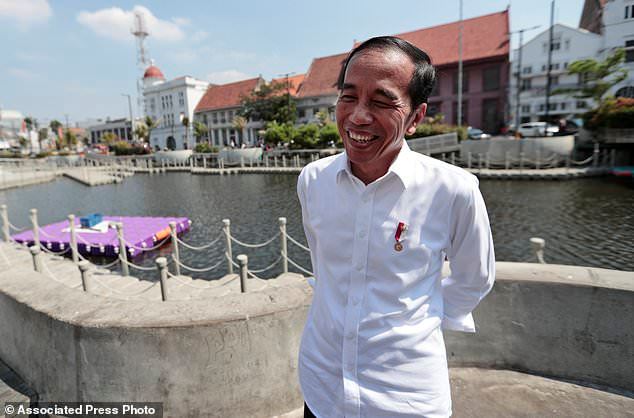 Presiden RI Joko Widodo [Foto: Associated Press]
PRESIDEN RI Joko Widodo mengatakan dalam sebuah wawancara bahwa dia berkeinginan mempercepat pembangunan 'tembok laut raksasa' di sekitar Jakarta untuk mencegah ibukota tenggelam di bawah laut, memberikan dukungan pinjaman baru dan urgensi meskipun diperebutkan secara politis sebagai mega proyek.

Presiden Jokowi dan pemerintahnya menghadapi jadwal yang ketat, termasuk perkiraan oleh para ahli bahwa pada tingkat saat ini, sepertiga dari Jakarta dapat tenggelam pada 2050.

Krisis eksistensial yang dihadapi kota adalah puncak dari dekade pembangunan tanpa terkekang, perencanaan kota yang hampir tidak ada dan kesalahan aturan oleh politisi Jakarta yang lebih melayani kepentingan pribadi di atas kepentingan publik.

Kurangnya jaringan air pipa yang komprehensif, industri dan pemilik rumah telah memanfaatkan akuifer kota ini, menyebabkan penurunan yang cepat di Jakarta utara, yang dihuni jutaan penduduk.

Di kawasan tersebut, tanah rawa telah tenggelam rata-rata sekitar 10 sentimeter per tahun. Naiknya permukaan laut dari planet yang memanas akan menambah masalah dalam beberapa dekade mendatang.

Jokowi mengatakan kepada The Associated Press pada Jumat bahwa sudah waktunya untuk bergerak maju dengan tanggul laut, sebuah proyek yang mulai dipertimbangkan pemerintah satu dekade lalu.

"Proyek besar ini perlu dilakukan dengan cepat untuk mencegah Jakarta tenggelam di bawah laut," katanya dalam wawancara di sebuah restoran sederhana yang menyajikan hidangan pedas khas Indonesia.

Presiden mengatakan dia bertekad untuk mendorong melalui proyek-proyek utama dan reformasi, bahkan jika berpotensi tidak populer, mencatat bahwa dia tidak akan terlalu dibatasi oleh politik dalam negeri dalam masa lima tahun kedua dan terakhir. Jokowi terpilih kembali awal tahun ini.

Dia juga membahas rencana ambisius lainnya untuk Jakarta, kota metropolitan yang berpenduduk padat, tercemar, dan luas, yang berpenduduk 10 juta jiwa, membengkak menjadi tiga kali lipat dari jumlah itu ketika menghitung mereka yang tinggal di wilayah metropolitan yang lebih besar.

Jokowi menegaskan kembali bahwa ingin membangun modal baru, menyarankan itu harus di luar pulau Jawa utama Indonesia, di mana 57 persen dari hampir 270 juta penduduk negara terkonsentrasi.

"Kami ingin memisahkan ibukota, pusat pemerintahan dan Jakarta sebagai pusat bisnis dan ekonomi," katanya. "Kami tidak ingin semua uang yang ada hanya di Jawa. Kami ingin itu di luar Jawa juga."

Kerentanan Jakarta terhadap banjir dan gempa bumi juga merupakan faktor, kata Widodo. "Kita perlu memastikan modal kita aman dari bencana," katanya, tanpa menyebutkan lokasi untuk ibukota baru.

Ancaman yang dihadapi Jakarta paling terlihat di Muara Baru, daerah kumuh tepi laut di barat laut kota.

Sebuah dinding laut di sepanjang pantai dimaksudkan untuk melindungi gubuk darurat daerah itu terhadap perairan Laut Jawa, tetapi penghalang beton - yang diangkat dan diperkuat setelah banjir besar lebih dari satu dekade lalu - telah mengembangkan retakan.

Tetesan air laut yang bocor melaluinya, menutupi jalan yang mengalir di sepanjang dinding dengan minuman payau yang dangkal. Sebuah masjid setengah tenggelam di sisi teluk tembok berfungsi sebagai pengingat akan apa yang mungkin ada di toko untuk seluruh area. Dua wanita di lingkungan itu mengatakan rumah mereka sering banjir.

Jakarta telah digambarkan sebagai salah satu kota yang paling cepat tenggelam di dunia - hasil dari kemalangan geografis dan salah urus. Kota ini terletak di tanah berawa, dengan 13 sungai yang tercemar berat melewatinya. Penyebab utama tenggelamnya adalah pengambilan air tanah secara berlebihan. Berat bangunan yang lebih tinggi sedang dibangun dalam beberapa tahun terakhir semakin menekan tanah.

Heri Andreas, seorang ilmuwan bumi di Institut Teknologi Bandung di Indonesia, mengatakan bahwa di beberapa bagian Jakarta utara, tanahnya sudah 2 hingga 4 meter di bawah permukaan laut dan tenggelam hingga 20 sentimeter setahun.

"Jakarta terus tenggelam," kata Andreas, pakar geodesi, atau ukuran bentuk bumi. "Jika penurunan tanah berlanjut pada laju yang sama, 95 persen Jakarta utara akan berada di bawah air pada 2050."

Dia mengatakan air akan menutupi sekitar sepertiga dari kota.

Andreas mengatakan perlu waktu untuk ramalannya yang mengkhawatirkan untuk ditanggapi dengan serius oleh pejabat pemerintah Indonesia, tetapi perencanaan untuk tembok laut raksasa yang mengelilingi Teluk Jakarta dimulai sekitar satu dekade lalu.

Proyek senilai US$42 miliar ini berlangsung tiga tahap, dimulai dengan memperkuat bendungan pantai yang ada sejauh 30 kilometer dan membuat 17 pulau buatan. Ini akan diikuti dengan membangun dinding laut raksasa di sisi barat dan timur teluk.

Namun, implementasinya lambat di tengah argumen politis tentang biaya proyek dan kemungkinan kerugian bagi industri perikanan lokal.

Andreas, yang sesekali dikonsultasikan oleh pihak berwenang dan bertemu dengan pejabat pemerintah pekan lalu, mengatakan ia mengharapkan versi skala besar dari dinding laut raksasa akan dibangun dengan biaya kurang dari anggaran awal.

Dalam skenario ini, dinding sepanjang 20 kilometer akan melingkupi bagian teluk untuk melindungi daerah yang paling rentan, daripada lingkaran yang dimaksudkan menjadi tiga kali lebih panjang. Ini akan membeli waktu bagi pemerintah untuk berurusan dengan daerah lain nanti.

Nelayan lokal melihat mega proyek dengan curiga, takut proyek itu akan merampok mata pencaharian mereka.

Di Muara Angke, sebuah pelabuhan nelayan kecil di utara Jakarta, Pandi yang berusia 63 tahun menolak peringatan para ilmuwan, dengan alasan bahwa banjir sesekali adalah bagian dari kehidupan di tepi pantai.

Pandi, yang menggunakan satu nama, menangkap kerang untuk mencari nafkah, dalam sebuah operasi yang menyediakan mata pencaharian bagi sekitar 30 orang.

Pada Sabtu, beberapa pria mengambil tangkapan mereka dari sebuah perahu kecil ke tong besar yang mereka taruh di atas api terbuka di dekatnya. Setelah kerang dimasak, para lelaki membuangnya ke tanah, tempat para wanita mengambil kerang, menyiapkan kerang untuk dijual.

Pandi mengatakan reklamasi tanah yang sudah berlangsung di teluk memaksanya berlayar lebih jauh dari pantai untuk mencari kerang. Dia mengatakan dia khawatir tembok laut raksasa bisa membuatnya keluar dari bisnis untuk selamanya seperti dikutip Associated Press yang dilansir MailOnline.

"Jika kita tidak bisa bekerja, kita akan menderita untuk waktu yang lama," katanya. "Tenggelam" di bawah air, katanya, "hanyalah bagian dari risiko."
INDONESIA'S president said in an interview that he wants to see the speedy construction of a giant sea wall around Jakarta to prevent the low-lying capital from sinking under the sea, lending renewed backing and a sense of urgency to a slow-moving and politically contested mega project.

President Joko Widodo and his government are up against a tight timetable, including a forecast by experts that at the current rate, one-third of Jakarta could be submerged by 2050.

The existential crisis facing the city is the culmination of decades of unfettered development, almost nonexistent urban planning and misrule by city politicians who have served private interests over those of the public.

Lacking a comprehensive piped water network, industry and homeowners have tapped into the city's aquifers, causing rapid subsidence in northern Jakarta, home to several million people.

In this area, the swampy ground has been sinking at an average of about 10 centimeters (4 inches) a year. Rising sea levels from a heated-up planet will compound the problem in decades to come.

Widodo told The Associated Press on Friday that it's time to move ahead with the sea wall, a project the government first began to consider a decade ago. "This huge project will need to be done quickly to prevent Jakarta from sinking under the sea," he said in the interview at a humble restaurant serving spicy Indonesian dishes.

The president said he's determined to push through key projects and reforms, even if potentially unpopular, noting that he'll be less constrained by domestic politics in his second and final five-year term. Widodo was reelected earlier this year.

He also addressed other ambitious plans for Jakarta, a congested, polluted and sprawling metropolis of 10 million that swells to three times that number when counting those living in the larger metropolitan area.

Widodo reiterated that wants to build a new capital, suggesting it should be outside Indonesia's main island of Java, where 57 percent of the country's nearly 270 million people are concentrated.

"We want to separate the capital, the center of government and Jakarta as a business and economic center," he said. "We don't want all the money existing only in Java. We want it to be outside Java as well."

Jakarta's vulnerability to flooding and earthquakes is also a factor, Widodo said. "We need to make sure our capital is safe from disasters," he said, without naming the location for the new capital.

The threats facing Jakarta are most visible in Muara Baru, a waterfront slum in the northwest of the city.

A sea wall along the shore is meant to protect the area's makeshift shacks against the waters of the Java Sea, but the concrete barrier - raised and reinforced after a major flood more than a decade ago - has developed cracks.

A steady trickle of seawater leaks through it, covering the street running alongside the wall with a shallow brackish brew. A half-submerged mosque on the bay side of the wall serves as a stark reminder of what could be in store for the entire area. Two women in the neighborhood said their homes are flooded frequently.

Jakarta has been described as one of the world's fastest sinking cities - a result of geographic misfortune and mismanagement. The city sits on swampy ground, with 13 heavily polluted rivers running through it. The main cause for the sinking is the over-extraction of groundwater. The weight of taller buildings being constructed in recent years further compresses the ground.

Heri Andreas, an earth scientist at Indonesia's Bandung Institute of Technology, said that in some parts of northern Jakarta, the ground is already 2 to 4 meters (7 to 13 feet) below sea level and is sinking by as much as 20 centimeters (8 inches) a year.

"Jakarta keeps sinking," said Andreas, an expert in geodesy, or the measuring of the shape of the earth. "If subsidence continues at the same rate, 95 percent of northern Jakarta will be underwater by 2050."

He said water would cover about one-third of the city.

Andreas said it took time for his alarming forecasts to be taken seriously by Indonesian government officials, but that planning for a giant sea wall encircling Jakarta Bay began about a decade ago.

The $42 billion project envisions three stages, starting with strengthening 30 kilometers (18 miles) of existing coastal dams and creating 17 artificial islands. This would be followed by building giant sea walls on the western and eastern sides of the bay.

However, implementation has been slow amid political arguments over the cost of the project and possible harm to the local fishing industry.

Andreas, who is occasionally consulted by the authorities and met with government officials last week, said he expects a scaled-back version of the giant sea wall to be built for less than the initial budget.

In this scenario, a 20-kilometer-long (12-mile-long) wall would enclose part of the bay to protect the most vulnerable area, rather than a loop that was intended to be three times as long. This would buy time for the government to deal with the other areas later.

Local fishermen view the mega project with suspicion, fearing it will rob them of their livelihood.

In Muara Angke, a small fishing port in northern Jakarta, 63-year-old Pandi dismissed the warnings by scientists, arguing that occasional flooding is part of life on the waterfront.

Pandi, who uses a single name, catches mussels for a living, in an operation that provides a livelihood for about 30 people.

On Saturday, several men scooped their catch from a small boat into large vats they placed on open fires nearby. Once the mussels were cooked, the men dumped them onto the ground, where women removed the shells, preparing the mussels for sale.

Pandi said land reclamation already underway in the bay forced him to sail farther away from shore in search of mussels. He said he fears a giant sea wall could drive him out of business for good.

"If we can't work, we will suffer for a long time," he said. "Sinking" below water, he said, "is just part of the risk."