Berjalan Aman dan Sehat, Jokowi Apresiasi Mudik Lebaran 2022
Jokowi Appreciates Eid Al-Fitr 2022 Homecoming is Safe and Healthy
Editor : Ismail Gani
Translator : Novita Cahyadi

PUBLISHED: Selasa, 24 Mei 2022 , 23:19:00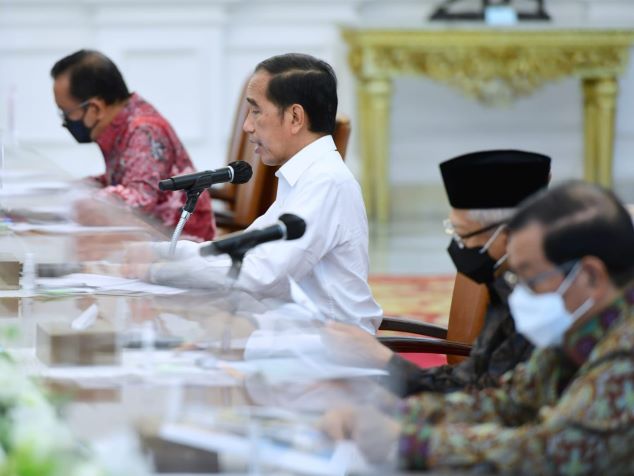 MUDIK LEBARAN: Presiden RI Joko Widodo saat berbicara dalam rapat terbatas bersama jajarannya terkait evaluasi mudik Lebaran 2022. (dok: Biro Pers, Media, dan Informasi Sekretariat Presiden)
Jakarta [B2B] - Presiden Joko Widodo mengapresiasi seluruh masyarakat dan petugas yang menyukseskan mudik Lebaran tahun 2022. Jokowi menyebut mudik Lebaran 2022 berjalan aman dan sehat.
"Alhamdulillah mudik kemarin berlangsung aman dan sehat, tanpa ada peristiwa yang berakibat fatal serta tidak ada penambahan kasus Covid-19 yang berarti," ujar Jokowi dalam rapat terbatas bersama jajarannya yang disiarkan di kanal Youtube Sekretariat Presiden, Selasa [24/5].
Jokowi mengatakan, mayoritas masyarakat puas dengan pelaksanaan mudik Lebaran kemarin, sehingga kerja petugas selama mengamankan mudik Lebaran mendapat apresiasi dari masyarakat.
"Dari survei yang dilakukan oleh Lembaga Survei Indonesia, mayoritas masyarakat menyatakan kepuasannya terhadap penyelenggaraan mudik Lebaran tahun ini. Saya kira ini diapresiasi oleh masyarakat," ungkap Presiden.
Jokowi mengatakan, berdasarkan data yang diterima, jumlah penumpang umum pada H-7 serta H+7 Lebaran tahun 2022 mengalami penurunan dibandingkan pada tahun 2019 karena adanya peralihan kepada moda kendaraan pribadi.
Selain itu kejadian kecelakaan pada mudik Lebaran tahun 2022 juga mengalami penurunan sebesar 45 persen dibandingkan tahun 2019 yaitu dari 3.199 kasus menjadi 1.763 kasus. Namun, Jokowi menekankan sejumlah hal yang harus diperhatikan, seperti manajemen rekayasa lalu lintas.
"Terus kita perbaiki, kita sempurnakan manajemen rekayasa lalu lintas, mulai dari manajemen ganjil-genap, one way, contraflow di jalan tol maupun di non-tol sehingga tidak terjadi penumpukan kendaraan dan juga tersedianya rest area yang representatif dan mencukupi jumlahnya," tutur Jokowi.
Selain itu, Jokowi juga minta untuk menambah kapasitas penampungan kendaraan menuju pelabuhan penyeberangan, memangkas waktu antre kendaraan untuk naik ke angkutan penyeberangan, menambah jumlah kapal penyeberangan, hingga perluasan dermaga yang padat.
Sedangkan terkait jalan non-tol di jalur pantai selatan [pansela], Jokowi menilai jalur tersebut sebagai sebuah alternatif yang bagus bagi para pemudik, sehingga sudah mulai dipersiapkan dengan baik agar dapat digunakan pada mudik Lebaran mendatang.
"Ini coba dilihat lagi secara lebih detail mengenai sarana dan prasarana, SPBU, penerangan, rest area, saya kira memang harus disiapkan untuk mudik tahun depan. Saya kira ini sebuah alternatif yang bagus," ucap Jokowi.
Tak hanya di jalur pansela, Jokowi juga minta agar perbaikan fasilitas dan sarana serta prasarana pendukung turut dilakukan di bandara, terminal, pelabuhan, hingga stasiun. Jokowi menilai penambahan kapasitas angkutan kereta api saat pelaksanaan mudik gratis secara maksimal juga menjadi hal yang ditekankan oleh Jokowi dalam evaluasi kali ini.
"Saya rasa kalau ini kita lakukan tahun depan kita akan lebih baik lagi," tandasnya.
Jakarta [B2B] - President Joko Widodo appreciated all the people and officers who made the Eid homecoming in 2022 a success. Jokowi said that the 2022 Eid homecoming was safe and healthy.
"Alhamdulillah, yesterday's homecoming was safe and healthy, without any fatal events and no significant additional Covid-19 cases," Jokowi said in a limited meeting with his staff broadcast on the Presidential Secretariat's Youtube channel, Tuesday [24/5].
Jokowi said that the majority of the people were satisfied with the implementation of the Lebaran homecoming yesterday, so that the work of officers while securing the Lebaran homecoming received appreciation from the community.
"From a survey conducted by the Indonesian Survey Institute, the majority of people expressed satisfaction with the implementation of Lebaran homecoming this year. I think this is appreciated by the community," said the President.
Jokowi said, based on the data received, the number of public passengers on D-7 and D+7 Lebaran in 2022 decreased compared to 2019 due to the shift to private vehicle modes.
In addition, the incidence of accidents during Lebaran homecoming in 2022 also decreased by 45 percent compared to 2019, from 3,199 cases to 1,763 cases. However, Jokowi emphasized a number of things that must be considered, such as traffic engineering management.