Kabinet Jokowi, Prabowo Akui Presiden Tawarkan Jabatan Menhan
Indonesia´s losing presidential candidate to join Cabinet
Editor : Ismail Gani
Translator : Novita Cahyadi

PUBLISHED: Senin, 21 Oktober 2019 , 23:29:00 WIB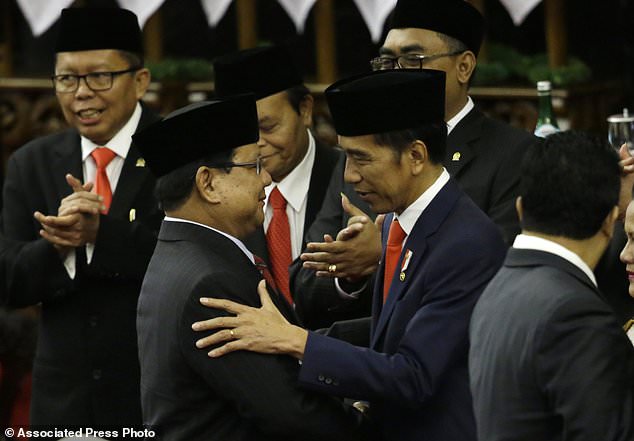 Foto: Associated Press/MailOnline
PEMIMPIN oposisi Indonesia sekaligus calon presiden yang kalah dalam Pilpres 2019 mengatakan pada Senin [21/10] bahwa dia akan bergabung ke dalam kabinet lawan politiknya untuk mendukung kekuatan pertahanan Indonesia, yang mengisyaratkan meredanya ketegangan politik di Indonesia sebagai negara demokrasi terbesar ketiga di dunia.
Mantan Danjen Kopassus, Prabowo Subianto mengaku dia diminta oleh Presiden RI Joko Widodo untuk bergabung dengan Kabinet, yang akan diumumkan pada Rabu [23/10].
Jokowi, yang dilantik untuk masa jabatan kedua pada Minggu, mengatakan rakyat Indonesia harus bersatu setelah kampanye pemilihan pahit.
Prabowo Subianto, yang juga pendiri dan pemimpin partai Gerindra, telah bernegosiasi dengan koalisi pemerintahan Jokowi untuk posisi kabinet setelah Pilpres yang memecah belah pada April.
"Kami telah diminta memperkuat Kabinet di bidang pertahanan dan kami siap membantu," kata Prabowo kepada wartawan setelah bertemu dengan Jokowi di istana presiden di ibukota, Jakarta. "Saya akan bekerja keras untuk memenuhi tujuan dan harapannya."
Prabowo menolak untuk mengatakan apakah dia telah diminta untuk menjadi menteri pertahanan sebagaimana banyak spekulasi yang beredar di media massa.
Prabowo awalnya menolak untuk menerima hasil Pilpres 2019. Dia menuduh terjadi kecurangan terstruktur, sistematis dan masif, tetapi gugatan hukumnya ditolak Mahkamah Konstitusi pada Juli lalu.
Sembilan orang tewas dalam kerusuhan pada Mei setelah putusan resmi MK menyatakan bahwa Jokowi telah memenangkan Pilpres dengan selisih suara 55,5%.
Prabowo kerap dikaitkan dengan pelanggaran hak asasi manusia [HAM] selama pemerintahan otoriter lama Presiden Soeharto, juga gagal dalam Pilpres 2014 oleh Jokowi dan tercatat empat kali gagal mengikuti Pilpres.
Andreas Harsono, peneliti Indonesia di Human Rights Watch, mengatakan bahwa masuknya Prabowo ke dalam kabinet merupakan reaksi konservatif terhadap upaya Jokowi untuk mengatasi catatan hak asasi manusia Indonesia yang buruk.
"Ini hari yang gelap bagi hak asasi manusia dan keadilan di Indonesia," kata Harsono.
Nadiem Makarim, CEO dan co-founder perusahaan startup Go-Jek, dan Erick Thohir, mantan pemilik klub sepakbola Inter Milan, juga mengatakan setelah pertemuan dengan Jokowi pada Senin bahwa mereka akan menjadi bagian dari Kabinet kedua Jokowi.
Indonesia, negara berpenduduk mayoritas Muslim terbesar di dunia, adalah pos terdepan demokrasi di lingkungan pemerintahan otoriter di Asia Tenggara dan diperkirakan akan menjadi salah satu ekonomi terbesar di dunia pada 2030.
Masa jabatan kedua Jokowi selanjutnya bisa memperkuat demokratisasi dua dekade negara itu dan melihat kemajuan dalam kebijakan tanda tangannya untuk meningkatkan infrastruktur yang tidak memadai di negara yang luas ini.
Prabowo yang bersekutu dengan kelompok-kelompok yang menginginkan hukum Islam daripada hukum sekuler berlaku di Indonesia, memenangkan kemenangan besar di provinsi-provinsi konservatif, tetapi Jokowi menang secara nasional dengan dukungan dari organisasi Muslim arus utama dan pemilih minoritas seperti dikutip Associated Press yang dilansir MailOnline.
INDONESIA'S opposition leader and losing presidential candidate said Monday that he will join his election rival's Cabinet to help strengthen the country's defense, signaling a calming of political tensions in the world's third-largest democracy.
Former special forces general Prabowo Subianto said he was asked by President Joko Widodo to join the Cabinet, which will be announced on Wednesday.
Widodo, who was sworn in for his second term on Sunday, said Indonesians should unite after the bitter election campaign.
Subianto, who is also the founder and leader of the Gerindra party, had been negotiating with Widodo's governing coalition for Cabinet positions following the divisive April election.
"We have been asked to strengthen the Cabinet in the defense area and we are ready to help," Subianto told reporters after meeting with Widodo at the presidential palace in the capital, Jakarta. "I will work hard to meet his goals and expectations."
Subianto declined to say if he had been asked to become defense minister as widely speculated by local media.
Subianto had initially refused to accept the election results. He alleged massive and systematic fraud, but his legal challenge was rejected by the country's top court last month.
Nine people died in riots in May after official results showed that Widodo had won 55.5% of the vote.
Subianto, linked to human rights abuses during the authoritarian rule of longtime President Suharto, also unsuccessfully challenged his presidential election loss to Widodo in 2014 and has now made four unsuccessful bids for the presidency.
Andreas Harsono, Indonesia researcher at Human Rights Watch, said Subianto's entry into the Cabinet was a conservative backlash against Widodo's efforts to address Indonesia's poor human rights record.
"It's a dark day for human rights and justice in Indonesia," Harsono said.
Nadiem Makarim, CEO and co-founder of ride-hailing startup company Gojek, and Erick Thohir, a former owner of the Inter Milan soccer club, also said following meetings with Widodo on Monday that they will be part of the new Cabinet.
Indonesia, the world's most populous Muslim-majority nation, is an outpost of democracy in a Southeast Asian neighborhood of authoritarian governments and is forecast to be among the world's biggest economies by 2030.
Widodo's second term could further cement the country's two decades of democratization and see progress in his signature policy of upgrading the sprawling nation's inadequate infrastructure.
Subianto, who allied himself with groups that want Islamic rather than secular law to prevail in Indonesia, won big victories in conservative provinces, but Widodo prevailed nationally with the backing of mainstream Muslim organizations and minority voters.