Kongres Nasional PMKRI, Jokowi Pastikan IKN Pindah
PMKRI National Congress, Jokowi Ensures IKN Moves According to Plan
Editor : Ismail Gani
Translator : Novita Cahyadi

PUBLISHED: Kamis, 23 Juni 2022 , 02:51:00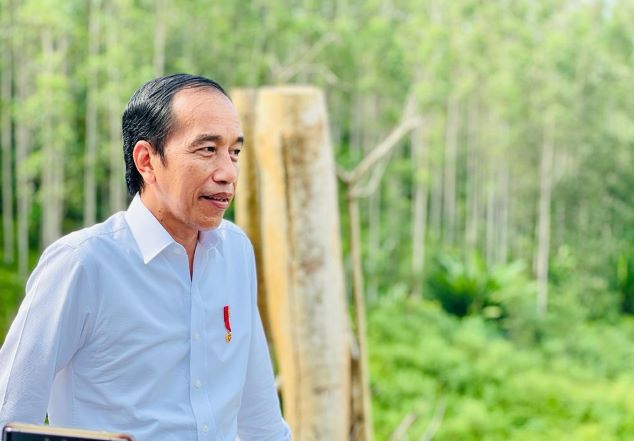 PERPINDAHAN IKN: Presiden RI Joko Widodo menegaskan perpindahan ibu kota tidak hanya melakukan pemindahan secara fisik sejumlah infrastruktur yang ada di Jakarta. [dok: BPMI Setpres]
Samarinda, Kaltim[B2B] - Presiden RI Joko Widodo memastikan bahwa pemindahan ibu kota negara Republik Indonesia dari Jakarta ke Ibu Kota Nusantara [IKN] akan tetap dilakukan sesuai dengan rencana yang telah ditetapkan oleh pemerintah dan undang-undang.
Jokowi menilai pemindahan ibu kota negara merupakan gagasan lama dari sejumlah pemimpin Indonesia terdahulu yang belum direalisasikan hingga saat ini.
"Ini adalah sebuah mimpi lama, gagasan lama yang belum dieksekusi, dan sekarang telah kita eksekusi dan ada back up undang-undangnya yaitu Undang-Undang Ibu Kota Negara," ujar Jokowi dalam sambutannya saat membuka secara resmi Kongres Nasional XXXII dan Sidang Majelis Permusyawaratan Anggota XXXI Perhimpunan Mahasiswa Katolik Republik Indonesia [PMKRI] yang digelar di Samarinda Convention Hall, Kota Samarinda, pada Rabu [22/6].
Dalam kesempatan tersebut, Jokowi memaparkan sejumlah alasan mengenai pentingnya pemindahan ibu kota negara. Salah satunya adalah pemerataan ekonomi yang ingin diwujudkan di seluruh penjuru Tanah Air dan tidak terpusat di satu pulau yang ada di Indonesia.
"Yang paling penting memang kita ingin Indonesiasentris bukan Jawasentris. Kita garis dari barat ke timur, dari utara ke selatan, ketemu di paling tengah itu yaitu Provinsi Kalimantan Timur," ungkap Jokowi.
Selain itu, Jokowi juga menjelaskan bahwa perpindahan ibu kota tidak hanya melakukan pemindahan secara fisik sejumlah infrastruktur yang ada di Jakarta. Perubahan tersebut termasuk pola pikir, birokrasi, dan cara kerja baru yang menggunakan teknologi akan menjadi prioritas pemerintah di IKN.
"Di sini lah akan kita mulai future economy, green economy, future technology, future knowledge semuanya memang ingin kita lakukan di sini. Rumah sakit ya rumah sakit internasional, universitas ya universitas yang kelasnya betul-betul internasional dan kita harapkan ini juga bisa membuka yang namanya future job dan future skill," ucap Jokowi.
Jokowi pun berharap IKN dapat menjadi magnet bagi talenta-talenta dalam negeri maupun luar negeri. Presiden mengatakan bahwa nantinya IKN akan memiliki desain dan fasilitas yang mendukung konsep ten minutes city, 70 persen area hijau, 80 persen transportasi publik ramah lingkungan, hingga penggunaan energi hijau.
"Ini desain-desain kota masa depan yang saya kira ini adalah miliknya anak-anak muda," tutur Jokowi.
Turut mendampingi Presiden dalam kegiatan tersebut adalah Ketua DPR RI Puan Maharani, Menteri Sekretaris Negara Pratikno, Menteri Investasi/Kepala BKPM Bahlil Lahadalia, Menteri Pemuda dan Olahraga Zainudin Amali, Gubernur Kalimantan Timur Isran Noor, Wali Kota Samarinda Andi Harun, dan Ketua Presidium PMKRI Benidiktus Papa.
Samarinda of East Kalimantan [B2B] - The President of the Republic of Indonesia Joko Widodo has ensured that the relocation of the capital city of the Republic of Indonesia from Jakarta to the Capital of the Archipelago [IKN] will continue to be carried out according to the plan set by the government and the law.
Jokowi assessed that relocating the nation's capital was an old idea from a number of previous Indonesian leaders that had not been realized until now.
"This is an old dream, an old idea that has not been executed, and now we have executed it and there is a back-up of the law, namely the State Capital Law," Jokowi said in his remarks at the official opening of the XXXII National Congress and the Members' Consultative Assembly. XXXI Catholic Student Association of the Republic of Indonesia [PMKRI] ​​which was held at the Samarinda Convention Hall, Samarinda City, on Wednesday [22/6].
On this occasion, Jokowi explained a number of reasons regarding the importance of moving the country's capital city. One of them is economic equality that wants to be realized throughout the country and not concentrated on one island in Indonesia.