Presiden Jokowi: Indonesia Siap Jembatani Komunikasi Rusia dan Ukraina
Indonesia is Ready to Bridge Russian and Ukrainian Communications
Editor : Kemal A Praghotsa
Translator : Dhelia Gani

PUBLISHED: Jum'at, 01 Juli 2022 , 02:52:00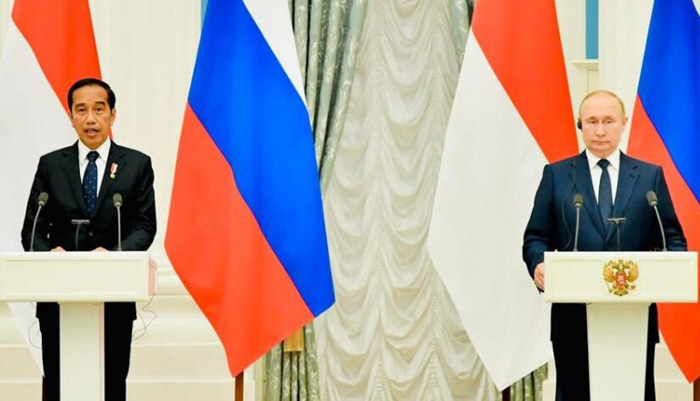 KONSTITUSI INDONESIA: Presiden RI Joko Widodo dan Presiden Rusia Vladimir Putin menyampaikan keterangan pada pers, usai kedua pemimpin mengadakan pertemuan di Kremlin [Foto: Setpres]
MOSKOW - Konstitusi Indonesia mengamanatkan agar Indonesia selalu berusaha berkontribusi bagi terciptanya perdamaian dunia. Demikian disampaikan Presiden Joko Widodo saat bertemu Presiden Rusia Vladimir Putin di Istana Kremlin, Kamis [30/6].
"Isu perdamaian dan kemanusiaan selalu menjadi prioritas politik luar negeri Indonesia. Dalam konteks inilah, saya lakukan kunjungan ke Kyiv dan Moskow," kata Presiden Jokowi saat menyampaikan keterangan pers bersama Presiden Putin.
Presiden Jokowi menambahkan, meskipun situasi saat ini masih sangat sulit, namun Presiden menegaskan bahwa penyelesaian damai penting untuk terus dikedepankan dan juga ruang-ruang dialog terus dibuka.
"Saya telah sampaikan pesan Presiden Zelensky untuk Presiden Putin dan saya sampaikan kesiapan saya untuk menjadi jembatan komunikasi antara dua pemimpin tersebut," ucap Presiden Jokowi.
Sebelumnya, Presiden Joko Widodo melakukan pertemuan dengan Presiden Rusia Vladimir Putin di Istana Kremlin, Moskow.
Presiden Jokowi tiba di Istana Kremlin sekitar pukul 15.30 waktu setempat dan langsung melakukan pertemuan dengan Presiden Putin di Ruang Upacara Kenegaraan Istana Kremlin.
Cuaca cerah menyambut kedatangan Presiden Joko Widodo dan Ibu Iriana di Moskow, Rusia, Kamis. Pesawat Garuda Indonesia GIA-1 yang membawa Presiden Jokowi dan rombongan mendarat di Bandara Vnukovo II sekitar pukul 11.00 waktu setempat.
MOSCOW - President Joko Widodo held a meeting with Russian President Vladimir Putin at the Kremlin Palace in Moscow, Thursday [June 30].
President Widodo arrived at the Kremlin at around 15.30 local time and immediately held a meeting with President Putin in the State Ceremony Room of the Kremlin Palace.