Lokasi Ibukota Pengganti Jakarta akan Diputuskan Tahun Ini
Indonesia`s New Capital to be Decided this Year: Minister
Editor : Ismail Gani
Translator : Novita Cahyadi

PUBLISHED: Kamis, 16 Mei 2019 , 04:11:00 WIB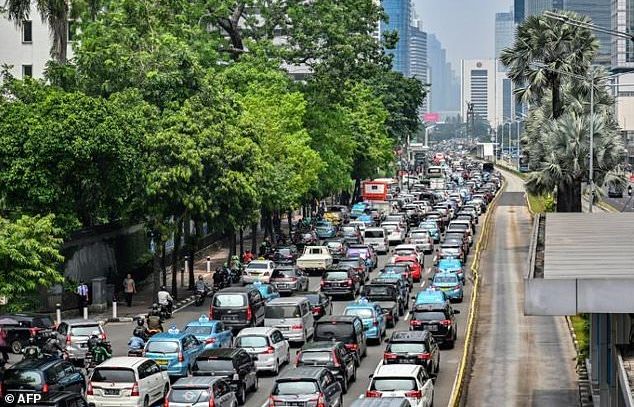 Foto: AFP/MailOnline
PEMERINTAH RI akan memutuskan lokasi ibukota baru, pindah dari Jakarta tahun ini yang ditargetkan rampung pada 2024, kata Menteri Perencanaan Pembangunan Nasional/Bappenas, Bambang Brodjonegoro pada Rabu.
Keputusan untuk memindahkan ibukota dari megapolitan Jakarta mengemuka sekitar dua pekan lalu setelah Presiden RI Joko Widodo menyetujui rencana yang lama diperdebatkan.
Pemerintah sedang menyelesaikan pengkajian sebelum membuat keputusan tahun ini, dan memulai proyek peletakan batu pertama pada 2021, kata Kepala Bappenas Bambang Brodjonegoro.
"Kami telah berkoordinasi untuk menyelesaikan studi sehingga kami dapat memutuskan tahun ini ke mana harus memindahkan ibukota, sehingga proses dan konstruksi dapat dimulai dalam satu atau dua tahun," katanya.
"Jadi kami berharap pada tahun 2024 ibukota baru siap menjadi pusat pemerintahan baru."
Jakarta - dan kota-kota satelit di sekitarnya - memiliki populasi sekitar 30 juta orang dan secara teratur dinilai sebagai salah satu pusat lalu lintas paling padat di dunia.
Banjir tahunan akibat ekstraksi air tanah yang berlebihan juga menjadikannya salah satu kota dengan tenggelam tercepat di dunia.
Awal bulan ini Presiden Widodo mengunjungi Kalimantan Timur dan Kalimantan Tengah di Kalimantan untuk mencari lokasi ibukota baru.
Bambang Brodjonegoro mengatakan satu-satunya lokasi yang dipertimbangkan untuk ibukota baru adalah "dua tempat yang telah kami kunjungi sebelumnya".
Jakarta, di pulau terpadat di negara itu, Jawa, akan tetap menjadi pusat keuangan negara, katanya seperti dikutip AFP yang dilansir MailOnline.
INDONESIA will decide the site of its new capital this year with the aim of it being ready by 2024, a minister said Wednesday.
The decision to move the capital from megacity Jakarta came about two weeks ago after President Joko Widodo approved the long-mooted plan.
The government is finalising studies so they can decide this year and start the groundbreaking project in 2021, urban planning minister Bambang Brodjonegoro said.
"We´ve been co-ordinating to finalise the studies so we can decide this year where to move the capital to, so the process and construction can begin in a year or two," he said.
"So we hope in 2024 the new capital is ready to be the new government centre."
Jakarta -- and its surrounding satellite cities -- has a population of about 30 million people and is regularly rated as one of the most traffic-congested centres in the world.
Annual flooding due to excessive groundwater extraction has also made it one of the world´s fastest-sinking cities.
Earlier this month President Widodo visited East and Central Kalimantan on the island of Borneo to scout for a new capital location.
Brodjonegoro said the only sites being considered for the new capital were "the two places we´ve visited earlier".
Jakarta, on the country´s most populous island, Java, would remain the nation´s financial hub, the government said.