Terbang ke Semarang, Jokowi Hadiri Upacara Hari Bhayangkara
Flying to Semarang, President Jokowi to Attend Bhayangkara Day Ceremony
Editor : Ismail Gani
Translator : Novita Cahyadi

PUBLISHED: Selasa, 05 Juli 2022 , 06:34:00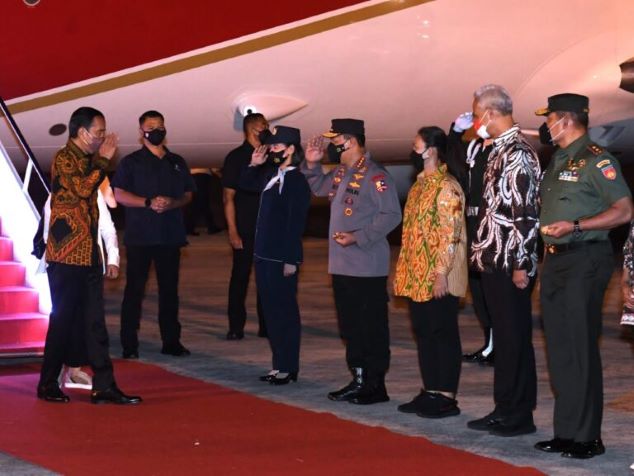 HUT BHAYANGKARA: Presiden RI Joko Widodo beserta Ibu Iriana Joko Widodo saat tiba di Bandara di Pangkalan Udara Utama TNI AD Ahmad Yani, Kota Semarang,
Jakarta [B2B] - Presiden Joko Widodo beserta Ibu Iriana Joko Widodo, Senin [4/7] sore, bertolak menuju Provinsi Jawa Tengah guna melakukan kunjungan kerja.
Presiden dan rombongan lepas landas dari Bandara Internasional Soekarno-Hatta, Tangerang, sekitar pukul 17.40 WIB dengan menggunakan Pesawat Kepresidenan Indonesia-1.
Setibanya di Pangkalan Udara Utama TNI AD Ahmad Yani, Kota Semarang, Presiden Jokowi dan Ibu Iriana akan langsung menuju hotel tempatnya bermalam.
Besok, Selasa [5/7], Presiden Jokowi dan Ibu Iriana diagendakan untuk menghadiri Upacara Peringatan ke-76 Hari Bhayangkara yang dipusatkan di Akademi Kepolisian RI, Kota Semarang. Dalam kesempatan tersebut, Presiden Jokowi akan bertindak selaku inspektur upacara.
Selepas itu, Presiden dan Ibu Iriana akan menuju Pasar Rakyat Peterongan, Kota Semarang, untuk menyerahkan sejumlah bantuan sosial bagi masyarakat penerima manfaat dan pedagang.
Turut mendampingi Presiden dan Ibu Iriana dalam penerbangan menuju Provinsi Jawa Tengah antara lain Menteri Sekretaris Negara Pratikno, Kepala Sekretariat Presiden Heru Budi Hartono, Sekretaris Militer Presiden Marsda TNI M. Tonny Harjono, dan Komandan Paspampres Mayjen TNI Tri Budi Utomo.
Jakarta [B2B] - President Joko Widodo and Mrs. Iriana Joko Widodo, Monday [4/7] afternoon, departed for Central Java Province for a working visit.
The President and his entourage took off from Soekarno-Hatta International Airport, Tangerang, at around 17.40 WIB using the Indonesia-1 Presidential Aircraft.
Upon arrival at the Ahmad Yani Army Main Air Base, Semarang City, President Jokowi and Mrs. Iriana will go directly to the hotel where they are staying the night.
Tomorrow, Tuesday [5/7], President Jokowi and Ibu Iriana are scheduled to attend the 76th Commemoration Ceremony of Bhayangkara Day which will be centered at the Indonesian Police Academy, Semarang City. On this occasion, President Jokowi will act as the ceremony inspector.