Kementan Pastikan Indonesia Tidak Akan Impor Daging Ayam Brazil
Indonesian Govt Makes Sure not to Import Brazilian Chicken Meat
Editor : M. Achsan Atjo
Translator : Dhelia Gani

PUBLISHED: Rabu, 09 Mei 2018 , 00:39:00 WIB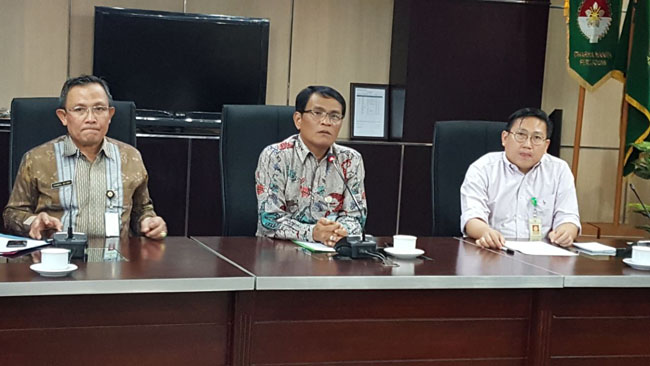 Dirjen PKH I Ketut Diarmita (tengah) didampingi Direktur Kesmavet PKH Syamsul Ma´arif (kiri) dan Kasubdit Higienis dan Standarisasi Sanitari Direktorat Kesmavet PKH, Agung Suganda menjawab pertanyaan pers (Foto: Humas Kementan)
Jakarta (B2B) - Kementerian Pertanian melalui Direktur Jenderal Peternakan dan Kesehatan Hewan (PKH) I Ketut Diarmita menegaskan bahwa Indonesia saat ini tidak akan mengimpor daging ayam dari Brazil, untuk menanggapi isu tentang rencana impor daging ayam dari Brazil pasca putusan Organisasi Perdagangan Internasional (WTO).

Ketut Diarmita mengatakan bahwa Menteri Pertanian Andi Amran Sulaiman menyetujui masuknya daging sapi Brazil ke Indonesia dan tim dari Kementerian Pertanian Brazil menyetujui untuk tidak memasukan daging ayam dan produknya ke Indonesia setelah memenuhi persyaratan teknis yang ditetapkan.

"Indonesia sudah mencapai over supply daging ayam bahkan sudah ekspor ke Jepang, Timor Leste, Papua Nugini, dan sedang dalam penjajakan ekspor ke negara-negara Asia lainnya dan Timur Tengah," kata Ketut Diarmita kepada pers di Jakarta, Selasa petang (8/5).

Menurutnya, Indonesia dan Brazil akan meningkatkan kerjasama peningkatan SDM peternakan dan kesehatan hewan, dan pemerintah Brazil juga akan mendorong pengusaha di Brazil untuk melakukan investasi breeding farm dan usaha peternakan sapi di Indonesia.

Terkait dengan adanya putusan WTO atas gugatan dari Brazil, I Ketut Diarmita mengatakan bahwa kebijakan dan regulasi impor produk hewan harus disesuaikan dengan ketentuan perjanjian WTO.

"Saat ini Pemerintah sedang menyelesaikan rancangan peraturan menteri pertanian atau RPMP tentang Perubahan Atas Peraturan Menteri Pertanian No. 34/2016 yang menyesuaikan dengan rekomendasi Panel WTO," kata Dirjen PKH.

Sebagaimana diketahui, Brazil mengajukan gugatan ke WTO atas keberatannya terhadap kebijakan Indonesia yang dianggap melakukan pelarangan dan pembatasan impor daging ayam dan produk ayam dari Brazil sejak tahun 2009.
Jakarta (B2B) - Indonesian Agriculture Ministry through the Director General of Livestock and Animal Health, I Ketut Diarmita confirmed that Indonesia will not import chicken meat from Brazil, to address the issue of Brazilian chicken meat import plan after the verdict of World Trade Organization (WTO).

Mr Diarmita said that Agriculture Minister Andi Amran Sulaiman approved the entry of Brazilian beef to Indonesia,
and a team of Brazil´s Agriculture Ministry agrees not to export chicken meat and products to Indonesia in accordance with technical requirements.

"Indonesia over supply chicken meat has even exported to Japan, East Timor, Papua New Guinea, and is exploring export opportunities to the Middle East," Mr Diarmita told reporters here on Tuesday evening (May 8).

According to him, Indonesia and Brazil will increase the cooperation of livestock and animal health, and the Brazilian government will also encourage entrepreneurs in Brazil to invest in breeding farms and cattle breeding in Indonesia.

Related to the WTO decision on the lawsuit from Brazil, Mr. Diarmita said that the policy and regulation of import of animal products must comply with the WTO provisions.

"Currently the Indonesian government is finalizing the draft agriculture minister´s draft to comply with the recommendations of the WTO Panel," he said.

As is known, Brazil has filed a lawsuit against the WTO for its objection to Indonesian policy which is considered to ban and limit imports of chicken and chicken products from Brazil since 2009.