1,5 Juta Kebutuhan Hewan Kurban 2018, Naik 5% dari Kebutuhan 2017
1.5 million Sacrificial Animals for Eid al-Adha in Indonesia
Reporter : Gusmiati Waris
Editor : Cahyani Harzi
Translator : Dhelia Gani

PUBLISHED: Minggu, 05 Agustus 2018 , 03:32:00 WIB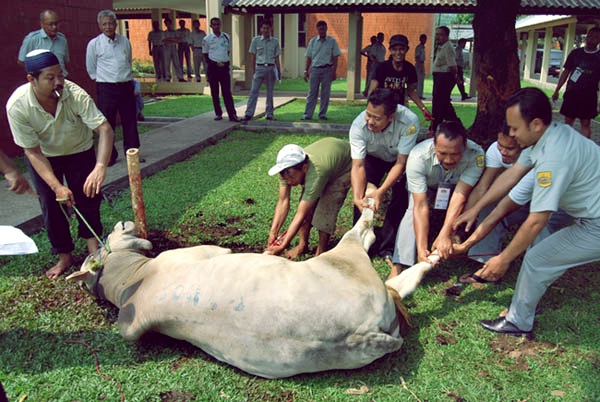 Foto: istimewa
Jakarta (B2B) - Kementerian Pertanian RI memprediksi kebutuhan hewan kurban pada Idul Adha 1439 H mencapai 1.504.588 ekor terdiri atas 462.339 ekor sapi, 10.344 ekor kerbau, 793.052 ekor kambing, dan 238.853 ekor domba sekaligus memastikan ketersediaan stok hewan kurban lokal cukup untuk memenuhi kebutuhan hewan kurban 2018.
"Untuk mengantisipasi kebutuhan daging sapi segar di pasar selama periode Hari Raya Idul Adha, kami telah berkoordinasi dengan feedloter untuk memberikan pasokan tambahan berupa sapi bakalan eks impor siap potong," kata Dirjen Peternakan dan Kesehatan Hewan (PKH) di Kementerian Pertanian, I Ketut Diarmita di Jakarta, Jumat (3/8).
Menurutnya, hingga 30 Juli 2018, stok sapi bakalan siap potong sebanyak 30.170 ekor dan stok sapi bakalan yang sedang digemukkan mencapai 140.344 ekor.
Dirjen PKH menambahkan pihaknya telah melakukan koordinasi dengan dinas yang membidangi fungsi peternakan dan kesehatan hewan di seluruh Indonesia.
"Kita pastikan ketersediaan stok hewan kurban lokal cukup untuk memenuhi kebutuhan hewan kurban tahun 2018," kata Ketut Diarmita.
Jakarta (B2B) - Indonesian government predicts the need for sacrificial animals of Islamic holiday Eid al-Adha to reach 1,504,588 consisting of 462,339 cows, 10,344 buffaloes, 793,052 goats, and 238,853 sheep.
"To anticipate the need for fresh beef on the market in Eid al-Adha, we have coordinated with feedloter to increase supply with ex-imported cows," said Director General of Livestocks and Animal Health, I Ketut Diarmita here on Friday (August 3).
According to him, until July 30, 2018 the stock of feeder cattle ready to cut is 30,170 and stock of cows in feedloter reach 140 344 individuals.
Mr Diarmita said it had coordinated with related agencies across the country.
"We make sure the availability of local sacrificial animal stocks is enough to meet the needs of Islamic holidays this year," he said.