Daging Lebaran: Ditjen PKH Kementan Pastikan Stok Cukup, Harga Terjangkau
The Beef Supply is Enough for Eid in Indonesia: Senior Ministry Official
Reporter : Gusmiati Waris
Editor : Cahyani Harzi
Translator : Dhelia Gani

PUBLISHED: Sabtu, 01 Juni 2019 , 23:36:00 WIB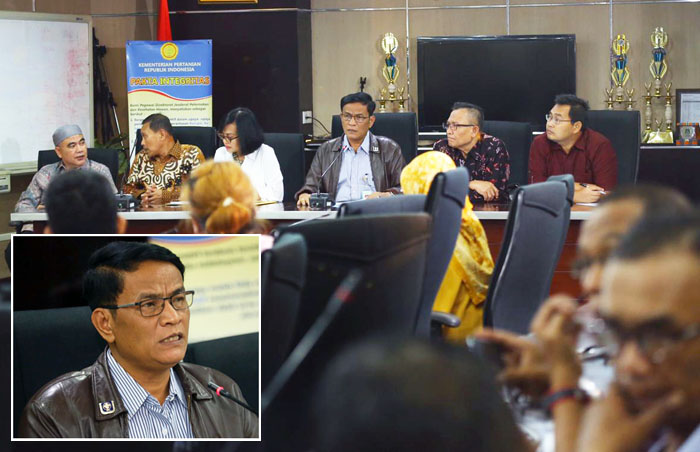 BAKPIA DITJEN PKH: Ditjen PKH I Ketut Diarmita [inset] menjawab pers pada Bincang Asyik Pertanian [Bakpia] di Jakarta [Foto2: Humas PKH Kementan]
Jakarta [B2B] - Pemerintah RI memastikan ketersediaan daging sapi, daging dan telur ayam ras cukup menjelang Hari Raya Idul Fitri 1440 H. Daging sapi/kerbau surplus 2.450 ton dari prediksi kebutuhan nasional Mei dan Juni 2019 mencapai 123.105 ton, yang akan dipenuhi oleh produksi sapi lokal 72.576 ton, stok persediaan 40.620 ton didukung rencana masuknya daging impor dan jeroan 12.359 ton pada Juni 2019.
"Stok daging sapi dan kerbau surplus, kondisi sangat aman menjelang Lebaran," kata Direktur Jenderal Peternakan dan Kesehatan Hewan - Kementerian Pertanian RI [Dirjen PKH] I Ketut Diarmita kepada pers di Jakarta, Jumat [31/5].
Selama Ramadan dan Lebaran 2019, Ditjen PKH Kementan mencatat ketersediaan daging sapi/kerbau surplus 2.450 ton. Adapun prediksi kebutuhan nasional pada Mei hingga Juni 2019 sebanyak 123.105 ton, yang dipenuhi oleh produksi lokal 72.576 ton, stok 40.620 ton, dan rencana impor daging sapi dan jeroan pada Juni sekitar 12.359 ton.
Dengan menghitung potensi produksi dan kebutuhan Mei dan Juni 2019, daging ayam diprediksi surplus 30.373 ton, dan komoditas telur surplus 153.761 ton, hal ini berdasarkan angka kebutuhan telur sebanyak 326.329 ton, sedangkan stok 480.090 ton.
Dalam menjaga ketersediaan serta stabilitas harga pangan, Ketut menjelaskan bahwa pemerintah mewaspadai tiga aspek utama yaitu: kecukupan stok; distribusi; dan kenaikan permintaan. Kementan selalu berkoordinasi dengan instansi terkait, untuk melakukan penghitungan supply-demand daging sapi/kerbau, daging ayam dan telur secara periodik melalui rapat koordinasi teknis [Rakornis] yang dikoordinir Kemenko Perekonomian bersama Kemendag, Kemenperin, dan BPS.
"Untuk memenuhi kebutuhan nasional, pemerintah berupaya meningkatkan populasi dan produktivitas sapi dengan program Upsus Siwab dan pembenahan tata niaga ternak dan daging sapi dengan penguatan kelembagaan peternak sapi lokal dalam pemasaran melalui koperasi peternak, revitalisasi fungsi pasar ternak dan RPH sebagai penunjang tata niaga, pemanfaatan kapal ternak, dan pembangunan holding ground untuk kelancaran distribusi sapi dan daging sapi.
Khusus terkait pemantauan harga, Ditjen PKH melalui Petugas Pelayanan iInformasi Pasar (PIP) terus melakukan pemantauan data harga di 158 kabupaten/kota, khususnya komoditas sapi hidup, ayam ras, telur ayam ras di tingkat produsen. Adapun harga tingkat konsumen diperoleh melalui koordinasi dengan Badan Ketahanan Pangan (BKP Kementan) dan Kementerian Perdagangan.
Langkah strategis lain, Ditjen PKH mengeluarkan Surat Edaran No 02.022/TU.020/F5/05/2019 tanggal 2 Mei 2019 kepada kantor dinas yang membidangi fungsi peternakan dan kesehatan hewan di seluruh provinsi/kabupaten/kota untuk meningkatkan pengawasan keamanan dan peredaran pangan asal hewan, dan memastikan seluruh produk hewan yang beredar telah diproses, didistribusikan, dan dipasarkan di fasilitas unit usaha yang telah terdaftar dan diakui oleh otoritas berwenang setempat.
"Hal itu untuk mengantisipasi potensi praktik penyimpangan dan pemalsuan produk hewan di sepanjang rantai produksi produk hewan, mengoptimalkan kegiatan pengawasan dan penyidikan terhadap setiap temuan, serta koordinasi kegiatan pengawasan tersebut dengan Laboratorium Kesmavet pusat/daerah untuk dukungan fungsi pengujian.
"Kami harap dengan adanya pasokan produk hewan ASUH (Aman, Sehat, Utuh, dan Halal) dalam jumlah yang cukup dan harga terjangkau, maka masyarakat dapat merayakan lebaran dengan tenang," kata I Ketut Diarmita.
Jakarta [B2B] - Indonesian government ensures that the availability of beef, meat and chicken eggs is enough before Eid. Beef and buffalo surplus of 2,450 tons of national demand predictions in May and June 2019 reached 123,105 tons, which will be fulfilled by local cattle production of 72,576 tons, inventory stock of 40,620 tons plus imported meat and offal of 12,359 tons in June 2019.

"Stock of beef and buffalo is surplus, meat supply is very safe before Eid," said the Director General of Livestock and Animal Health at the Ministry of Agriculture [Dirjen PKH] I Ketut Diarmita, to the press here on Friday [May 31].

For the needs of Ramadan and Eid 2019, the Directorate General of Livestock and Animal Health noted the availability of beef and buffalo surplus of 2,450 tons. The prediction of national needs in May to June 2019 is 123,105 tons, local production 72,576 tons, stock of 40,620 tons, and planned imports of beef and offal in June around 12,359 tons.

By calculating the production potential and needs of consumers in May and June 2019, chicken meat is a surplus of 30,373 tons and chicken eggs surplus of 153,761 tons, things refer to the needs of eggs 326,329 tons, while supplies 480,090 tons.

Maintaining the availability and stability of food prices, Diarmita explained that the government was aware of three main aspects, namely: stock adequacy; distribution; and increased demand. The ministry coordinates with relevant agencies, to periodically calculate supply-demand for beef and buffalo, chicken meat and eggs through technical coordination meetings under the coordination of the economic coordinating ministry, the ministry of trade, the ministry of industry and the Central Statistics Agency [BPS].

"To meet national needs, the government seeks to increase cattle population and productivity with a special program and revamping of livestock and beef trade systems by strengthening local cattle breeders in marketing through farmer cooperatives, revitalizing livestock market functions and slaughterhouses as supporting trade systems, livestock ships, and the construction of a holding ground for cattle and beef distribution.

Related to price monitoring, the ministry through the Market Information Service Officer continued to monitor price data in 158 districts / cities, particularly commodities of live cattle, broiler chicken, chicken eggs at the producer level. The consumer level prices are obtained through coordination with the Food Security Agency and the Trade Ministry.