Rp19.500 per Kg, Target Mentan Suplai 100 Ton Telur Ayam di Jabodetabek
Indonesian Govt Held the Bazaar to Stabilize the Chicken Eggs Price
Reporter : Gusmiati Waris
Editor : Cahyani Harzi
Translator : Dhelia Gani

PUBLISHED: Kamis, 19 Juli 2018 , 22:35:00 WIB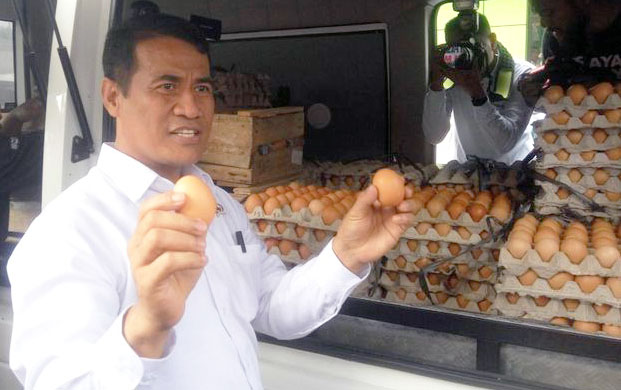 Mentan Andi Amran Sulaiman menjawab pers usai melepas 100 ton telur ayam untuk mendorong stabilisasi harga di Jabodetabek (Foto: B2B/Mya)
Jakarta (B2B) - Kementerian Pertanian RI mengantisipasi lonjakan harga telur ayam di Jabodetabek dengan melepas 100 ton telur ayam seharga Rp19.500 per kg, yang dipasarkan melalui 50 titik Toko Tani Indonesia (TTI), 43 pasar tradisional dan belasan kawasan perumahan, sehingga harga telur ayam kembali normal ke kisaran Rp22.000 setelah melonjak ke Rp30.000 per kg dalam sepekan terakhir
"Operasi pasar ini merupakan salah satu cara pemerintah untuk menstabilkan harga telur ayam di tingkat konsumen. Satu pekan terakhir ada lonjakan harga ke Rp30 ribu per kg, dan telur dari peternak ini akan disebar ke 43 pasar tradisional, 50 titik Toko Tani, dan kawasan perumahan," kata Menteri Pertanian Andi Amran Sulaiman saat melepas armada TTI di Jakarta, Kamis (19/7).
Menurutnya, operasi pasar akan digelar kontinyu hingga harga telur ayam kembali normal ke kisaran Rp22.000 per kg, dan setelah harga stabil maka operasi pasar dihentikan untuk melindungi kepentingan peternak.
Mentan mengakui, harga telur ayam di Jabodetabek berangsur turun namun belum signifikan, karena disparitas harga masih di kisaran 40% hingga 60%.
"Harap diketahui, disparitas harga akibat rantai pasok dari tingkat peternak ke pengecer dan konsumen terlampau panjang. Tolong para pedagang jangan mengambil untung terlalu banyak," imbau Amran Sulaiman.
Dalam Peraturan Menteri Perdagangan (Permendag) No 27/2017 ditetapkan harga acuan telur ayam di tingkat peternak Rp18.000 sedangkan di tingkat konsumen Rp22.000 per kg.
Jakarta (B2B) - Indonesian government anticipates the spike in prices of chicken eggs in Jakarta and surrounding areas providing 100 tons of chicken eggs priced at 19,500 rupiah per kg which is marketed to 50 farm shop outlets, 43 traditional markets and dozens of residential areas to push prices back to Rp22,000 per kg.
"The chicken egg bazaar is a government way to stabilize prices at the consumer level. In the past week the price has jumped to 30 thousand rupiah per kg," said Agriculture Minister Andi Amran Sulaiman here on Thursday (July 19).
According to him, chicken egg bazaar will be held continuously until the price drops to 22,000 per kg, after the normal price then the bazaar will be stopped to protect the interests of breeders.
Mr Sulaiman admitted, the price of chicken eggs in Jabodetabek gradually decreased but not significant, because the price disparity is still 40% to 60%.
"Please note, price disparity due to supply chain from breeder level to retailer and consumer is too long," he said.
Indonesian Trade Minister Decree or Permendag Number 27/2017 set the reference price at the breeder level of 18,000, and the consumer rate of 22,000 per kg.