Idul Adha 2018, Pemerintah Kerahkan 2.698 Petugas Pantau Hewan Kurban
Indonesia Deployed 2,698 Officers to Monitor the Slaughter of Eid al-Adha Sacrificial Animals
Reporter : Gusmiati Waris
Editor : Cahyani Harzi
Translator : Dhelia Gani

PUBLISHED: Minggu, 05 Agustus 2018 , 02:47:00 WIB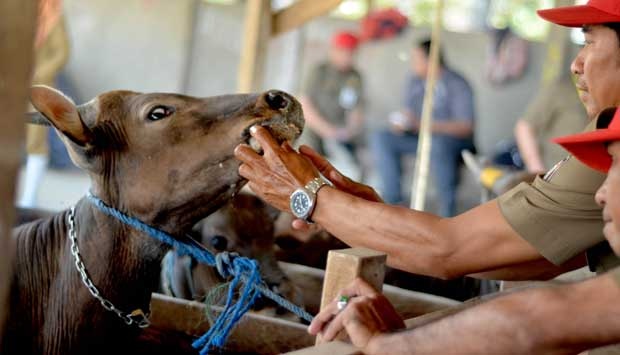 Foto: istimewa
Jakarta (B2B) - Pemerintah RI didukung pihak-pihak terkait dan para pemangku kepentingan mengerahkan 2.698 petugas untuk mendukung Tim Terpadu Pemantauan Hewan 2018, untuk memastikan pelaksanaan pemotongan hewan kurban pada Hari Raya Idul Adha 1439 H berlangsung aman, sehat, utuh dan halal.
Dirjen Peternakan dan Kesehatan Hewan (PKH) di Kementerian Pertanian, I Ketut Diarmita mengatakan tim terpadu tersebut merupakan pengejawantahan dari Peraturan Menteri Pertanian (Permentan) No 114/2014 tentang ´pemotongan hewan kurba´.
Permentan No 114/2014 mengatur (a) tentang persyaratan minimal tempat penjualan hewan kurban, pengangkutan, kandang penampungan dan tempat pemotongan hewan kurban; (b) tata cara penyembelihan hewan kurban dan distribusi daging kurban sesuai aspek teknis dan syariat Islam.
Tim terpadu terdiri atas tim dari Ditjen PKH Kementan, dinas terkait di Pemprov DKI Jakarta, Banten, dan Jawa Barat, Badan Penyelenggara Jaminan Produk Halal (BPJPH) di Kementerian Agama RI, Fakultas Kedokteran Hewan Institut Pertanian Bogor (FKH-IPB), dan Persatuan Dokter Hewan Indonesia (PDHI).
Jakarta (B2B) - The Indonesian government is supported by relevant parties and stakeholders deployed 2,698 officers to monitor slaughter of Eid al-Adha sacrificial animals to ensure sacrificial animal meat is safe, healthy and halal is consumed.
Director General of Livestocks and Animal Health, I Ketut Diarmita said the integrated team was implementing of the Agriculture Ministy regulation or the Permentan Number 114/2014 about slaughter of sacrificial animals.
The Permentan No. 114/2014 regulates (a) the minimum requirements for the place to sell sacrificial animals, transportation, shelter and slaughterhouse for sacrificial animals; (b) procedures for slaughtering sacrificial animals and distribution of sacrificial meat according to technical aspects and Islamic law.
The integrated team consists of the ministry´s Directorate General of Livestocks and Animal Health; related agencies in three provinces: Jakarta, Banten and West Java; related agency of Religion Affairs Ministry; Faculty of Veterinery at the Bogor Agricultural Institute and and the Indonesian Veterinary Association.