Diselundupkan dalam Majalah, Karantina Semarang Tahan Benih Cabai Tanpa Sertifikat
Indonesian Quarantine Thwarts Illegal Chilli Seeds Smuggled in Magazines
Editor : Cahyani Harzi
Translator : Dhelia Gani

PUBLISHED: Kamis, 22 Februari 2018 , 01:25:00 WIB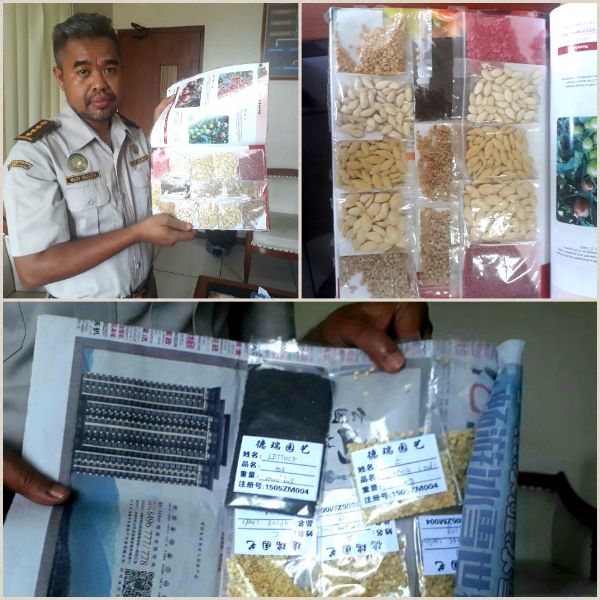 Benih cabai diselundupkan dalam paket majalah (Foto2: Humas Barantan)
Semarang, Jateng (B2B) - Sedikitnya 1.000 benih cabai tanpa sertifikat karantina (phytosanitary certificate) dari negara asal ditahan oleh Badan Karantina Pertanian (Barantan) di Semarang, Jawa Tengah, yang disembunyikan dalam majalah, dan diketahui berpotensi membawa bakteri dan virus yang belum ada di Indonesia seperti pseudomonas viridiflava, alfalfa mosaic alfamovirus (AMV), tobacco steak ilarvirus (TSV) dan tomato aspermy cucumovirus (TAV).
Kepala Balai Karantina Pertanian Kelas I Semarang, Wawan Sutian mengatakan benih cabai pembawa bakteri dan virus terdiri atas 500 biji cabai wonder F1 dan 500 biji cabai bigness tersebut selain dapat merusak tanaman cabai hingga layu dan kerdil juga dapat menular pada tanaman cabai sehat dan sulit diatasi.
"Benih cabai ilegal tersebut gagal dikirimkan kepada penerimanya setelah diketahui oleh petugas Bea dan Cukai di Kantor Pos Besar Semarang saat dilakukan screening dengan X-ray. Bersama petugas karantina Semarang, paket majalah tersebut dibongkar dan didapati tiga buku untuk menyembunyikan benih ilegal," kata Wawan Sutian.
Ditemukan pula 11 kemasan benih lainnya seperti 100 biji benih labu butternut F1, 100 biji CNUS1219 F1, 100 biji labu CNUS1215 F1, 1.000 biji tomat TM78F1, 2.000 biji tomat CNUS118 F1, 3.000 biji selada PS-12F1, dan 10 gram brokoli Green Fairy F1.
Menurut keterangan pemiliknya seperti dituturkan Wawan Sutian, yang mengaku sudah tahu harus melengkapi dokumen karantina dari negara asal, namun dia tidak menyangka bahwa benih yang dipesannya pada 2015 dikirim lagi ke Indonesia.
"Saat ini pemilik benih ilegal telah dimintai keterangan dan berita acara pemeriksaan atau BAP oleh penyidik PNS karantina Semarang, karena benih ilegal tersebut merupakan ancaman serius bagi Indonesia," katanya.
Semarang of Central Java (B2B) - At least 1,000 chili seeds without phytosanitary certificate from the country of origin are detained by the Indonesian Agricultural Quarantine Agency or Barantan office in Semarang, the capital of Central Java province, concealed in magazines and known to potentially carry bacteria and viruses that does not exist in Indonesia such as pseudomonas viridiflava, alfalfa mosaic alfamovirus (AMV), tobacco steak ilarvirus (TSV) and tomato aspermy cucumovirus (TAV).
Head of Agriculture Quarantine Center of Semarang, Wawan Sutian said the seeds of bacteria and viral chilli seeds consisting of 500 F1 wonder chives and 500 chilli seeds of bigness, can damage pepper plants until wilted and dwarf, can also be contagious on healthy chili plants.
"The illegal chili seeds failed to be smuggled to Indonesia after it was discovered by Customs and Excise officers at the Semarang Post Office while undergoing X-ray screening. The magazines package was dismantled by post office and quarantine officers of Semarang, and found three books as a place to hide chili seeds," Sutian said.
Also found 11 packs of seeds such as 100 seeds pumpkin butternut F1, 100 seeds CNUS1219 F1, 100 pumpkin seeds CNUS1215 F1, 1,000 tomato seeds TM78F1, 2,000 tomato seeds CNUS118 F1, 3,000 seeds of lettuce PS-12F1, and 10 grams of broccoli Green Fairy F1 .
According to the owner, as reported by Wawan Sutian, who claimed to have known to complete the quarantine documents from his home country, he did not expect that the seeds he ordered in 2015 were sent back to Indonesia.
"Currently illegal seed owners have been questioned and examined by Semarang quarantine investigators, because the illegal seeds are a serious threat to Indonesia," he said.