Hingga 8 Ton per Hektar, Produktivitas Panen Padi Bandung di Masa Paceklik
West Java´s Rice Productivity Remains High Despite threat of the Rainy Season
Reporter : Gusmiati Waris
Editor : Cahyani Harzi
Translator : Dhelia Gani

PUBLISHED: Selasa, 26 Desember 2017 , 01:45:00 WIB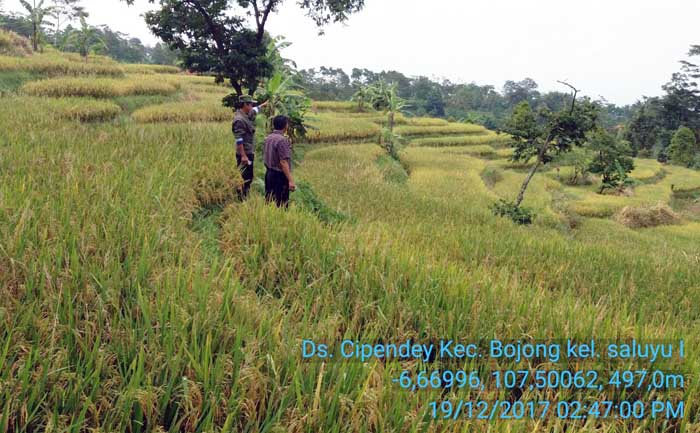 Hasil pemotretan lokasi panen padi di Kabupaten Bandung dengan open camera sebagai bukti lokasi dan realisasi panen (Foto: Humas Kementan)
Jakarta (B2B) - Meskipun di tengah masa paceklik akibat tingginya curah hujan pada November sampai Januari, produktivitas lahan pertanian di Kabupaten Bandung, Provinsi Jawa Barat tergolong luar biasa, berkisar 6,8 ton hingga delapan ton per hektar dari varietas berbeda yakni IR24, Mekongga, Ciherang, dan Sudar.

Kepala Dinas Pertanian Kabupaten Bandung, Tisna Umaran mengatakan tiga gabungan kelompok petani (Gapoktan) di wilayah kerjanya tengah bergembira lantaran hasil panen padi Desember 2017 tetap maksimal meski di tengah ancaman masa paceklik.

"Produksi padi Kabupaten Bandung melimpah seperti halnya kabupaten lain di Jawa Barat, sehingga persediaan beras mencukupi untuk memenuhi kebutuhan konsumsi masyarakat. Pasokan beras saat ini cukup, dan sekaligus menjaga stabilitas harga," kata Tisna Umaran dalam laporannya kepada Banun Harpini, Ketua Tim Penanggung Jawab Upsus Pajele Kementan untuk Jawa Barat.

Tisna selaku anggota tim upaya khusus padi, jagung dan kedelai (Upsus Pajale) memaparkan bahwa di atas lahan 15 ha, Gapoktan Saluyu berhasil panen dengan produktivitas delapan ton per hektar, Gapoktan Subur Makmur panen di sawah seluas lima hektar dengan varietas Ciherang hasilnya rata-rata 6,8 ton per hektar, Gapoktan Sinar Jaya mendapat tujuh ton per hektar dari varietas Sudar di lahan 25 ha.

Banun Harpini menegaskan keberhasilan panen padi tersebut setelah pemerintah pusat dan daerah menjalin kerjasama dan meningkatkan koordinasi untuk peningkatan produksi padi. Misalnya untuk mengantisipasi dampak paceklik, pemerintah telah menyalurkan bantuan cukup banyak ke petani, seperti pompa air, traktor dan benih berkualias, rehabilitasi jaringan irigasi tersier, embung dan lainnya.

Peningkatan luas tanam musim kering Juli - September naik dua kali lipat merupakan solusi permanen dari dampak Program Upsus Menteri Pertanian Andi Amran Sulaiman setelah merampungkan rehabilitasi jaringan irigasi tersier 3,4 juta hektar atau 113%, pembangunan 2.278 unit embung/dam parit/long storage, perluasan dan optimasi lahan 1,08 juta hektar, pengembangan lahan rawa 367.000 hektar, mekanisasi didukung alat mesin pertanian (Alsintan) rice transplanter dan combine harvester sebanyak 284.436 unit atau naik 2.175% dari 2014. Kemudian, bantuan benih 12,1 juta hektar, pupuk bersubsidi 27,64 juta ton dan asuransi usahatani padi 1,2 juta hektar.
Jakarta (B2B) - Rice production of Bandung district of West Java province in Indonesia remains high despite threatened high rainfall with 6.8 tons to eight tons per hectare of different varieties namely IR24, Mekongga, Ciherang, and Sudar, according to local official.

Head of Bandung agriculture office, Tisna Umaran said that three groups of farmers in his work area are happy, because the December 2017 rice harvest remains high despite threat of the rainy season.

"Bandung district rice production is abundant like other districts in the province, so that rice stocks sufficient to meet people´s food needs," said Mr Umaran in his report to Banun Harpini as the team leader for increase rice, corn and soybean production program in the agriculture ministry for West Java province.

Mr Umaran elaborates from 15 hectares of land, Saluyu farmer groups gets an average rice harvest of eight tons per hectare, Subur Makmur farmer groups from five hectares of paddy fields with Ciherang varieties averaged 6.8 tons per hectare, Sinar Jaya farmer groups get seven tons per hectare from Sudar variety from 25 hectare.

Mrs Harpini said the Bandung rice harvest is a synergy between central and local government to increase rice production. For example, to anticipate the impact of crop failure, the government provides assistance to farmers such as water pumps, tractor engines, seedlings, tertiary irrigation rehabilitation, basin retention and others.

Increased planting area of dry season July to September as permanent solution of Agriculture Minister Andi Amran Sulaiman after rehabilitation of tertiary irrigation 3.4 million hectares or 113%, development of 2,278 units of ditch/long storage, expansion and optimization of 1.08 million hectares of land, 367,000 hectares of swampland development, mechanization by agricultural machinery rice transplanter and combine harvester 284,436 units or up 2.175% from 2014. Then, seed aid 12.1 million hectares, subsidized fertilizer 27.64 million tons and insurance of rice farming 1.2 million hectares.