Dubes RI untuk WTO Kunjungi Badan Karantina Pertanian
The Indonesian Ambassador to WTO Coordinates with IAQA
Editor : M. Achsan Atjo
Translator : Dhelia Gani

PUBLISHED: Senin, 12 Februari 2018 , 02:20:00 WIB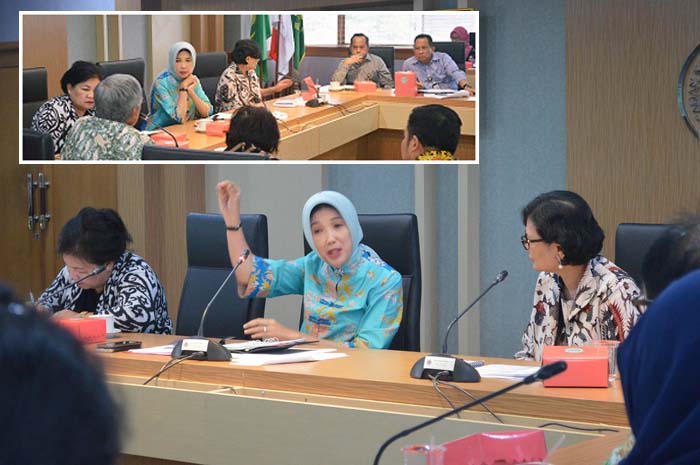 WTO & BARANTAN: Kepala Badan Karantina Pertanian (Barantan) Banun Harpini memaparkan fungsi, tugas dan komitmen Barantan terhadap komoditas pertanian RI menembus pasar internasional (Foto2: Humas Barantan)
Jakarta (B2B) - Kepala Badan Karantina Pertanian (Barantan) Banun Harpini menerima kunjungan Duta Besar RI untuk Organisasi Perdagangan Internasional (WTO) Sondang Anggraini dalam upaya konsolidasi Kementerian Pertanian dan lembaga terkait pembahasan isu perundingan pertanian.

Dalam pertemuan tersebut, Banun Harpini mengapresiasi dukungan Dubes RI untuk WTO terhadap ekspor komoditas pertanian Indonesia menembus pasar internasional seperti sarang walet dan manggis ke China.

Sondang Anggraini didampingi sejumlah perwakilan dari Kementerian Luar Negeri, Kementerian Perdagangan, Kementerian Perindustrian, Kementerian Keuangan dan Anggota Tim Satuan Tugas (Satgas) G-33. Sementara Banun Harpini didampingi oleh Kepala Pusat Karantina Hewan dan Keamanan Hayati Hewani, Mulyanto dan dan Kepala Pusat Kepatuhan, Kerjasama dan Informasi Perkarantinaan, Arifin Tasrif.

Sebagaimana diketahui Indonesia merupakan Ketua Kelompok 33 yang mendorong Proposal Cadangan Pangan Publik atau dikenal dengan Proposal G33. Hingga saat ini peran Indonesia dalam memperjuangkan Proposal G33 cukup diacungi jempol oleh banyak negara berkembang. Hal ini telah menjadikan Indonesia sebagai negara yang diperhitungkan pengaruhnya di WTO.

Pemerintah melalui Kementerian Perdagangan telah menegaskan, sektor pertanian masih menjadi sektor strategis dalam pembangunan, dan masih menjadi sumber mata pencaharian mayoritas tenaga kerja di Indonesia.

Selain itu, pertanian juga masih menjadi sumber penyedia pangan guna menjamin ketahanan pangan, serta bahan baku industri. Penguatan sektor pertanian akan berdampak positif bagi upaya pengentasan kemiskinan dan mitigasi dampak perubahan iklim.
Jakarta (B2B) - The Director General of Indonesia´s Agricultural Quarantine Agency (IAQA) Banun Harpini held a meeting with Ambassador/Deputy Permanent Representative in Charge of WTO Issues of Indonesian Mission in Geneva to consolidate with the agriculture ministry on the issue of agricultural negotiations.

In the meeting, Banun Harpini appreciated the Ambassador´s support for the WTO on the export of Indonesian agricultural commodities through international markets such as swallow nest and mangosteen to China.

Sondang Anggraini was accompanied by representatives of foreign affairs ministry, trade ministry, industry ministry, finance ministry and Task Force Team of G-33. Meanwhile Banun Harpini was accompanied Director of the Quarantine and Animal Safety Center, Mulyanto; and and Director of Center for Compliance, Cooperation and Information Quarantine, Arifin Tasrif.

As we know Indonesia is Chairman of the Group 33 which encourages the Public Proposal of Food Reserves otherwise known as the G33 proposal. Until now, the role of Indonesia in the G33 Proposal is quite successful by many developing countries, so that Indonesia becomes a country that counts its influence in the WTO.

The Indonesian government through the trade ministry affirmed that the agricultural sector is still a strategic sector, and is still a source of income for most Indonesians.

In addition, agriculture is still a source of food provision to ensure food security, and industrial raw materials. Strengthening the agricultural sector will have a positive impact on poverty alleviation and mitigation of climate change impacts in Indonesia.