Jokowi Usul Prodi Kopi, Polbangtan Medan Buka Pendidikan D1 Barista
Indonesia`s Widodo Supports Development of Coffee Diploma Program in College
Editor : M. Achsan Atjo
Translator : Dhelia Gani

PUBLISHED: Rabu, 26 Desember 2018 , 03:06:00 WIB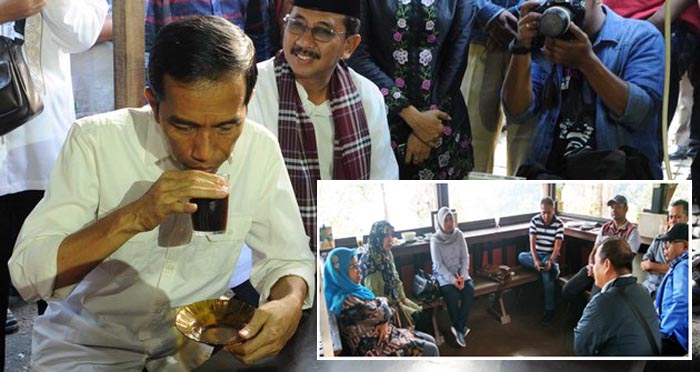 PRESIDEN NGOPI: Presiden Jokowi nyeruput kopi di sela kunjungan kerja di daerah, Direktur Polbangtan Yuliana Kansrini diskusi dengan bos TSR Edi Tanoto tentang kolaborasi kedua lembaga (Foto2: Istimewa dan Humas Polbangtan)
Medan, Sumut (B2B) - Polbangtan Medan membuka program diploma D-1 Pendidikan Barista untuk membentuk semangat entrepreneurship mahasiswa sebagai job creator dan bukan job seeker, didukung perusahaan swasta PT Taman Semalam Resort (TSR) yang siap menampung mahasiswa praktik dan magang. Hal itu selaras dengan instruksi Presiden RI Joko Widodo pada pendidikan tinggi vokasi untuk mengembangkan program studi kopi, karena Indonesia dikenal sebagai eksportir kopi terbaik dan meningkatnya konsumsi kopi di dalam negeri seiring tumbuh pesatnya bisnis kedai kopi UKM di seluruh Indonesia.
Direktur Polbangtan Medan, Yuliana Kansrini mengatakan pihaknya mendukung instruksi Presiden Jokowi yang concern pada petani kopi untuk meningkatkan produksi, produktivitas, dan kesejahteraan keluarganya dari pemasaran domestik dan ekspor ke mancanegara, juga mendukung pengembangan bisnis kedai kopi UKM mendapatkan kopi berkualitas.
"Dukungan Presiden Jokowi untuk memajukan bisnis kopi adalah peluang emas, dan hal itu tidak dilewatkan oleh Polbangtan Medan, sehingga langsung menyiapkan diri dengan membuka diploma D-1 Pendidikan Barista," kata Yuliana K melalui pernyataan tertulis kepada B2B pada Selasa (25/12).
Dia mengakui bukan langkah mudah mengembangkan program D-1 tersebut, harus didukung perangkat keras dan lunak seperti prasarana dan sarana pendukung disertai SDM tenaga pendidik maupun tenaga kependidikan serta menggandeng kemitraan dengan para pemangku kepentiingan.
Menteri Pertanian RI Andi Amran Sulaiman dan Kepala Penyuluhan dan Pengembangan SDM Pertanian di Kementerian Pertanian RI (BPPSDMP), Momon Rusmono menekankan untuk melibatkan dunia usaha dan dunia industri mendukung pengembangan Polbangtan. Polbangtan Medan pun bergerak cepat menggandeng TSR, perusahaan yang bergerak di bidang perhotelan dan pengembangan pertanian organik khususnya kopi dan hortikultura.
Direktur Yuliana Kansrini didampingi Wakil Direktur I bidang Pendidikan dan Kerjasama, Nurliana Harahap; dan Wakil Direktur III Polbangtan Medan bidang Kemahasiswaan dan Alumni, Dwi Febri Meli melakukan pembicaraan dengan Direktur TSR, Edi Tanoto di Medan, belum lama ini.
"Tawaran kerjasama Polbangtan Medan disambut positif oleh TSR, yang bersedia menerima mahasiswa untuk praktik dan magang, begitu pula dosen untuk memperdalam pengetahuan tentang dunia usaha, dan siap menampung lulusan terbaik kami," kata Yuliana K.
Bukan cuma itu, katanya, alumni Polbangtan Medan yang belum bekerja diberi peluang bekerja di TSR sebagai penyuluh kepada petani organik hortikultura binaan TSR di Sumatera Utara.
Medan of North Sumatera (B2B) - Medan´s Agricultural Development Polytechnic or the Polbangtan Medan open a D-1 Barista diploma program to form the entrepreneurial spirit of students as job creators and not job seekers, supported by private company Taman Semalam Resort or TSR who are ready to accommodate practical students and internships. It was This was in line with instructions of Indonesian President Joko Widodo to the vocational higher education to develop a coffee study program, because Indonesia is known as the best coffee exporter and increasing coffee consumption in the country.
Director of Polbangtan Medan, Yuliana Kansrini said that her side supports President Jokowi´s instructions who was concern to coffee farmers to increase production, productivity and welfare of farmer families, also supports development of SMEs coffee shop businesses to get quality coffee.
"President Widodo´s support for advancing the coffee business is a golden opportunity, and that was responded to by Polbangtan Medan, by opening a D-1 Barista diploma program," said Mrs Kansrini through the written statement to B2B on Tuesday (December 25).
She admitted that it was not an easy step to developing the D-1 program, must be supported by hardware and software such as infrastructure and supporting facilities accompanied by quality human resources and cooperating with stakeholders as collaborative partners.
Indonesian Agriculture Minister Andi Amran Sulaiman and the Director General of Extention and Agricultural Human Resource Development or BPPSDMP Momon Rusmono stressed to involve private companies and stakeholders. Polbangtan Medan chose to collaborate with TSR, hospitality companies and the development of organic agriculture especially coffee and horticulture.
Mrs Kansrini was accompanied by two deputy directorsheld talks with the Director of the TSR, Edi Tanoto in Medan, recently.
"The offer of our cooperation was positively welcomed by TSR, to accommodate practical students and internships, as well as lecturers to deepen their knowledge of entrepreneurship, and are ready to accommodate our best graduates," Mrs Kansrini said.
Unemployed alumni are also given the opportunity to work at TSR as agriculture extensionist for horticultural organic farmers assisted by TSR in North Sumatra province.