Dosen Tamu, Polbangtan Medan Undang Gubernur Sumut Kunjungi Kampus
Indonesia`s North Sumatra Governor was Enthusiastic to Polbangtan Medan
Editor : M. Achsan Atjo
Translator : Dhelia Gani

PUBLISHED: Jum'at, 15 Februari 2019 , 11:11:00 WIB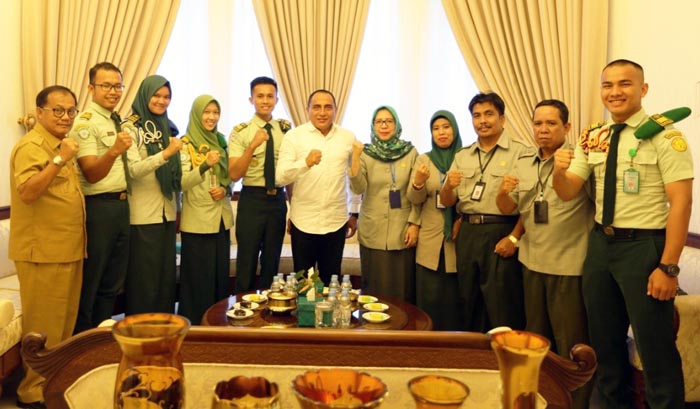 AUDIENSI: Gubernur Sumut Edy Rahmayadi (kemeja putih) bersama Direktur Polbangtan Medan, Yuliana Kansrini (ke-4 kanan), Wadir I Nurliana Harahap, Wadir II Mukhlis Yahya, dan Kadis TPH Sumut, Azhar H (kiri) (Foto: Humas)
Medan, Sumut (B2B) - Gubernur Sumatera Utara Edy Rahmayadi menyatakan bersedia memenuhi undangan Direktur Polbangtan Medan, Ir Yuliana Kansrini MSi untuk memberikan kuliah umum sebagai ´dosen tamu´ dalam waktu dekat, sekaligus menyelaraskan program dan kebijakan pembangunan pertanian pemerintah provinsi dengan Kementerian Pertanian RI.
"Gubernur Edy Rahmayadi menyatakan antusias atas pengembangan politeknik pembangunan pertanian di Medan, yang akan diselaraskan dengan kebijakan gubernur menuju Sumut yang agraris, dan bersedia hadir di kampus sebagai dosen tamu," kata Yuliana K kepada pers usai audiensi di rumah dinas Gubernur Sumut, Selasa (12/2).
Dia menyatakan bahwa Gubernur Edy Rahmayadi bersedia meninjau kampus di kawasan Sei Sikambing, sekaligus memotivasi mahasiswa sebagai dosen tamu pada kuliah umum di Polbangtan Medan, dalam waktu dekat.
"Gubernur Sumut meyakini komitmen Polbangtan Medan akan menjadi salah satu kampus berkualitas di Sumut, untuk menghasilkan SDM pertanian berkualitas mendukung target Sumut agraris," kata Yuliana K mengutip pernyataan Edy Rahmayadi.
Direktur Yuliana K memimpin audiensi didampingi Wakil Direktur I Nurliana Harahap dan Wakil Direktur II Mukhlis Yahya dan beberapa mahasiswa, sementara Gubernur Edy R didampingi Kepala Dinas Tanaman Pangan dan Hortikultura, Azhar Harahap.
"Saya mau kalian bukan hanya belajar teori saja, melainkan eksekusi dan tindak lanjut yang jelas di lapangan," kata Gubernur Sumut yang dikutip oleh Yuliana K.
Menurutnya, latar belakang karier Gubernur Edy R sebagai purnawirawan perwira tinggi TNI AD berpangkat letnan jenderal, tidak lantas membuat audiensi berlangsung kaku formal, tapi sebaliknya akrab dan hangat. Hal itu mendorong seorang mahasiswa Polbangtan Medan bertanya pada Gubernur Sumut tentang prospek dan konsep pembangunan pertanian provinsi, setelah mereka lulus kelak.
"Berikan kepada saya sarjana pertanian yang andal, saya akan rekrut untuk memajukan pertanian sebagai job creator," kata Yuliana K mengutip pesan Gubernur Sumut.
Medan of North Sumatera (B2B) - North Sumatra Governor Edy Rahmayadi said he wanted to giving a public lecture as the guest lecturer in Medan´s Agricultural Development Polytechnic or the Polbangtan Medan, agreed to the invitation of Director Yuliana Kansrini while aligning the provincial government´s agricultural development programs and policies of Indonesian Agriculture Ministry.
"Governor Rahmayadi said he was enthusiastic about development of agricultural polytechnics in Medan, "It will be harmonized with the governor´s policy, and states that he is willing to attend the campus as a guest lecturer," Kansrini told the press after meeting at the governor´s official residence on Tuesday (February 12).
She stated that Governor Rahmayadi was willing to review the campus in the Sei Sikambing area, while at the same time motivating students as guest lecturers in public lectures at the Polbangtan Medan, in the near future.
"The governor believes the Polbangtan Medan commitment will be one of quality campuses in North Sumatra," Kansrini quoted Governor Rahmayadi.
"I want you to not only learn theory, but also clear execution and follow-up in the field," the governor said as quoted by Kansrini.
According to her, the career of Governor Rahmayadi as retired army lieutenant general does not necessarily make the meeting stiff and formal, but on the contrary, it is familiar and warm. A student asks the governor about the prospects and concepts of provincial agricultural development, after they graduate from college.
"Give me the best graduates, I will recruit to support development of provincial agriculture as the job creator," Kansrini quoted statement of North Sumatra Governor.