Generasi Milenial, Polbangtan Medan Gelar Pelatihan Jurnalistik Mahasiswa
Indonesia´s Medan Agricultural Polytechnic Increases Students´ Journalistic Abilities
Reporter : Gusmiati Waris
Editor : Cahyani Harzi
Translator : Dhelia Gani

PUBLISHED: Minggu, 24 Februari 2019 , 04:08:00 WIB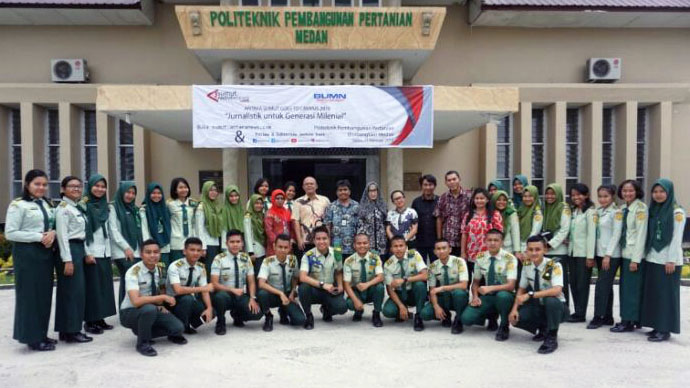 Foto: Antara
Medan, Sumut (B2B) - Polbangtan Medan mendorong pengembangan kampus menuju Revolusi Industri 4.0, untuk menambah wawasan mahasiswa untuk mengembangkan diri di bidang jurnalistik sekaligus mendukung penyebarluasan informasi terkait kegiatan kampus dan kemahasiswaan untuk diketahui masyarakat melalui kerjasama dengan LKBN Antara Biro Sumut.
Kerjasama pelatihan jurnalistik ditandatangani oleh Direktur Polbangtan Medan, Yuliana Kansrini dan Kepala LKBN Antara Biro Sumut, Riza Mulyadi di Medan pada Sabtu, (23/2).
"Pelatihan jurnalistik akan sangat membantu mahasiswa untuk meningkatkan pengetahun tentang jurnalistik, sehingga mahasiswa mampu memproduksi sendiri berita atau informasi tentang kegiatan kampus untuk diketahui publik," kata Yuliana K.
Menurutnya, pengetahuan jurnalistik mahasiswa pun akan mendukung publikasi hasil penelitian, kegiatan kampus dan kemahasiswaan kepada publik sehingga masyarakat lebih mengenal tentang Polbangtan Medan," katanya.
Riza Mulyadi mengapresiasi komitmen Polbangtan Medan mengembangkan kemampuan mahasiswa di bidang jurnalistik meskipun tidak fokus pada ilmu jurnalistik, namun perkembangan media massa dan media sosial secara tidak langsung mewajibkan dunia pendidikan seperti kampus, untuk mendukung peserta didiknya memiliki kemampuan menyebarluaskan informasi terkait kampus dan kemahasiswaan.
"Artinya, mahasiswa sangat dituntut untuk terbuka, bukan hanya fokus pada pendidikan di bangku kuliah, namun juga di bidang informasi, dalam hal ini bidang jurnalistik," katanya.
Medan of North Sumatera (B2B) - Medan Agricultural Polytechnic or the Polbangtan Medan encourage development of campus towards the Industrial Revolution 4.0, to developing journalistic abilities, and support dissemination of information about campus activities and student affairs known to the public through cooperation with the news agency Antara North Sumatra bureau.
The journalistic training collaboration was signed by Director of Polbangtan Medan, Yuliana Kansrini and the Head of Antara North Sumatra Bureau, Riza Mulyadi here on Saturday (February 23).
"Training will help students improve journalistic knowledge, so that being able to write news or information about campus activities is publicly known," Kansrini said.
According to him, students' journalistic knowledge will support research publications, campus activities and student affairs to the public so that people are more familiar with the Polbangtan Medan," he said.
Riza Mulyadi appreciates commitment of Polbangtan Medan to developing students' abilities and development of mass media and social media indirectly requires the campus to support students able to disseminate information related to campus and student affairs.
"Students are required to be open, not only focus on campus education, but also journalism," he said.