Prodi Jurluhtan, Polbangtan Medan Ajak Mahasiswa Budidaya Hidroponik
Indonesian Agricultural Polytechnic Students Learn to Developing Hydroponics
Editor : M. Achsan Atjo
Translator : Dhelia Gani

PUBLISHED: Minggu, 13 Januari 2019 , 23:14:00 WIB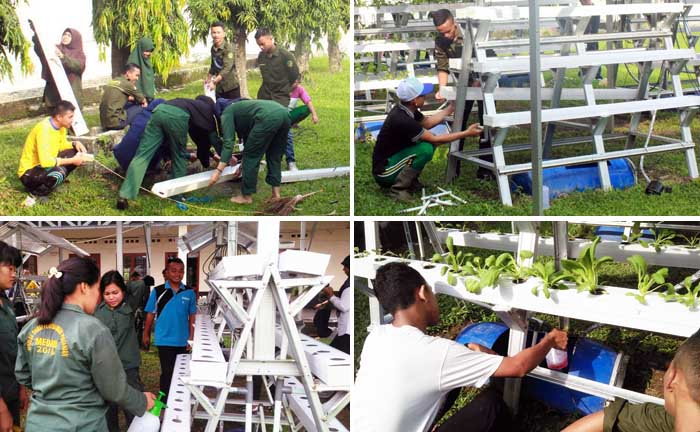 LAHAN SEMPIT: Mahasiswa dibagi menjadi tiga kelompok agar memudahkan proses kegiatan. Perawatan dan pembersihan dengan memeriksa kondisi air dan bak penampung (Foto2: Humas Polbangtan Medan)
Medan, Sumut (B2B) - Pemanfaatan area kampus sebagai lahan pertanian khususnya urban farming atau kawasan rumah pangan lestari (KRPL) menjadi kiat civitas academica Politeknik Pembanguan Pertanian di Sumatera Utara - Polbangtan Medan. Tujuannya, mengajak mahasiswa memanfaatkan lahan kampus untuk bercocok tanam tanpa menggunakan tanah, yakni menerapkan teknik hidroponik dengan memanfaatkan air sebagai media tumbuh.
"Hidroponik menjawab masalah pertanian saat ini dan masa mendatang terhadap alih fungsi lahan sekaligus jawaban bagi warga kota yang ingin bercocok tanam tapi minim lahan. Hidroponik bermanfaat mendukung ketahanan pangan dan peningkatan ekonomi masyarakat," kata Direktur Polbangtan Medan, Yuliana Kansrini melalui pernyataan tertulis kepada B2B.
Menurutnya, budidaya hidroponik merupakan salah satu kegiatan perkuliahan ´Teknologi Budidaya Pertanian Perkotaan´ yang dilakukan oleh 39 mahasiswa Semester VB untuk program studi Penyuluhan Pertanian Berkelanjutan. Selain membangun instalasi dan bercocok tanam, mahasiswa juga wajib membersihkan dan merawat tanaman hidroponik."
"Mahasiswa dibagi menjadi tiga kelompok agar memudahkan proses kegiatan. Perawatan dan pembersihan dengan memeriksa kondisi air dan bak penampung. Membersihkan wadah media tanam dan larutan nutrisi, jauhkan tanaman dari yang sehat agar tidak tertular penyakit," kata Yuliana.
Dia mengharapkan pembelajaran hidroponik akan menambah wawasan mahasiswa, melestarikan lingkungan, mendukung kebutuhan pemenuhan pangan sehat, bahkan berdampak ekonomis bagi mahasiswa Polbangtan yang ditargetkan menjadi job creator dan bukan sekadar pencari kerja atau job seeker.
Medan of North Sumatera (B2B) - Agricultural Development Polytechnic in North Sumatra province or Medan Polbangtan utilizes the campus area as urban farming. The goal is to invite students to use the campus area to grow crops without using land, apply hydroponic techniques by utilizing water as the growing medium.
"Hydroponics is the current and future agricultural solution to land conversion as well as answers for city residents who want to grow crops but have no land. Hydroponics is useful for food security and increasing community income," said Director of Polbangtan Medan, Yuliana Kansrini through written statement to B2B.
According to him, hydroponic cultivation is one of the lectures ´Urban Agriculture Cultivation Technology´ conducted by 39 students of the fifth semester for study programs of sustainable agricultural extension. In addition to building installations and farming, students are also required to clean and maintain hydroponic plants.
"Students are divided into three groups to facilitate the activity process. Care and cleaning by checking condition of water and reservoir. Clean the planting media container and nutrient solution," Kansrini said.
He hopes that hydroponic learning will broaden students´ knowledge, preserve the environment, support healthy food fulfillment needs, it even has economic impact for Polbangtan students who are targeted to be job creators and not job seekers.